Winners of the Grand Prix d'Horlogerie de Geneve 2012 – Weekly Watch Photo
This year a watch has won two prizes and as far as I could go back in historic results, this is a first. The MB&F Legacy Machine 1 has won both the Best Men's Watch Prize and the Public Prize! Congratulations from the entire Monochrome team to all winners and double congrats to MB&F!
The "Aiguille d'Or" or "Golden Hand" was won by TAG Heuer's Mikrgirder and there are more winners in the different categories, which we'll show you. However first the Weekly Watch Photo, for which we selected a magnificent photo of the (double) award winning Legacy Machine 1, photographed by Kazuyuki Takahashi.
Winning two prizes for one watch is an incredible achievement and all credits go to Max Busser, his team and the men responsible for creating Legacy Machine 1, Jean-Francois Mojon and Kari Voutilainen.
The incredibly nice designed movement with bridges that remind me of vintage Patek Philippe pocket watches, is such a magnificent sight that convinces every watch enthusiast. The colors of the Côte de Geneve striping on the German Silver bridges, the golden gears, the large rubies set in gold chatons, the engravings filled with black paint, the hand-polished screw heads… stunning.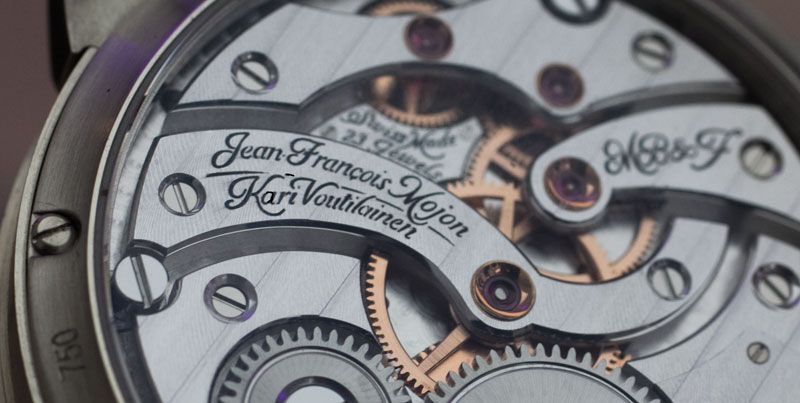 Not to forget that the dial side displays a gorgeous mix of classic and steampunk. Two sub dials display time in two different time zones, which can be set and adjusted independently. The white lacquered dials with black painted roman numerals look very much like the aforementioned pocket watches and the blued steel hands support this even more.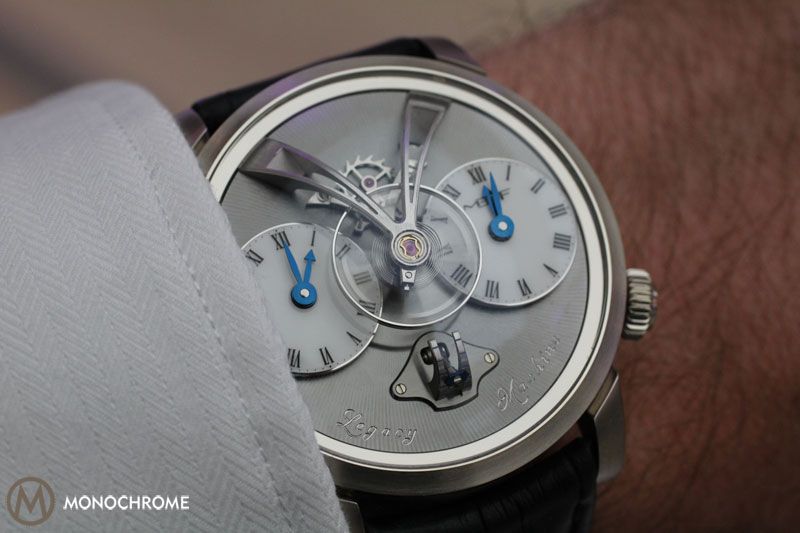 Of course positioning the entire escapement, with its huge balance wheel, on the dial side is unusual and in my opinion extremely beautiful. The  most intriguing part of any mechanical watch, has now been displayed perfectly in full sight. What in my eyes is also a very nice feature, is the possibility to wear it under your shirt's sleeve and let only one of the two time zones peak from under the cuff. I just love this watch and no wonder that the Legacy Machine was Monochrome's favorite watch of 2011.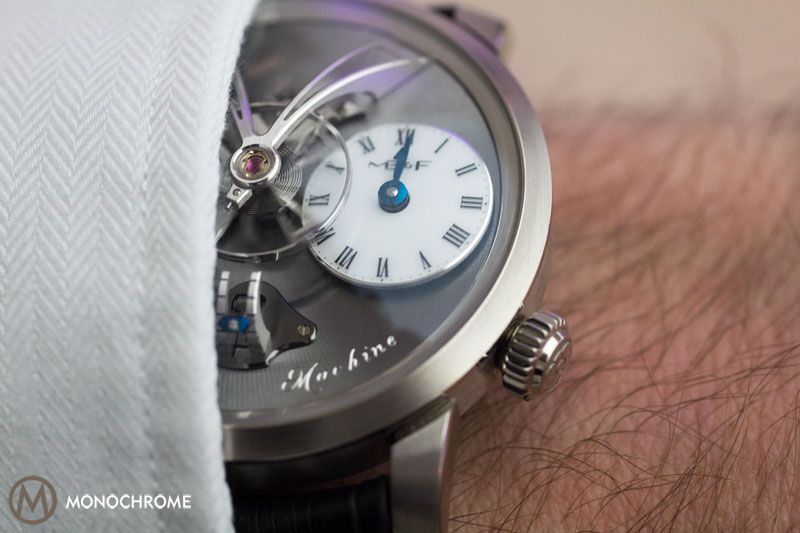 Of course there were other prize winners and I'd love to highlight  several of them. TAG Heuer's Mikrogirder is of course an extremely outstanding timepiece and in my opinion it very rightfully won the Aiguille d'Or.
The reason for this, is that TAG Heuer is doing ground breaking work on the escapement. The Mikrogirder's escapement is fundamentally different from any other escapement; it leaves out the well known balance and hair spring, that can be found in every mechanical watch. This construction simply cannot reach speeds that TAG Heuer desires. Instead of the balance wheel and hairsrping, the regulation of the chronograph is achieved via three micro-beams, or girders. You can see these beams in the aperture in the dial.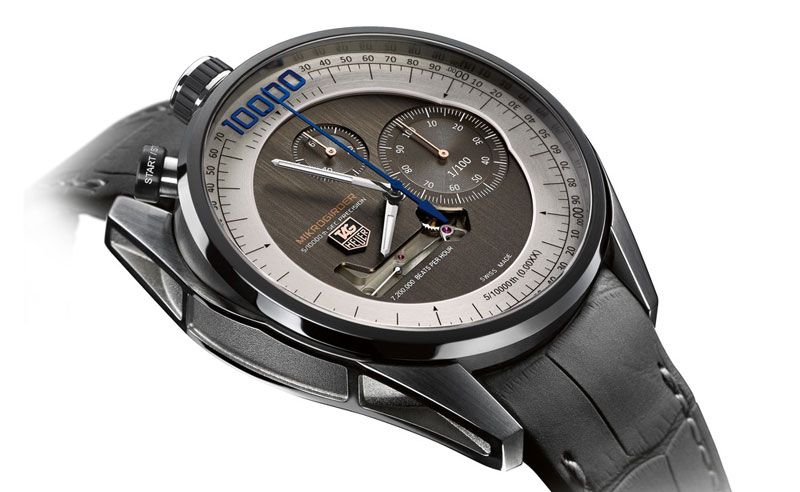 Technically TAG Heuer are the first to invent a regulating organ that is fundamentally different from the basic ideas from Christiaan Huygens (the pendulum clock), which are the basics for all existing escapements.
Another ground breaking timepiece, that in my opinion rightfully won the Innovation Prize, is HYT's H1 that we covered here. The idea to  create the world's first Hydro-Mechanical timepiece might have sounded impossible, however was executed in such a clever way, that the HYT H1 won this year's Innovation Prize. This photo of the HYT H1 was selected for Monochrome's Weekly Watch Photo, just a few weeks ago.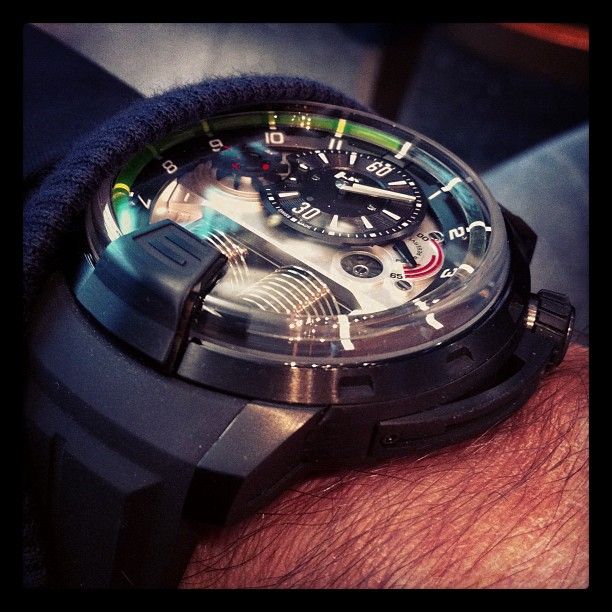 Another prize winner that I'd like to highlight, is created by Greubel Forsey, a brand that never ceases to impress. Recently we wrote about a unique version of the Greubel Forsey Invention Piece 2 (and other unique Greubel Forsey timepieces) and about a set of all three Invention Pieces. A feast for the eye, for anyone who loves the sight of dancing tourbillons; here you get to dream away while looking at two double tourbillons.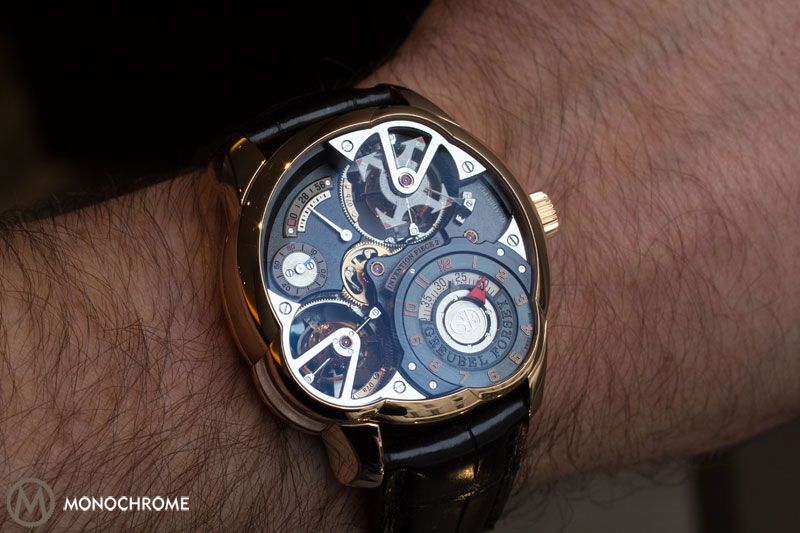 The last few years, many small independent watch brands are winning prizes at the Grand Prix d'Horlogerie de Genève. This year proceeds along that line and we can highlight yet another independent watchmaker who does amazing things. Richard Habring once created the Doppelchrono for IWC and now the patents are free, he was finally able to create and build it featuring his own name on the dial. In the process he even improved the Doppelchrono, however later more about that! For now a huge congrats to Richard and Maria Habring, who by the way are also the first GPHG prize winners from Austria.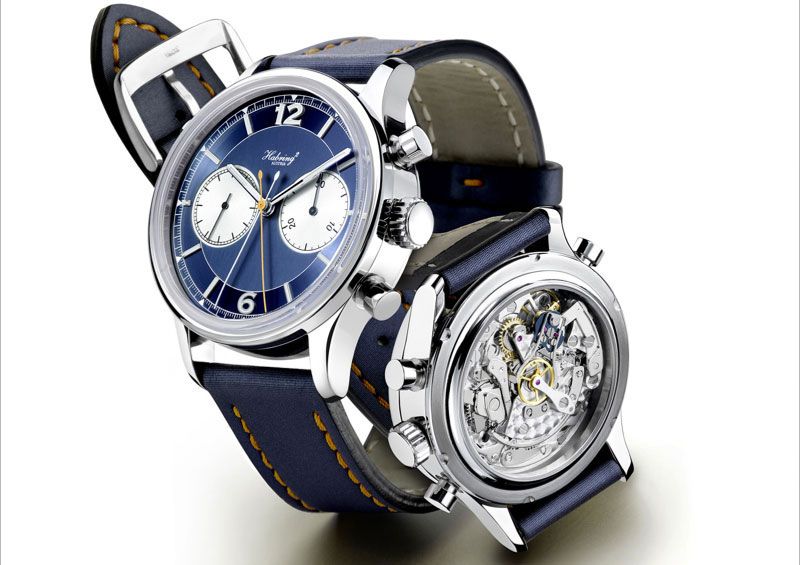 Before showing the entire list of winners, I'd like to highlight the watch that won this year's "Petite Aiguille". This prize is for watches under 5,000 CHF and goes to Zenith for their Pilot Big Date. Considering the use of Zenith's renowned movement, the El Primero, this is excellent value for money. I hope our contributor Max will highlight it in his stories about the history of pilot's watches, like he already wrote about the 57.5 mm large Zenith Montre d'Aeronef Type 20 Pilot's Watch.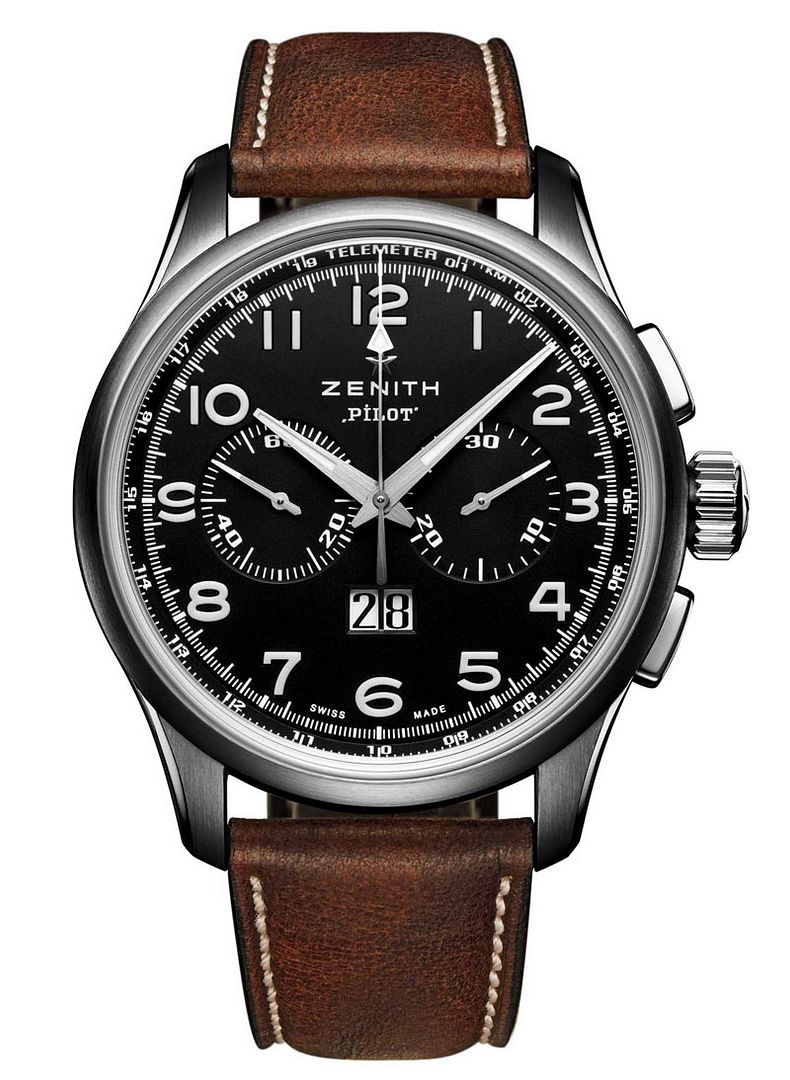 All winner's of the 2012 Grand Prix d'Horlogerie de Genève:
"Aiguille d'Or" Grand Prix: TAG Heuer, Mikrogirder
Best Ladies Watch Prize: Chanel Première Tourbillon Volant
Best Men's Watch Prize: MB&F Legacy Machine N°1
Best Innovation Prize: HYT H1 Titane Black DLC
Best Jewellery and Artistic Crafts Watch Prize: Chopard Imperiale Tourbillon Full Set
Best Complicated Watch Prize: Greubel Forsey Invention Piece 2
Best Sports Watch Prize: Habring2 Doppel 2.0
"Petite Aiguille" Prize (for models under CHF 5'000): Zenith Pilot Big Date Special
Best Watchmaker Prize: Carole Forestier Kasapi (Cartier)
Special Jury Prize: Société Suisse de Chronométrie
Public Prize: MB&F Legacy Machine N°1
This article is written by Frank Geelen, executive editor for Monochrome Watches.
https://monochrome-watches.com/winners-of-the-grand-prix-dhorlogerie-de-geneve-2012-weekly-watch-photo/