Grand Prix d'Horlogerie de Geneve Award winners at Salon de Belles Montres
And the winner is… De Bethune with the DB28. The Grand Prix d'Horlogerie de Genève is more or less the Oscars of the watch industry and the De Bethune DB28 won the Aiguille d'Or which can be seen as the most important prize. This weekend all winning timepieces will be on exposition at Salon de Belles Montres in Paris. 
Besides the Aiguille d'Or (the golden hand) prizes where awarded in many other categories, just like at the Oscars. It must be said that the De Bethune DB28 is a remarkable watch and I'm not surprised it won. Technically at the forefront, a futuristic design and ergonomically unmatched.
De Bethune is a brand that is very different from other watch brands, or perhaps even very different from the entire watch industry. The relatively small manufacture is in the Swiss Jura and is run by David Zanetta and technical director (master watchmaker) Denis Flageollet. Although De Bethune is a relatively small independent brand, they keep amazing watch collectors with a constant stream of innovations. Besides the innovations at the technical side, they also innovate on the design side and aren't scared to come up with a magnificent new case that is the most comfortable I've ever tried on my wrist.
The persons who handed over the award where Robert Greubel and Stephen Forsey who won the Aiguille d'Or last year for their Double Tourbillon 30 degrees Edition Historique. Another independent watch brand that pushes the boundaries of technical innovation and sets new limits for the beauty of finishing.
Besides the Aiguille d'Or there where prizes in other categories as well. Audemars Piguet won the Public Prize for the Millenary 4101, a well deserved prize for Audemars Piguet. Although the Millenary 4101 is maybe not the 'talk of the town' on the internet, we've always noticed that whenever we wrote about the Millenary, like our review of the fabulous Millenary Star Wheel, the responses where surprised and very positive.
Another magnificent prize winner, is made by Hermès. Not the usual watch brand however they are making very interesting timepieces and their new Arceau Le Temps Suspendu is not only beautiful, it has a very interesting feature to stop time 😉 How? Well, check out our report on the Arceau Le Temps Suspendu.
Personally, I would have had a hard time choosing between Laurent Ferrier's Galet Micro-rotor (left) or Kari Voutilainen's Vingt-8 (right on the photo below) as best men's watch. Both are extraordinary beautiful and elegant men's watches and both have a movement that is simply stunning.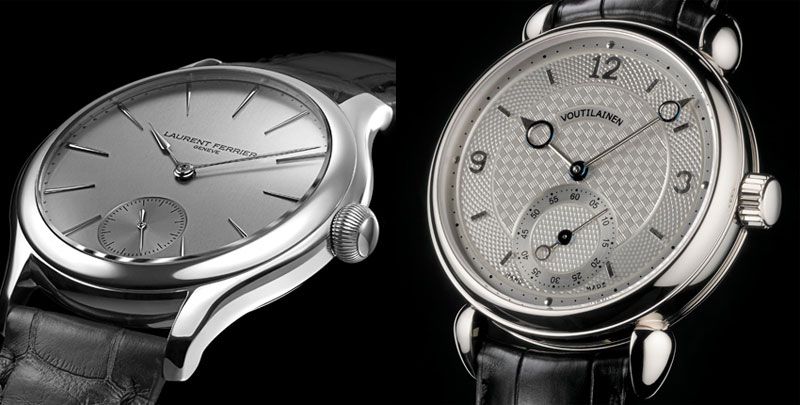 When it comes to design, there are several young and innovative watch brands who do such a great job. They know how to show us time in an unusual but very refreshing way. After Vianney Halter (awarded as Best Watchmaker), URWERK was also one of the first to shock the watch industry, and many collectors, with their out-of-the-box approach to telling time. URWERK winning the DesignWatch award for the stunning UR-110, is something that is simply meant to be and also very well deserved!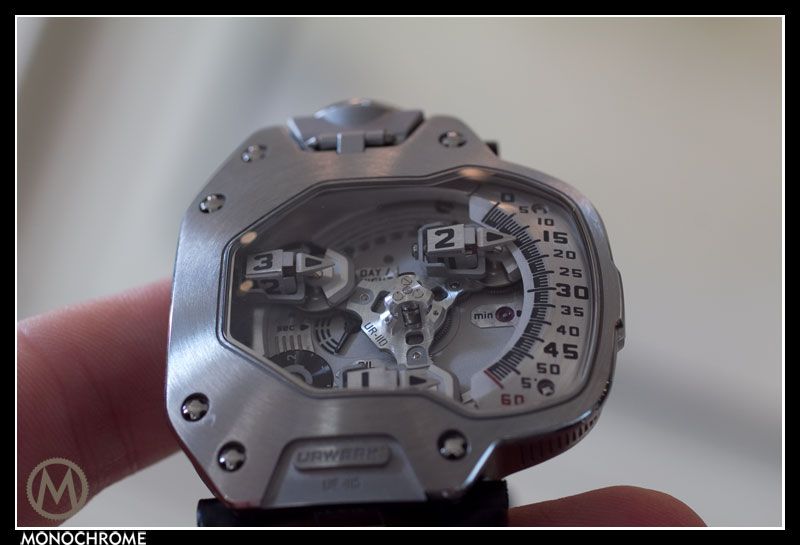 In order not to be distracted by the marvelous techniques, the UR-110 can comfortably be worn under the sleeve and it's easy to let just a small part peek from under your sleeve to read the time.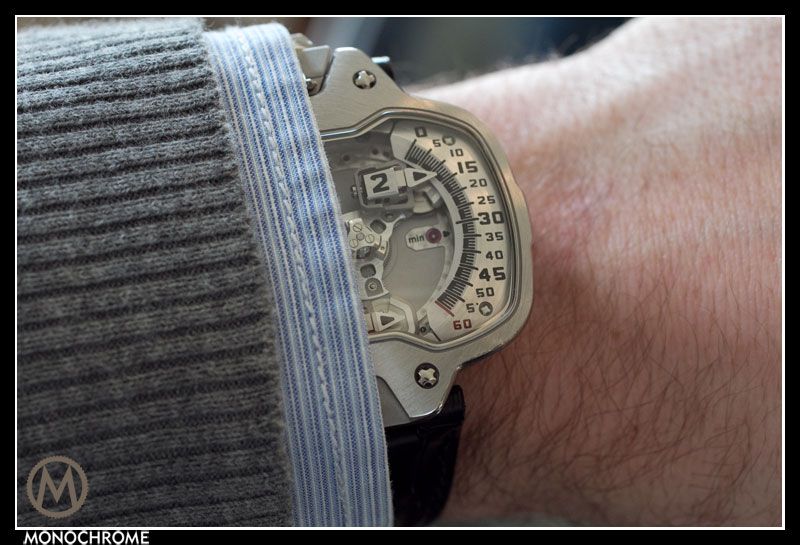 The Petit Aiguille was won by Montblanc for the Star Worldtime GMT Automatic, a very nice watch that I saw at the SIHH earlier this year. A very nice execution of a Worldtime GMT watch and especially on the steel bracelet it looks ver nice.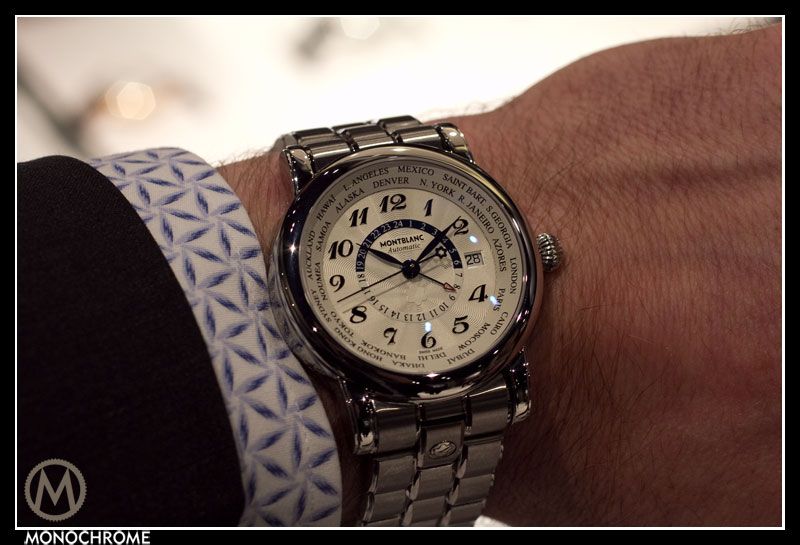 At the Grand Prix d'Horlogerie de Genève website you can see all winners in all categories and find much more information, even from previous years. Here is the list with this years winners:
"Aiguille d'Or" Grand Prix: De Bethune, DB28
Best Ladies Watch Prize: Boucheron, Hathi
Best Men's Watch Prize: Hermès, Arceau Le Temps Suspendu
Best Design Watch Prize: Urwerk, UR-110
Best Jewellery and Artistic Crafts Watch Prize: Van Cleef & Arpels, Lady Arpels Polar Landscape
Best Complicated Watch Prize: Zenith, Academy Christophe Colomb Equation of Time
Best Sports Watch Prize: TAG Heuer, Mikrotimer Flying 1000 Chronograph
"Petite Aiguille" Prize (for models under CHF 5'000): Montblanc, Star Worldtime GMT Automatic
Best Watchmaker Prize: Vianney Halter
Special Jury Prize: Patek Philippe Museum
Public Prize: Audemars Piguet, Millenary 4101
If you're in Paris or in the position to visit Paris in the next few days, you can see all the winning timepieces at Salon de Belles Montres.
Salon Belles Montres
is from Friday 25th until Sunday 27th of November in the Louvre in Paris.
https://monochrome-watches.com/grand-prix-dhorlogerie-de-geneve-award-winner-at-salon-de-belles-montres/