Weekly Watch Photo – de Bethune Dream Watch Black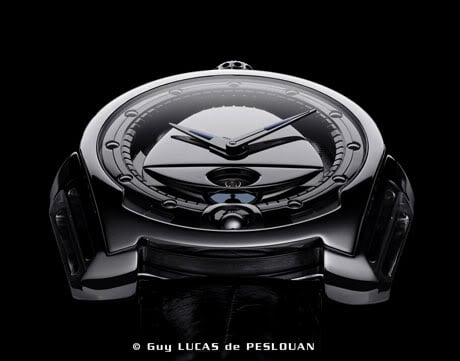 Some photos are beautiful, only a few are stunning and on an extremely rare opportunity you find a truly magnificent photo. The photo Guy Lucas de Peslouan made of the de Bethune Dream Watch Black is such a rare photo, magnificent!
De Bethune makes hand-made watches to the very highest standards and their finish is among the best available on the market. The design varies from classic with a modern touch to pure futuristic. Even the materials used are futuristic!
De Bethune has been using silicon in their escapements for many years now. The Dream Watch features a temperature-compensated silicon balance spring and a silicon-platinum balance wheel that was specially designed for the Dream Watch.
The watch looks photogenic because of its remarkable, characteristic and futuristic design but it's a photographer's nightmare. This is because of the many polished parts, including the dial, that give a LOT of reflection. Guy Lucas de Peslouan did an outstanding job on this magnificent watch. A dream photo of a Dream Watch.
Check out the other photos Guy made of several gorgeous de Bethune watches at his Facebook page.
More information about de Bethune can be found on their website.
https://monochrome-watches.com/weekly-watch-photo-de-bethune-dream-watch-black/