Live from the SIHH for Montblanc
Monochrome will report live from the Salon International de la Haute Horlogerie for Montblanc. Of course we'll keep you updated in other watches, but let's start with a relative newcomer in the watch industry.
On January 17th, Monday morning, one of the two most important watch fairs of the year started, the SIHH or Salon International de la Haute Horlogerie. The other fair is called Baselworld, which will be held in March of this year. Montblanc might not seem like the typical watch brand, but after less than two decades they have become a very strong and serious player in Haute Horlogerie.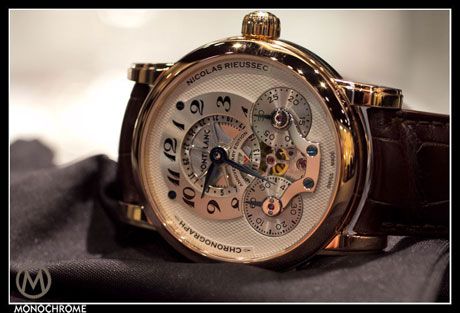 The Nicolas Rieussec collection was the features Montblanc's first in-house movement. For it's design they found inspiration in the first time writing machine, invented by… you probably already guessed it, Nicolas Rieussec. But later more on this very fine watch with my favorite complication, a mono-poussoir chronograph.
Right after the start of the fair, CEO of Montblanc International, was so kind to talk to us about what the SIHH and watchmaking means to Montblanc and of course what we can expect from Montblanc in the future. My first time on camera, so don't hold it against me 😉
Montblanc also released a new Timewalker model with a brand new in-house movement, a magnificent new Tourbillon Bi-Cylindrique and we get close-ups and video's of the functioning of the Metamorphosis, which was first shown during last year's SIHH. The Timewalker TwinFly Chronograph has a twin flyback function and also tells the time in a second time zone.
And to close of… a wrist shot of the Nicolas Rieussec Anniversary Edition Mono-poussoir chronograph.
Later today and over the following days I will report more about the new Montblanc timepieces and will share more photos and reviews on the Montblanc Facebook page and here on Monochrome.
https://monochrome-watches.com/live-sihh-montblanc/