Montblanc The Beauty of a Second Contest
Do you want to win a Montblanc Nicolas Rieussec Chronograph? Sure you do! If you enter the Montblanc 'The Beauty of a Second' contest you can win that gorgeous watch and a trip to the Berlin.
Your challenge is to create the most beautiful one-second video or create the winning playlist! You can upload up to 10 one-second videos before January 20th. The other option is to create the winning playlist, compiled of 2 to maximum 60 seconds. Film-maker Wim Wenders will pick the winners from the 80 most voted videos and playlists. Besides a trip to Berlin you can win this…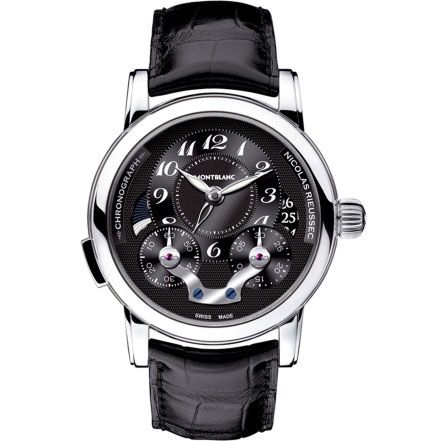 This contest is to celebrate the 190th anniversary of the chronograph's invention by Nicolas Rieussec. The inventor of the chronograph's name is also the name of the chronograph that features Montblanc's first in-house designed and manufactured caliber. Last year we reviewed the Nicolas Rieussec Automatic Chronograph for you.
By the way, this year we will be blogging live from the Montblanc stand, so stay tuned for more!
Montblanc of course started The Beauty of a Second, a short-film contest. Every second counts… and now even more explicit, by uploading your one-second video. Here you can find some inspiration for you one-second video or for creating a playlist. On this website you can already find compilations of the first two rounds. The video below shows Wim Wenders, who shares his thoughts about The Beauty of a Second.
You can upload you one-second videos until January 20th and you can create your compilation until February 16th. Browse the fragments of time or seize the moment to compete -> www.montblanc-onesecond.com
https://monochrome-watches.com/montblanc-the-beauty-of-a-second-contest/