Hands-on with the new Montblanc Nicolas Rieussec Rising Hours
Montblanc comes with a new variation on the iconic Nicolas Rieussec Chronograph, with an absolutely brilliant way to indicate time. The hour indication is not just a 12-hour indication, it immediately makes clear wether it's day or night.
I guess it's safe to assume that you know the Montblanc Nicolas Rieussec by now and if not, please check out the review that I did (click here). A perfect all-round timepiece with an almost excessive amount of class and elegance. And more-over it really is an all-round timepiece, as it tells hours, minutes, day/night, day of the week, date and has a mono-pusher chronograph!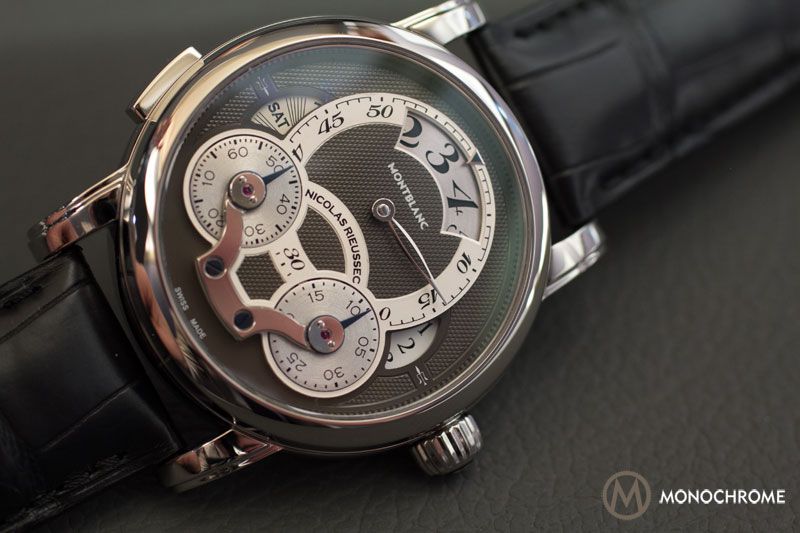 Like all top models from the Montblanc collection the new Rieussec Rising Hours features an in-house movement. In this case it is the new caliber MB R220, but more about that later on. When looking at the Rieussec Rising Hours from an aesthetic point of view, you can see the typical classic and elegant style that we know Montblanc for. The dial incorporates so much information, however the dial isn't too full or cluttered in any way. All indications are separated from each other and everything has more that enough space to be viewed in the glimpse of an eye.
The new Rieussec Rising Hours comes in three different materials, each with it's own dial; red gold and (limited edition) platinum with a beautiful silver-coloured dial. For this review I got to wear the stainless steel version, that features a bold anthracite/grey dial. The dial features a gorgeous Grain d`Orges (barleycorn) guilloche that adds a lot of detail when observed closely. From a distance it looks like a rich grey color.
The case measure 43 mm in diameter and 15.30 mm in height. Because of the sloping lugs, it sits more then comfortable on my average-sized wrist (18 cm), and perfectly fits under a shirt with cuff links. The cool thing about the Rieussec is that besides its board-room credibility, its chronograph offers enough sporty looks to be matched with jeans and a shirt as well.
The Rieussec Rising Hours now also indicates the hours with a disc; a signature of the Rieussec collection that grabs back on the first chronograph designed by a French watchmaker named Nicolas Rieussec. The hour disc features laser cut-out hour numerals in the same stylish font as the minutes. Below the hour disc is a disc with blue and black parts, that shows through the cut-out numerals. Black for day-time (between 6am and 6 pm) and light blue for night time. This makes it not only easy to see wether it's day or night on your watch, however it also makes it easy when you're adjusting time or date.
Flip over the watch and you'll see a magnificent caliber. The Montblanc in-house caliber MB R220 is an automatic movement with a 72-hour power reserve. It has a beat-rate of 28,800 vph and comprises of 343 individual parts, of which 42 jewels.
Center of attention is the balance that is one of the few parts that is not hidden underneath the large 3/4 bridge. All Nicolas Rieussec models feature a very large screw balance, measuring 9.70 mm in diameter. The screw balance is a sign of quality, that can only be found on the best watches in the market. Fine adjustment is done by means of the screws in the side of the balance and this requires a very skilled and experienced watchmaker.
Just above the balance you can see the gear train that has a magnificent contrast with the rhodium-plated bridges, which are adorned with Geneva Stripes or Côte de Genève as it's called in French.
The chronograph is activated by a column-wheel mechanism, again something that stands for a level of quality that can be found in the best chronograph. The column wheel can be seen through an aperture in the bridge and… the Montblanc star in the rotor. One of the many details that will keep amazing every owner of a Rieussec for a long time. As can be read on the bridge, caliber MB-R220 is equipped with two barrels, which deliver 72 hours of power reserve. Because of the long power reserve, the escapement is provided with a long period of constant force, making sure the watch's rate is very precise for a long period.
In my opinion, Montblanc released a magnificent timepiece that offers a LOT for the retail price of € 10.750 Euro (including taxes). The red gold comes at a price of € 26.900 Euro (again, including taxes). Oh and if you're interested in the platinum version, make sure to be fast, as it's limited to just 28 pieces!
More information can be found on the Montblanc website. By the way, for those with an iPad, Montblanc created an iPad Watch App that shows an an exclusive video of the movement, that is only available there. Click here to download the iPad Watch App.
This article is written by Frank Geelen, executive editor for Monochrome Watches.
https://monochrome-watches.com/hands-on-with-the-new-montblanc-nicolas-rieussec-rising-hours/