Hermes Arceau Temps Suspendu
Perhaps the most interesting complications are the ones similar to the iPad; you never knew you needed it before you got it. The Hermes Arceau Temps Suspendu has such a complication.
Before we dive into this, lets look at the Hermes from a strictly aesthetic point of view. The watch features several asymmetrical design elements that somehow all seem to boil down into a very balanced look. The case has those typical Hermes lugs, which by itself give the traditional round case a completely different look and feel. The dial features a retrograde date function between 3 and 7 o'clock. It is very nice to see that Hermes took all the space they needed for this complication. By doing so, they created one of the easiest readable retrograde dates on the market.
What also helps is that the outer ring of the dial, where the retrograde date is located, is raised. The date-hand finds it's joint hidden underneath it, so you have only a straight hand that indicates the date. These hands are also an embodiment of refinement. It seems like Hermes split the hands like a twig, creating a delicate skeleton kind of look that suits the watch very well. No luminova is used but this is a dress watch, so none is needed.
Now back to the complication… In the past two decades more complications have been developed then ever before. Most of them are very practical, while others become a symbol of human achievement by being so technically advanced that they are capable of displaying things like the equation of time on the 3rd moon of Jupiter, so accurate that it only needs adjustment once every 121 years. Like we already said in the intro, the Hermes Arceau Temps Suspendu features a complication, you never knew you would need, but you do!
In today's hectic world we are surrounded by more timekeepers then ever before, but sometimes you simply don't want to be bothered with the correct time. To accomplish this you can take off your watch or use the complication in this Hermes. Like a little time machine, this watch offers you the option to freeze time. Not really of course, but when you press the little button at 9 o'clock the hands move to the 12 o'clock area where they rest while forming a small V. The date-hand even completely disappears from sight, and hides under the raised part. Time is now suspended, hence the name of this Hermes. When you press the button at 9 o'clock again the correct time and date will be displayed within a blink of an eye.
The great thing about this movement is that it doesn't make a difference if you re-engage time within 5 minutes or after 5 days, as long as the automatic movement is still ticking it will show the correct time and date right after the push of the button. Hermes used 254 parts to create this masterpiece. Amongst them are two synchronized column wheels that support the 360-degree retrograde mechanism.
Connoisseurs will see similarities with Thomas Prescher's Tempus Vivendi, in terms of complication. The Tempus Vivendi also offers hands that indicate the time at the push of a button, however without a date function. This Hermes and Thomas Prescher's Tempus Vivendi are however incomparable by means of exclusivity and finish, because the Tempus Vivendi is hand-made and features exclusive and complex engravings on the dial.
Hermes offers the Arceau Temps Suspendu in both steel as well as 18k pink gold. While the steel model gives you the option to choose between an opaline or black dial, the pink gold model comes in opaline only. Both dial colors feature typical herringbone decorations that, just like your Savile Row suit, add some understatement to the watch.
With a diameter of 43 mm Hermes  offers a modern sized dress watch, with a unique complication and a strong design with enough details to please the eyes for decades to come. Although Hermes is usually not at the top of the list of most watch collectors, this watch might make some reconsider that list.
People who are after something truly unique might want to make a bid on the Only Watch 2011 that Hermes made. This is, in the tradition of this famous auction, a piece unique that is in every way similar to the regular Arceau Temps Suspendu, but features a palladium case and a blue dial.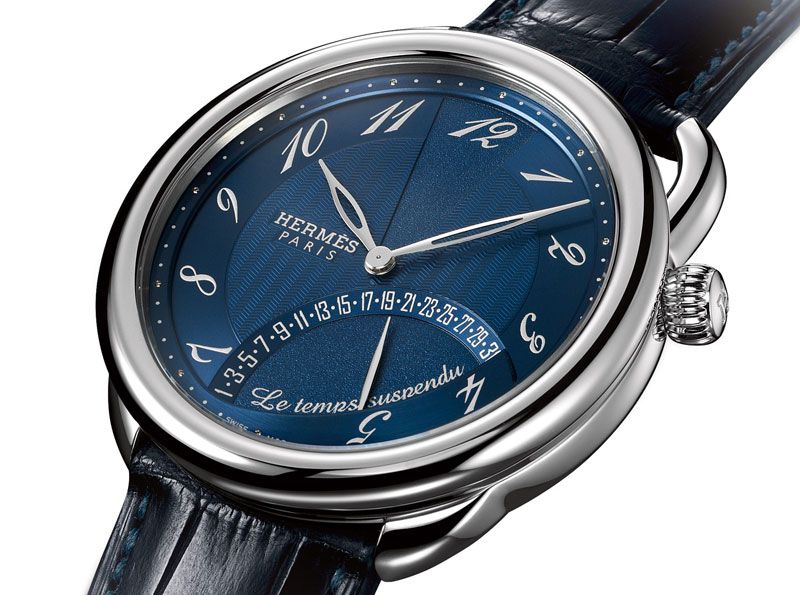 Usually we would point you to the Hermes website, but because this website is somewhat of a nightmare we suggest you try to find a local dealer.
Price for the rose gold version is $36,200 or € 27.300 (limited to 174 pieces) and $17,150 or € 13.000 for the version in stainless steel (not limited).
https://monochrome-watches.com/hermes-arceau-temps-suspendu/