Hand-made by Thomas Prescher
Thomas Prescher created the first triple axis tourbillon in a wristwatch and the Mysterious Double-Axis Tourbillon. So with right we call him the master of Tourbillons. Last year, he also created a custom watch based on an old Zenith movement… Hand-made by Thomas Prescher. 
This is something typical for independent watchmakers, creating a commissioned watch entirely based on the ideas of the customer. The Voutilainen Observatoire we wrote about the other day, was made according to customer's specifications. And in 201o we already reported about the watch with Family Crest, Prescher made for a customer. Today we show you another timepiece Thomas Prescher made and how he does this…
This watch is the result of a customer's request; could Thomas Prescher make a watch, using the movement of the customer's old Zenith. The movement is a Zenith caliber 135, a typical chronometer movement that competed in the Observatory Chronometer testings in the 1960's.
Nice to know: Caliber 135 was introduced in the mid 1950s by Zenith and it was a fully-adjustable 19-jewel movement. Zenith created a special arrangement of the gear train, with the offset minute wheel, which allows for an exceptionally large balance wheel of 14 mm. The larger the balance wheel is, the higher the rotational inertia which allows for a more consistent performance, without increasing weight or beat rate. In addition, it sports a fine-regulator mechanism, which was capable of very precise adjustments. In total Zenith produced around 11,000 of this caliber 135 from the mid-1950s to the end of the 1960s.
It all got started after Thomas Prescher received an email, inquiring about the possibilities of a custom made watch with the customer's old Zenith caliber 135 movement. The movement was fully restored and the case, dial and hands are custom-made to the customer's specifications.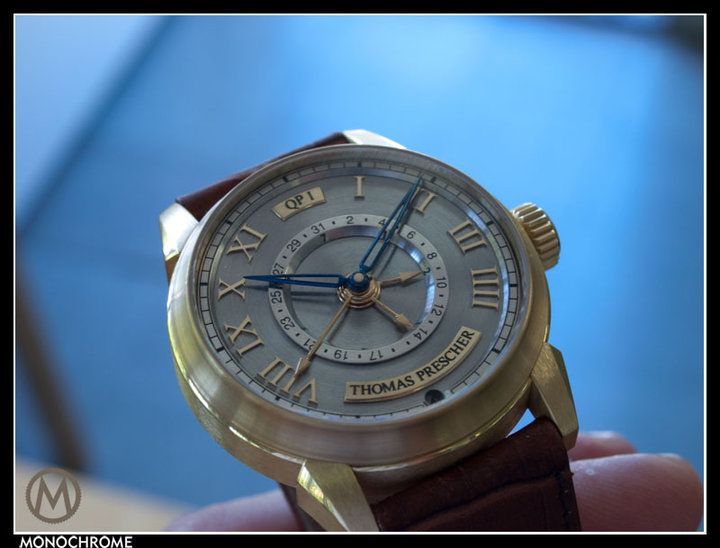 The case, dial, hands and hour markers are heavily inspired on the Prescher QP-1 (perpetual calendar). Just look at the The Roman hour indices, made of 18 carat gold, the blued steel hands and the recessed small seconds sub dial.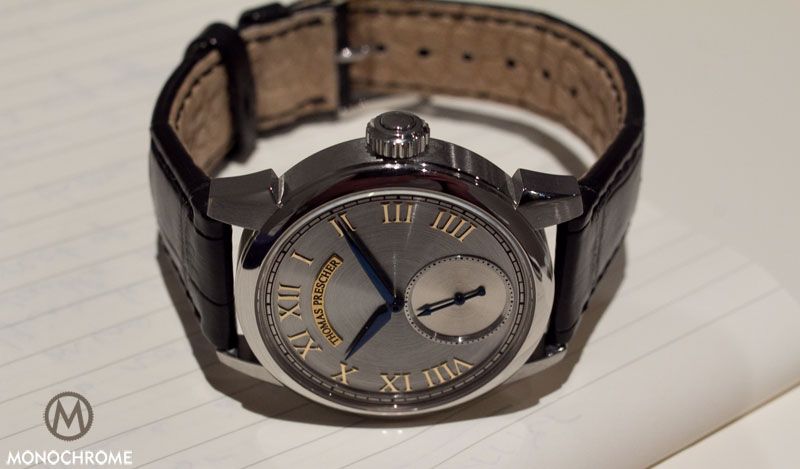 If you wonder how this process of inquiry to the completed custom-made watch goes or if you're interested in ordering a hand-made watch from Thomas Prescher yourself, than check out his website, where he published the story including emails and photos of the old movement, the restoration, raw case and dial parts, finished parts and finally the assembly. A recommended read (and view)!!
You can start going through the story, by clicking on the first picture and choose "play" in the lower left corner. Check out the story here.  By the way, there are more of these stories on Thomas Prescher's website!
https://monochrome-watches.com/hand-made-by-thomas-prescher/