Thomas Prescher Family Crest piece unique
Independent Haute Horlogerie offers unique opportunities of customizing. Like this one… Thomas Prescher was asked to incorporate a family crest in the dial and hands of a watch.
Last year we already reported about the start of Thomas Prescher's work on creating a minuscule family crest as dial and hands of a watch. A few months later, the Tempus Vivendi Family Crest is ready.
The Tempus Vivendi was the basis for this amazing challenge. One of the unique features of the Tempus Vivendi collection is that the hands will indicate the time after the crown is pushed. When the crown is pushed again, the hands go back to the design's position. On the video below you can see the hands of another Tempus Vivendi model, the Qatar Watch, moving to indicate the time.
This construction offers many possibilities, just think about it. The logo of you favorite soccer team, football team, basket ball team or maybe also your family crest.
Here are a few more photos of this amazing unique piece for you to enjoy.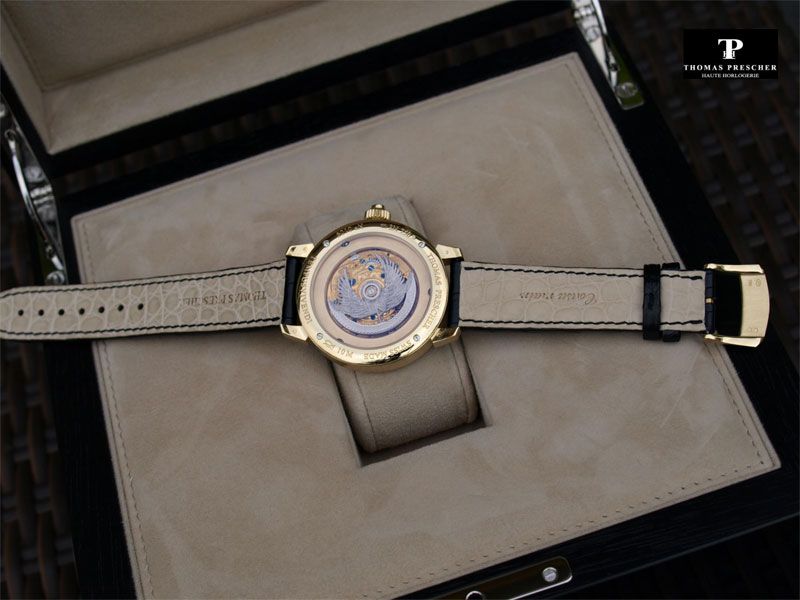 For more information you can contact Thomas Prescher through his website or visit his Facebook page to stay informed about his newest watches.
https://monochrome-watches.com/thomas-prescher-family-crest-piece-unique/