Glashütte Orginal donates PanoMaticReserveXL piece unique
Glashütte Original donates a one of a kind watch to Italian Cancer Research Organization AIRC. And to be honest, this watch is so beautiful that i hope it will be part of the novelties Baselworld 2010!
Patrizzi & Co will auction 40 watches during the Italian national day of cancer, November 26th. All proceeds will go to the Italian cancer research. Earlier this year i already blogged about the Only Watch 2009 auction Patrizzi & Co did for another good cause. For this auction, Glashütte Original donates a unique version of the PanoMaticReserve XL. This one is so beautiful… that i'm sad that it's a one of a kind…. Here is already the off center placed hour and minutes subdial. Scroll down to see more of the watch….
The regular Glashütte Original PanoMaticReserveXL, only available in white or rose gold, has a diameter of 42mm and is 12.5mm thick. This piece unique has a steel case with PVD coating, which suits this model very well. Instead of the usual red accents, Glashütte Original has chosen yellow.
The beautiful silver markers are applied and next to every  marker, as well as on the hands, is luminous material to make it possible to tell the time in the dark. The use of yellow as accent, they went further than on the regular PanoMaticReserveXL models, which have the date in white on black date disks. This piece unique Glashütte Original that will be auctioned by Patrizzi & Co, has a yellow date on the black date disks. I just love those details 🙂
Inside ticks manufacture caliber 90-03 that gives 42 hours of power reserve. The beautifully finished movement has 61 jewels, the Glashütte three-quater plate, hand engraved balance bridge and a double swan-neck fine adjustment.
Now a photo of the watch… Glashütte Original PanoMaticReserveXL piece unique. A beauty… and i really hope GO will take such a watch into production. Look for yourself and let me know what you think!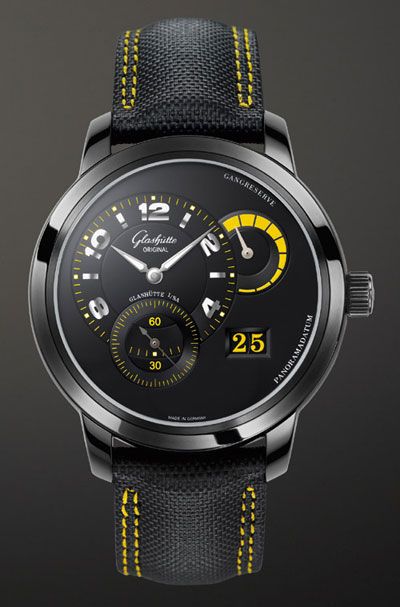 https://monochrome-watches.com/glashtte-orginal-donates-piece-unique/