Jaeger LeCoultre wins Chronometrie 2009
Jaeger-LeCoultre wins the Chronometrie 2009 International timing competition for mechanical wristwatches with the Master Tourbillon. In fact Jaeger-LeCoultre won not only the first price, also picked up second place for the Reverso Gyro Tourbillon 2.
The two Jaeger-LeCoultre watches were adjusted by a team led by the firm's technical director, Mr Jean-Claude Meylan. The photo below shows the movement of the first winner of the Chronometrie competition in 37 years, Jaeger LeCoultre Calibre 978 of the Master Tourbillon.
This was the first time since 1972 that this official timing competion was held. The Chronometrie International timing competition for mechanical wristwatches was last held in 1972 at the Neuchâtel observatory. This years' competition was held to mark the 50th anniversary of the watch museum in Le Locle.
Entering a competition like this places a heavy demand upon the skill of the master "regleur" and upon the quality of the watch and its movement. The full test lasts a period of 45 days. During this time three 15-day tests are performed. The Chronometrie 2009 competition took things a step farther than the classic observatory trials. In the final phase of the testing fully assembled watches, instead of un-cased movements, were given a final test of precision. This last test comprises extensive shock and magnetism trials. By doing so they attempt to replicate daily situations a watch might encounter when worn.
Usually a watch runs a few second fast/slow per day. If a watch has been tested by the C.O.S.C. and the results where positive, it gets a chronometer certification. This means the movement is individually tested for several consecutive days, in 5 positions and at 3 temperatures. The average deviation may be -4 seconds or + 6 seconds per day.
Now imagine… during the 45 days of testing of the Chronometrie 2009 competition the Jaeger LeCoultre Master Tourbillon gained on average 0.13 seconds per day…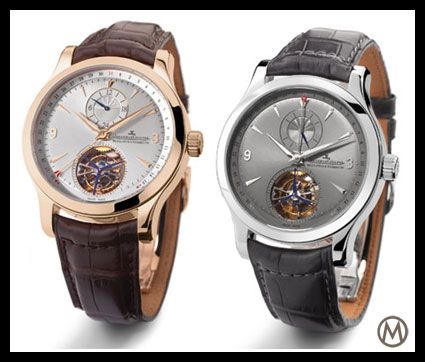 The Jaeger LeCoultre Master Tourbillon has a list price of 35,ooo euro (or just below 50,000 USD) for the steel version. Lately i've seen these watches for very nice prices. New they can be found for around 30% discount, used watches for almost 50% off of the list price. If you are interested in this watch, now is the time to buy. I can only imagine prices to go up after winning this prestigious contest.
The world's most precise watch can be found for less than € 20,000 euro!! But for how long…
A good and trustworthy resource for used watches is Chrono24.com.
https://monochrome-watches.com/jaeger-lecoultre-wins-chronometrie-2009/