Weekly Watch Photo – Jaeger-LeCoultre Master Perpetual
Sunday, so time for Monochrome's Weekly Watch Photo. Like last week (check here) it's a cooperation with AskMen and this week I'm putting one of my dream watch in the spotlight. All photos are made by Tony from Halfpastthehour. 
When I first discovered watches, and, in particular, mechanical watches, the Jaeger-LeCoultre Master Perpetual made a lasting impression. And I had no clue about its price or all its funky little sundials and hands. It was purely that massive wow factor that did the job.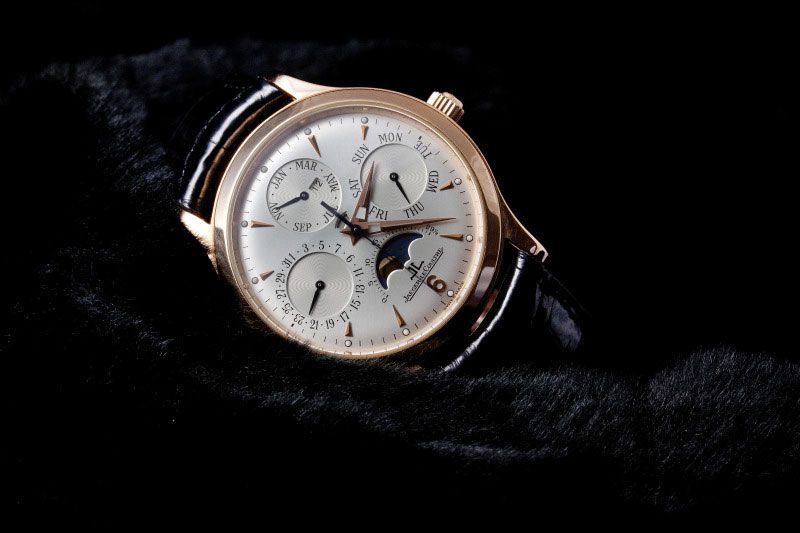 Yes, there's a lot to see on the dial: small subdials and hands, and then there's that little aperture with stars. This is, in fact, a moon phase indication, and, like the name suggests, it indicates the actual lunar phase. Although our calendar month isn't always the exact same number of days, the moon does make a full rotation around the Earth in approximately every 29.5 days. In this photo you only see stars because it's the new moon. During a full moon, it will be in the center of the aperture.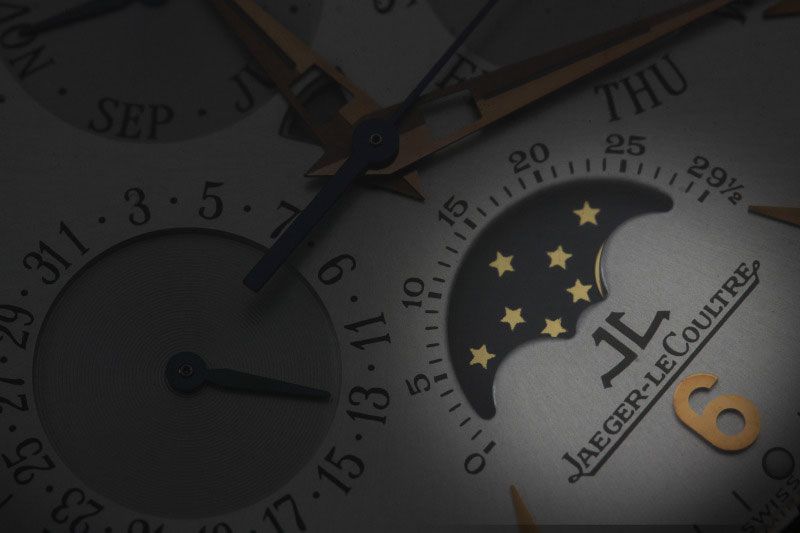 And there's more to see on the dial! Following the subdials clockwise, there's the date, month and day of the week. But these indications alone do not a perpetual calendar make, as you would also want to see the year. And when you look closely at the month subdial, you will also see a two-digit year indicator.
The Jaeger-LeCoultre Master Perpetual also has an idiot indicator that shows red during the time period (10 p.m.-3 a.m.) when it's unsafe to set back the time or adjust the date. The hands have cutouts in them so that the indicator is also visible at all times. Ain't that helpful? The only thing you should be aware of is that it's not safe to adjust the date backward. If you do, you can either stop the watch and wait until it's that date, or send it back to Le Locle, where JLC watchmakers can set it to the correct date again.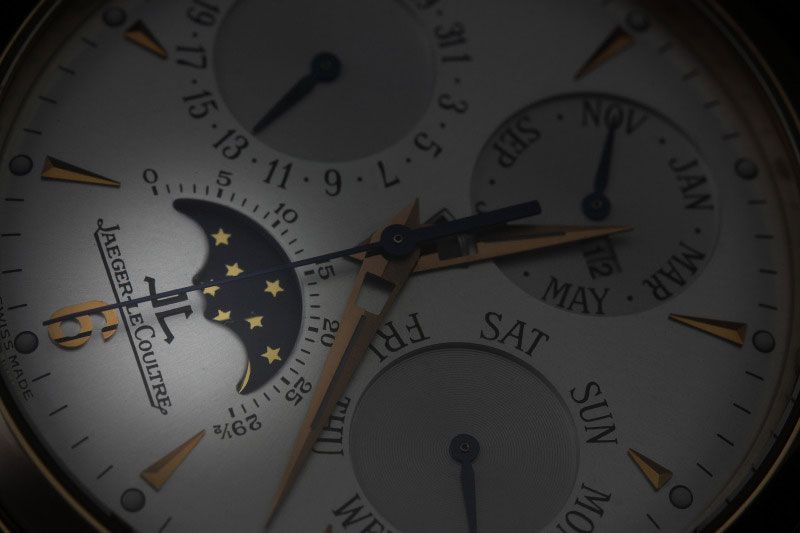 Perpetual calendars and tourbillons are among the most complicated and, thus, most expensive mechanical timepieces out there. When this Jaeger-LeCoultre was released, it was far above my budget – searching for a used one is an option.
Given contemporary taste, this older model could be considered small, as it has a diameter of 37 millimeters, but the current Jaeger-LeCoultre collection offers a Master Eight Days Perpetual, which has a diameter of 40 millimeters and has another movement offering up to eight days of power reserve.
Jaeger-LeCoultre tests all its Master Control Series watches for no less than 1,000 hours. It performs reliability testing in six positions, tests temperatures ranging from 4 to 40 degrees Celsius, and tests the influences of magnetism (up to 5,000 amperes/meter), shocks, vibrations and pressure (5 atm). I guess this should take care of any qualms you might have about buying a used one (or a new one).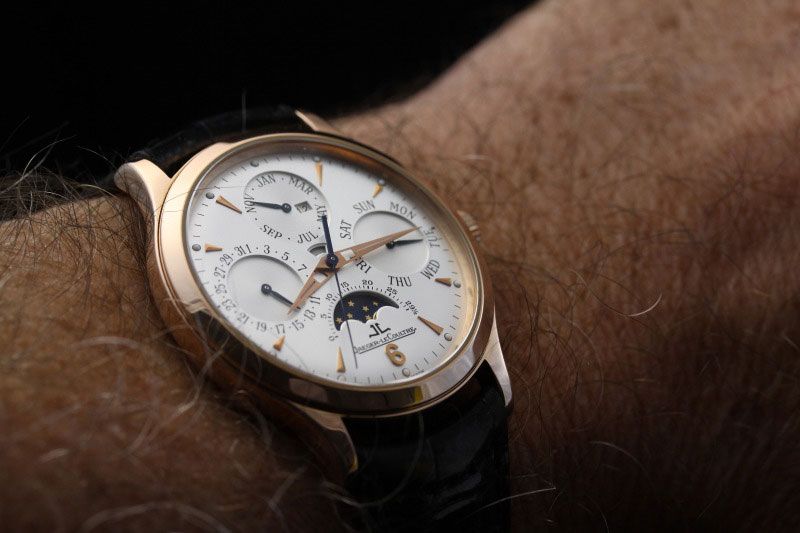 This week's photos were taken by Tony, from Halfpastthehour, of his own Jaeger-LeCoultre Master Perpetual. Stay tuned for next week's Weekly Watch Photo, when we'll treat you with more horological eye candy!
This article has also been published at AskMen (here) and huge thanks to Tony from Halfpastthehour for his brilliant photos and congrats on owning that magnificent Jaeger-LeCoultre Master Perpetual!
This article is written by Frank Geelen, executive editor for Monochrome Watches.
https://monochrome-watches.com/weekly-watch-photo-jaeger-lecoultre-master-perpetual/