Weekly Watch Photo – Jaeger-LeCoultre Duomètre à Quantième Lunaire 40.5
I guess most of you know about what brand I'm talking when I mention the drop-dead-gorgeous movements with their incredible three-dimensional architectural designs. Indeed, an absolutely beautiful German watch brand. And now they have some serious competition!
After I had to chance to wear the new Jaeger-LeCoultre Duomètre à Quantième Lunaire 40.5, that was released late last year, it looks like that German brand has some competition. Of course they have competition, however I'm referring to the looks of their magnificent movements. Has that ascendancy come to an end?
The beauty of the Jaeger-LeCoultre Duomètre movements is simply stunning. One of the gorgeous aspects is that they offer a view into a three-dimensional dream of bridges made of German silver, golden gears and polished pinions set in golden chatons. And of course all these parts are hand-finished to the highest standards, featuring and exquisite sunray-like Geneva striping on the bridges.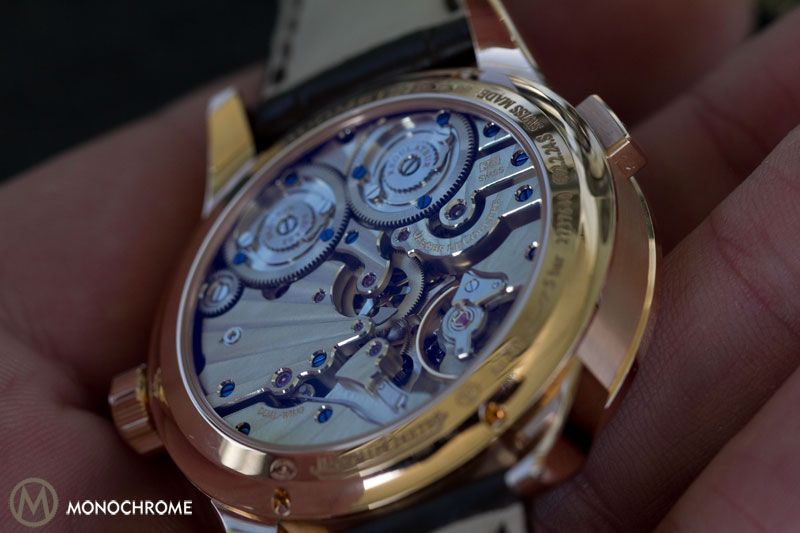 Jaeger-LeCoultre's development of the Dual-Wing system, which is applied in the Duomètre collection, is probably one of the smartest and most logic developments in the history of mechanical watches. This might sound like a bold statement, however in the upcoming review I will explain why I'm convinced of this.
However not only the Duomètre models stand out for the gorgeous movements, also the Jaeger-LeCoultre Master Minute Repeater 1833, that was photographed by our contributor Time2tic, stands out for a magnificent architectural caliber. Check here to see the photos.
And after seeing all these photos show the intimate parts of the Duomètre à Quantième Lunaire 40.5 I think it's time to show you how it looks on the wrist. Again stunning… in an understated elegant way.
This article is written by Frank Geelen, executive editor for Monochrome Watches.
https://monochrome-watches.com/weekly-watch-photo-jaeger-lecoultre-duometre-a-quantieme-lunaire-40-5/