Weekly Watch Photo – Thomas Prescher Mysterious Double-Axis Tourbillon
This week's Weekly Watch Photo shows what an incredible genius Thomas Prescher is. His Mysterious Automatic Double-Axis Tourbillon is a mystery, but a beautiful and intriguing mystery.
When I visited Thomas Prescher last year I was eager to see his Triple-Axis Tourbillon and Mysterious Automatic Double-Axis Tourbillon. Both are masterpieces of unique and unrivaled level. No other watch maker has created such complex tourbillons and I think it's justified to call him the Master of Tourbillons.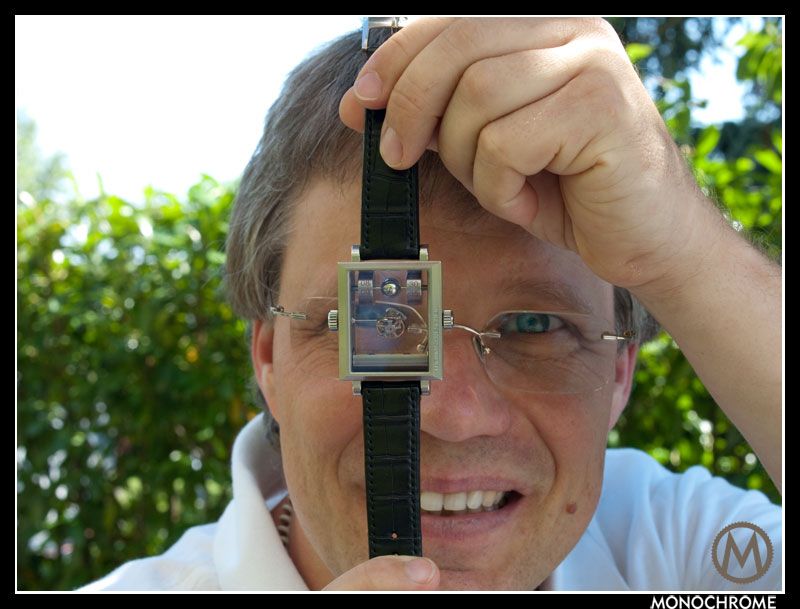 The Mysterious Automatic Double-Axis Tourbillon shows only hardly anything. It shows only a time and date indicator, the double-axis tourbillon and the oscillating weight. The movement is completely hidden. The movement is hidden in the left and right sides of the case.
Because the space is very limited the parts of the movement had to be located on both sides.The automatic movement has a horizontal swinging oscillating weight. The escapement with its beating balance is a flying Double Axis Tourbillon with constant force. The tourbillon is placed on a turning axis and held by a carrying arm. The carriage is rotating around itself. It's magnificent to see the rotating double-axis tourbillon in the center of the dial… well, in the center of attention.
One crown is used for winding and the other for setting the time and date. Both crowns create the symmetrical looks of this watch. Hours and minutes are indicated on the rotating barrels.
The calendar is located on the flat side of an oscillating weight and this indication is always facing upward. It can be read regardless of which side of the watch is up.
I'm very much looking forward to meeting Thomas Prescher again at Baselworld and hope to show you more of his masterpieces!
More information can be found at Thomas Prescher's website and official Facebook page.
https://monochrome-watches.com/weekly-watch-photo-thomas-prescher-mysterious-double-axis-tourbillon/