Hands on with the MB&F Legacy Machine 1
Our new contributor Ian Ellery, shares his hands-on experience with Max Busser's latest creation, the MB&F Legacy Machine 1. And we added some of the beautiful photos made by Peter Chong.
There have been a lot of column inches dedicated to the launch of the MB&F Legacy Machine 1. This is only natural given that every creation from this atelier is exceptional. The real question of course is what is it really like to wear?
While I wasn't able to get an extended loan, I was able to grab a few minutes with the rose gold version.  Let's leave the look for later, the most surprising thing about this watch is the weight, or lack of it, despite the use of precious metals the LM1 is beautifully light to wear.
As this is an MB&F watch, the watch's face is of course unusual; there are any number of watches with two dials and as this is a GMT watch each one is independently adjustable to a different time zone. The hands look to be the same as those used on the HM4 Thunderbolt, but here they have been "blued" to vividly contrast with the white lacquer dial.
The high-domed sapphire crystal is a marvel of engineering; on a smaller scale this format was used on the HM3 Frog. However to create this, a number of technical challenges need to be solved. Any curved glass will act as a lens unless the interior and exterior curves are exactly the same and here there is only the merest hint, with a sharp sign on view, quite a remarkable feat.
That high-domed profile is perhaps the most controversial aspect of the design and it is quite plainly substantial, and there is nothing worse than buying a new watch and scratching it within the first week.
Readability is excellent, the dials are clear and due to that huge crystal there is a wide viewing angle. Less clear is the "vertical power reserve", actually on a curve rising from the base plate, the blue indicator doesn't really contrast enough, but nevertheless an excellent complication.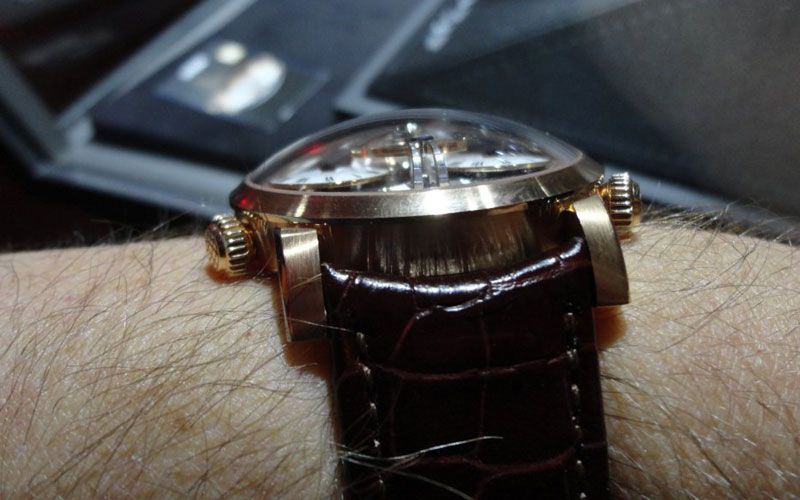 While not perhaps as outlandish as some MB&F creations this is without question a beautiful and eminently wearable watch. Build and finish are everything we have come to expect from this brand whilst being able to meet a much more affordable price point.
The MB&F Legacy Machine 1 is available for 79,000 CHF 
Much obliged to Peter Chong for letting us use his beautiful photos! In his post about the MB&F Legacy Machine 1 you can see more of his photos of this magnificent timepiece. 
https://monochrome-watches.com/hands-on-with-the-mbf-legacy-machine-1/