Max Busser and Friends or MB&F have done it again. Their Legacy Machine 1 (LM1) created a true storm in the world of Haute Horlogerie aficionados and sold out within… well, very fast. After four crazy machines (at that time) collectors, aficionados and possibly a new group of clients, were ready for something entirely new and LM1 offered exactly that. A brilliant mix of classic Haute Horlogerie and some daring complications, with a sauce of superb finishing. Today MB&F introduces Legacy Machine 2 (LM2) and it is again nothing short of brilliant.
The newest creation from mister Busser, LM2, looks a lot like LM1. The same look and feel, the same huge domed sapphire crystal (which is incredibly complex to produce by the way), the same white lacquered dial (now one instead of two in LM1) and again the balance wheel that hovers over the dial, hanging from an arched bridge. However this time it isn't one balance that is suspended above the dial, but two. That's because Legacy Machine 2 pays homage to, one of the rarest mechanisms in the history of watchmaking: the dual regulator.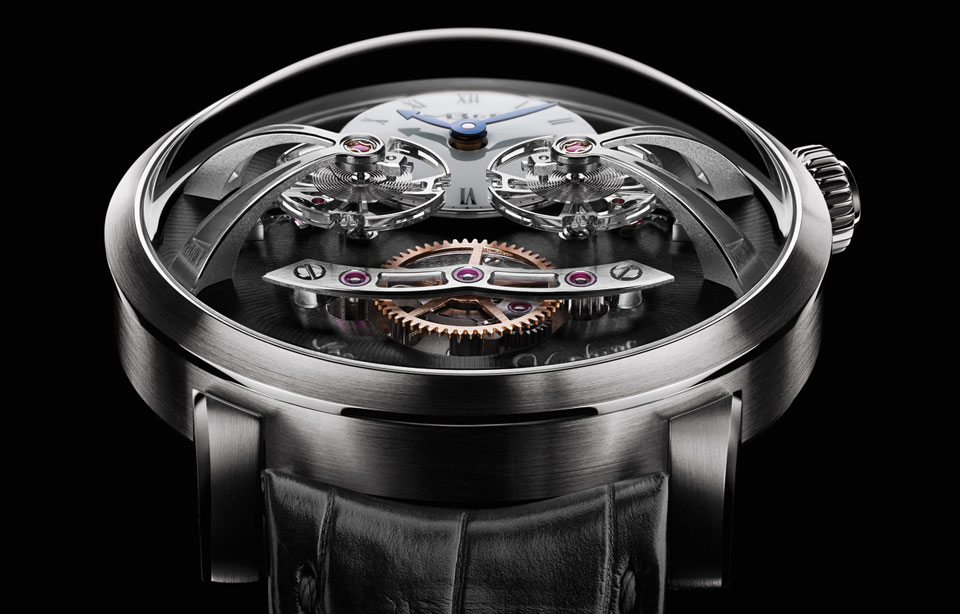 The two bespoke balance wheels (no off-the-shelf Nivarox balance wheels here) are equipped with four fully functional timing screws. The two balances feature a Breguet overcoil, for more precise timekeeping. Because of their mirror positioning the balances react differently all kind of forces that have effect on. In contrast with FP Journe's Chronomètre à Résonance, the distance between the balance wheels has been carefully calculated to avoid resonance, as this would negatively interfere with regulation.
The elegant majestically curved arms suspending the flying balances are sculptural works of art in themselves. And right in the middle, is the differential that transmits the average rates of the dual regulators to a single gear train.
Like with LM1, the movement of Legacy Machine No. 2 was developed (to MB&F's specifications) by watchmaker Jean-François Mojon and independent watchmaker Kari Voutilainen ensured that the movement's aesthetic style were on par with the best of the best.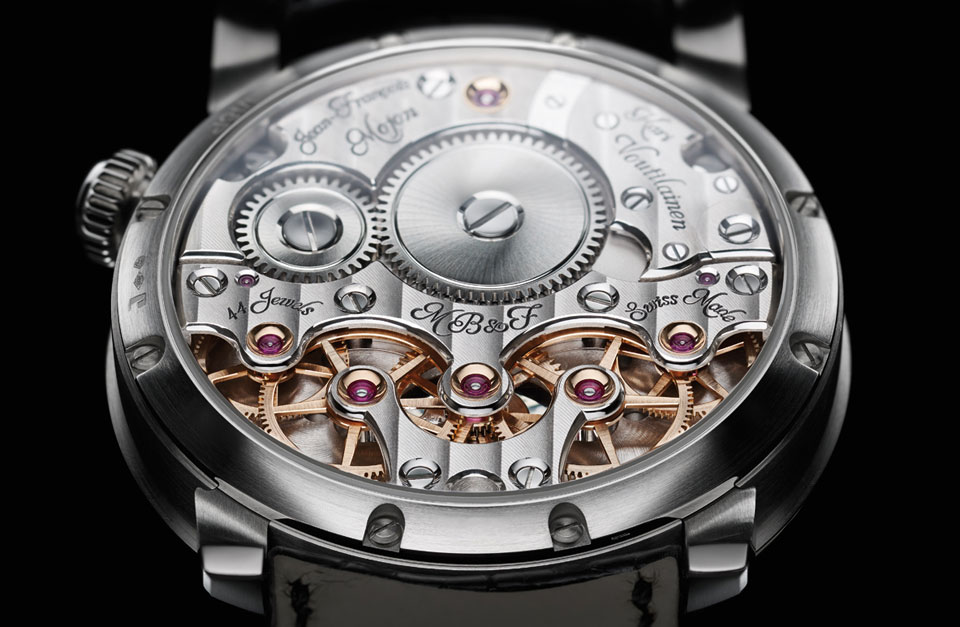 Gorgeous Geneva stripes, gold chatons, mirror-polished bevels and bridges designed with internal bevelled angles. These internal bevelled angles cannot be finished by machine and perfectly showcase the movement's peerless fine finishing. The names of the two men responsible for the movement are hand engraved on the large upper bridge.
Legacy Machine No. 2 is available in 18k red gold, 18k white gold and a limited edition of 18 pieces in platinum 950 that features a striking sky-blue dial. The MB&F Legacy Machine 2 measures 44 mm in diameter and 20 mm in height. The white gold and red gold version will be available $156,000 USD.  The limited edition platinum LM2 will come at a price of $190,000 USD.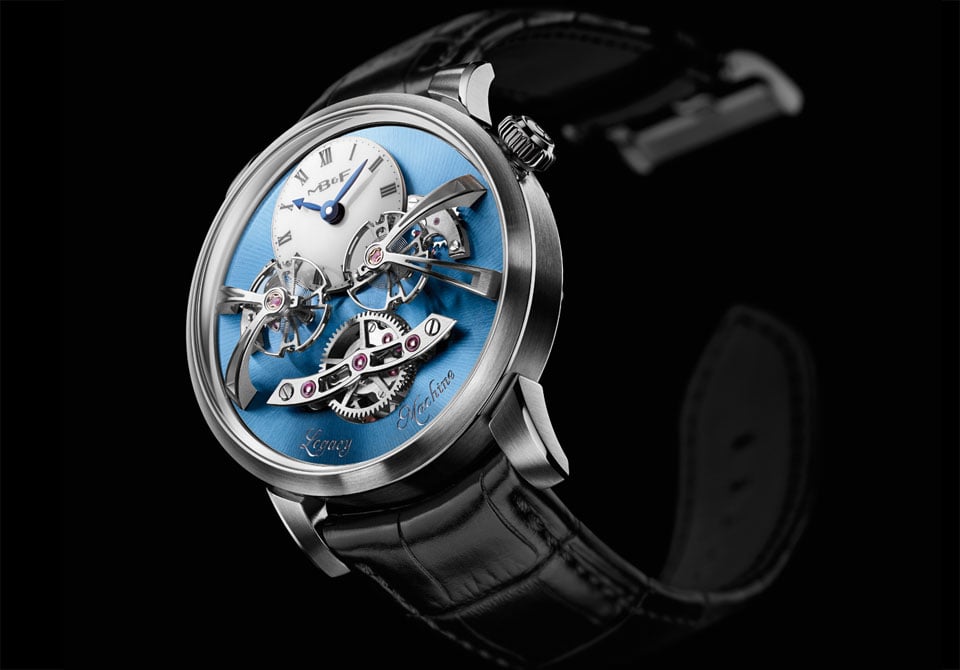 Next week we'll get to see the Legacy Machine 2 in the MAD Gallery in Geneva. Of course we will report about our hands-on experience with LM2 and explain all technical details. You can find all specifications on the MB&F website.