To boldly go where no watchmaker has gone before
The MB&F HM4 Thunderbolt was awarded the prize for best Concept and Design Watch by the prestigious Grand Prix d'Horlogerie of Geneva 2010.
Max Busser has taken his 'Thunderbolt' friends on a prize-winning journey. With it's innovative and extreme design I must admit I wasn't amazed to hear MB&F's HM4 Thunderbolt won in the category Concept and Design Watch.
I can still remember Steve Hallock, president of  MB&F North America, showed me the bare movement (during Baselwolrd 2010) and asked what I thought the watch would look like. And I didn't have a clue.
HM4's engine was entirely designed and developed by MB&F over three years of intensive work with Laurent Besse and Beranger Reynard of Les Artisans Horlogers. Each of the 311 components were developed specifically for the Thunderbolt, no off-the-shelf mechanisms or parts were used at all due to the extreme nature of its architecture.
Two mainspring barrels connected in parallel provide 72 hours of energy, and they transfer their power to the dual jet-turbine-like indication pods (one displaying the hours and minutes, the other the power reserve) via vertical gear trains.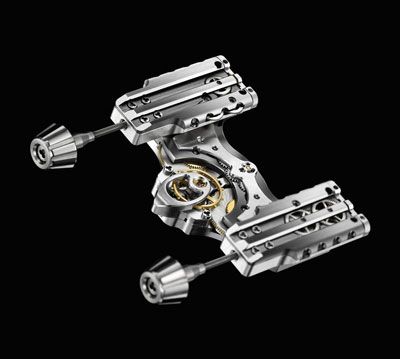 Both it's case and it's movement are little technical miracles. Take the sapphire ring in the middle of the case. Starting with a solid piece of sapphire, it takes more than 100 hours of machining and polishing to turn a block of crystal into this mid section of the three part case. But it's wroth the trouble because it provides sight on the beautiful engine.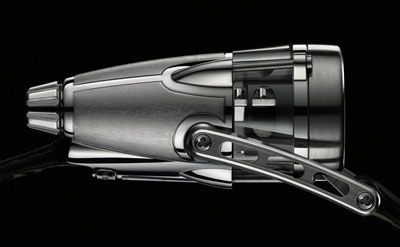 When I saw the press release I was astonished, amazed, blown away. What a watch! When Ian Skellern and I visited Max Busser last August I got to strap the HM4 around my wrist. Wearing a watch like this somehow brings back the kid in you. At least that's the feeling I had.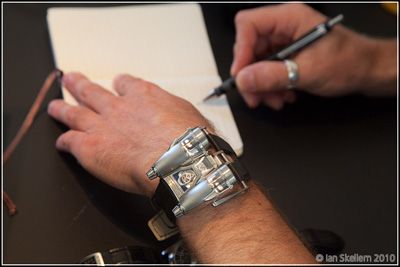 It looks like jet engines, like it comes from a dashborad of a 1950's car or maybe from the 1950's Thunderbirds television show. Wow, this watch appeals to everyone's imagination. It's name, it's design made that some words triggered my imagination.
Captain Max Busser and his Thunderbolt…. to boldly go where  no watch maker has gone before. Congrats to Max and everyone involved in creating this magnificent timepiece!
To learn more about MB&F timepieces check out the MB&F website and Facebook page.
https://monochrome-watches.com/mbf-hm4-thunderbolt/