MB&F HM4 Only Watch 2011 – Panda flying on Horological Machine 4
MB&F releases a unique HM4 for Only Watch 2011, the charity auction to help research into duchenne muscular dystrophy. The HM4 Only Watch will be auctioned in Monaco on the 22nd of September 2011.
MB&F returns to the Only Watch charity auction with another emotionally charged piece, this time in collaboration with Chinese artist, Huang Hankang. The HM4 Only Watch is based on Horological Machine 4, featuring a miniature flying panda bear is a magical synthesis of children's dreams and cutting-edge haute horlogerie. Cool isn't it?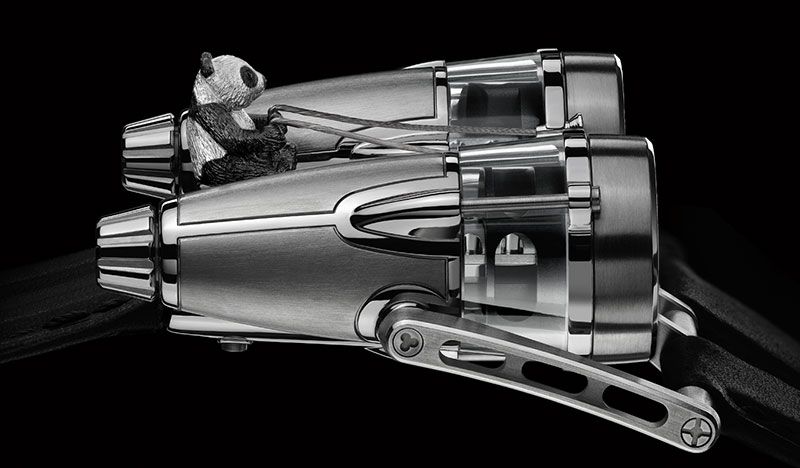 This MB&F HM4 Only Watch is created in collaboration with Huang Hankang, a Paris-based Chinese artist. A few years ago MB&F founder Maximilian Büsser noticed a painting of a panda flying on a rocket that was made by Huang Hankang. This inspired the collaboration, which led to this unique space-age Horological Machine piloted by a friendly panda.
Huang first imagined and then painted a delightful, carefree panda bear flying free on top of HM4 and MB&F set about transforming Huang's painting into a horological expression. Huang's original painting accompanies the HM4 Only Watch.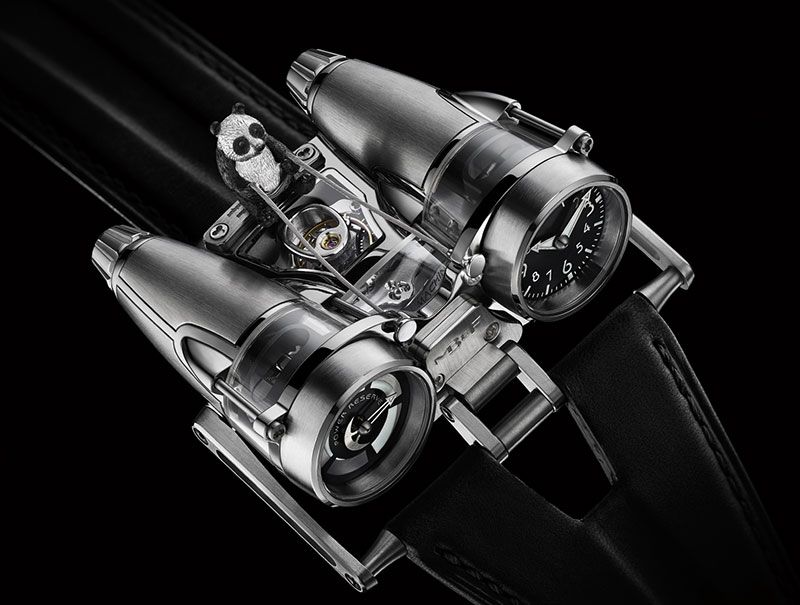 HM4 Only Watch features the dream-world scenario of a solid gold panda bear riding on top of the HM4 jet, which he controls with golden reins. The panda was hand-carved and then cast in 18k white gold. And while the HM4 Only Watch is a celebration of the fantasy of children's dreams, there is also a feature for those obliged to ground their feet in reality from time to time: the panda and his reins are completely detachable, so that HM4 transforms from a flying machine into a Horological Machine.
When the panda is detached there is of course the HM4 as we know it, with only one difference. The artist's signature on the sapphire crystal see-through case back. At least if we can speak of a case back with such an innovative timepiece. The case is composed of three parts: two streamlined jet turbine–styled pods supported by a horizontal section housing the engine and the central section of the case itself.
The Thunderbolt's engine has 311 components that are specifically developed for it. No off-the-shelf mechanisms or parts were used at all due to the extreme nature of its architecture.
Two mainspring barrels connected in parallel provide 72 hours of energy, and they transfer their power to the dual jet turbine-like indication pods (one displaying the hours and minutes, the other the power reserve) via vertical gear trains.
Now it's time to fly away… If you like to see this panda flying his HM4 again, you can visit the Only Watch 2011 auction this September in Monaco or the visit the Only Watch 2011 website.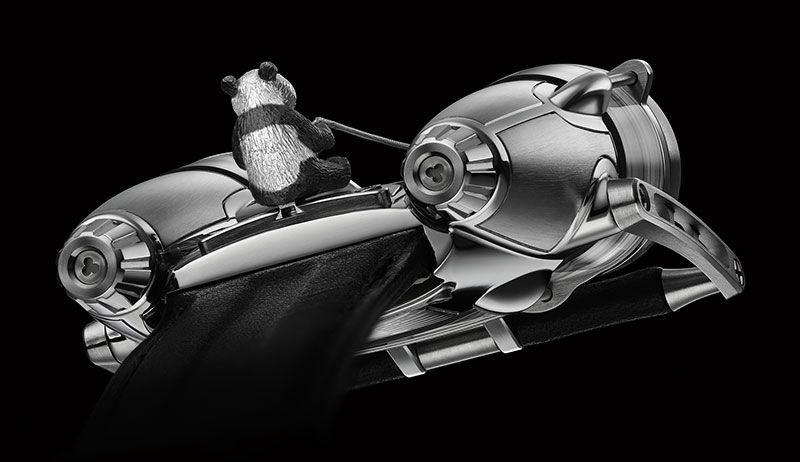 Check out the MB& website and official Facebook page for more information about the MB&F Horological Machines.
https://monochrome-watches.com/mbf-hm4-watch-2011-panda-flying-horological-machine-4/