d.m.h – watches by a true independent watchmaker
Dingemans Mechanische Horloges or d.m.h in short is a true independent watchmaker. One man, one vision. Form follows function… and he makes almost every part himself!
This watch is made by what you may call an independent watchmaker. Almost everything is made by the watchmaker himself. Only the movement, hands, strap, screws and o-rings are bought. The case, crown mechanism and dial are completely designed and produced by one man, Fred Dingemans.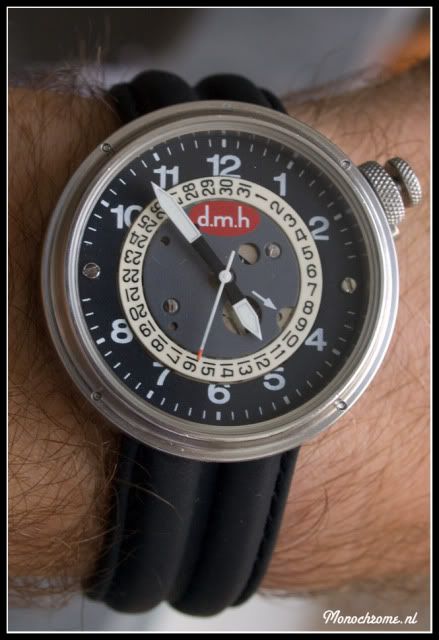 Fred Dingemans makes everything in his own workshop on old (or vintage) machinery. Later i'll make a review of the man, his vision and his watches. The brand is called d.m.h which stands for Dingemans Mechanische Horloges, translated Dingemans Mechanical Watches.
By the way, he only makes 12 watches a year! And his motto is form follows function.
Now to the watch…
The case is 40mm in diameter, machined from a block of 316L stainless steel, waterproof to 30 meter. It's got two mineral crystals, no sapphire. Sapphire crystal is more scratch resistant, but breaks faster than mineral crystal. Inside is a n.o.s. TD movement with d.m.h rotor. The dial is cut from a piece of brass and afterward a few holes are drilled for the screws and canon pin. The dial color can be chosen by the customer and is handpainted. The numbers and logo are stamped with a sponge, like they used to do long time ago.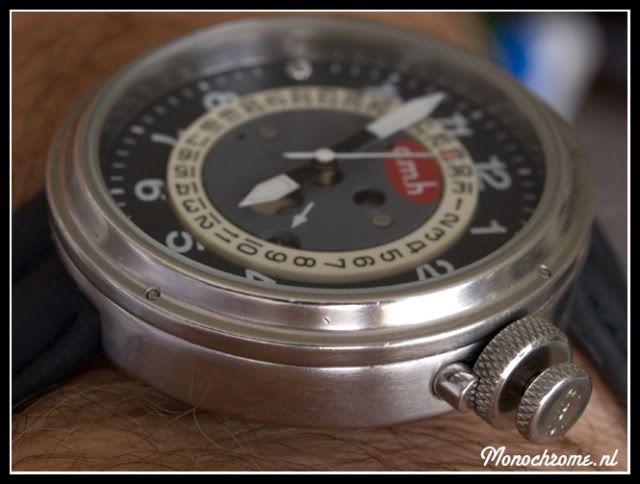 According to the form follow function, the dial is attached to the movement with two screws.
In the top of the crown d.m.h is engraved.
All new models have wirelugs. This exact model with strap attachment underneath the case is not made anymore.
Prices are from aprox. 1,000 – 1,500 euro depending on your specific wishes.
https://monochrome-watches.com/dmh-watches-true-independent-watchmaker/