Weekly Watch Photo – Greubel Forsey Invention Pieces
I've just returned from London where I visited SalonQP. For me it an absolute blast and I think it's the best watch fair, that is open for the public, that I've visited so far.
Being in London anyway I had to use the opportunity to check out the unique pieces that many brands made for Marcus Watches. Although I've seen quite a few magnificent and over-impressive timepieces, the "Marcus-experience" was simply mind-blowing.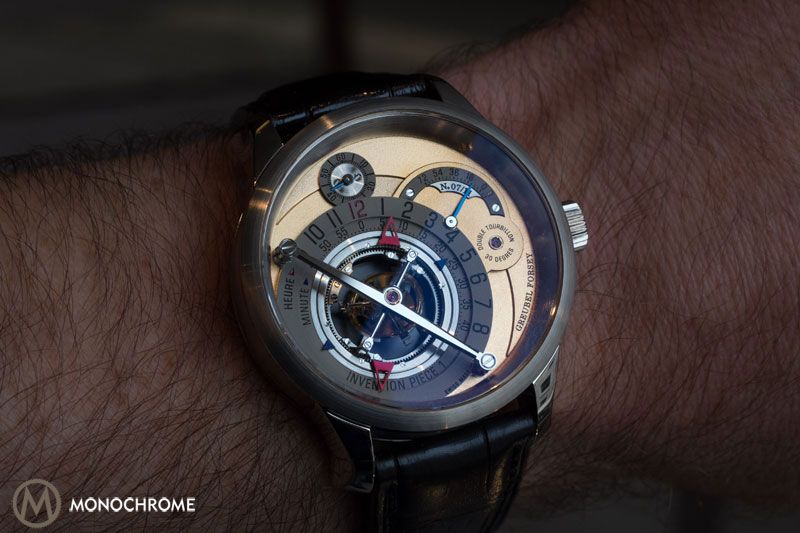 Of course there were the unique HM4 that MB&F made for Marcus, the set of 10 unique DLC coated platinum Greubel Forsey timepieces and two unique UR-CC1 Cobra made by URWERK. But there was more, so much more… I have never seen so many top pieces gathered in one collection that it felt like visiting a true horological museum.
Besides and overwhelming collection of Audemars Piguet tourbillons, diamond-set AP's, diamond-set Hublots and Piagets, there was a box of three Greubel Forsey Invetion Pieces, all number 7 of 11 ever made. Invention Piece 1 (or short IP-1) features the Double Tourbillon 30 degrees, positioned prominently on the dial. The time is indicated around the tourbillon, by a red hour 'hand' and blue minute 'hand'.
The tourbillon bridge is black polished and shows the typical intense bright shine that can only be achieved by black polishing. It is by no means a simple way of finishing as it is incredibly time-consuming and it can only be done by an artisan watchmaker who is very experienced. Usually black polishing is done on flat surfaces and finishing a round bridge like here on IP-1, in this way, is even more time-consuming and extremely difficult.
Invention Piece 2, again number 7 of 11, is also a true horological feast for the eye, featuring two double tourbillons, connection by a centrally placed spherical differential gear. The tourbillon bridges are (again) black polished and here the bridges have more flat surfaces, however the bridges also feature gorgeous beveled edges that are finished in the same way.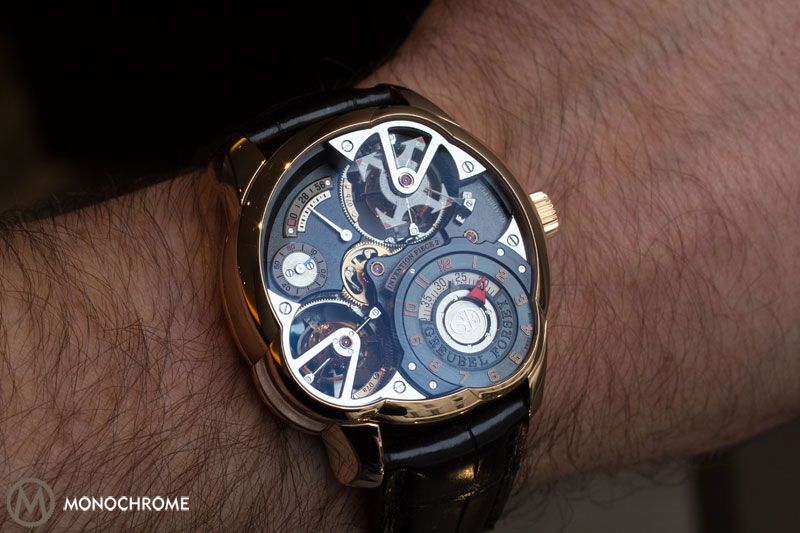 The dial (can we still cal this a dial?) is more a three-dimensional fairy-tale of slowly moving mechanical parts, all finished to the very highest level possible. The black coated main plate has a frosted finish.
The hours are indicated by a red triangle that makes a full rotation in one hour and the minutes are indicated by a blue triangle that is fixed, however points the actual minutes on a rotating disk. On the left side of the dial are the small seconds hand and a power reserve indicator.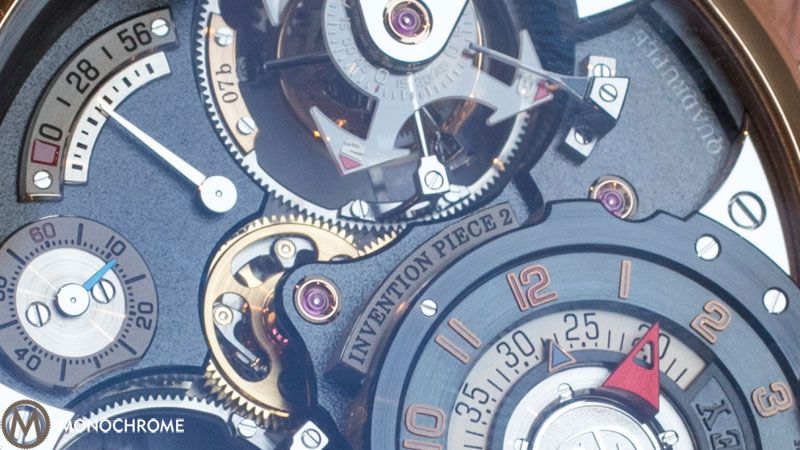 The last of this set of the three Invention Pieces, is IP-3, and offers like all Greubel Forsey timepieces an impressive visual treat. On the dial is a tex that looks engraved, however this is in bass-relief and it took Greubel Forsey a long time and much of experimenting to create this bas-relief.
This bas-relief can also be found on the Double Tourbillon 30° Edition Historique and contains a message from Robert Greubel and Stephen Forsey. The invention in this piece is a single tourbillon cage inclined at a 25° that rapidly rotates in 24 seconds. The inclination and rotational speed are calculated to guarantee maximum efficiency and optimal performance on the wrist.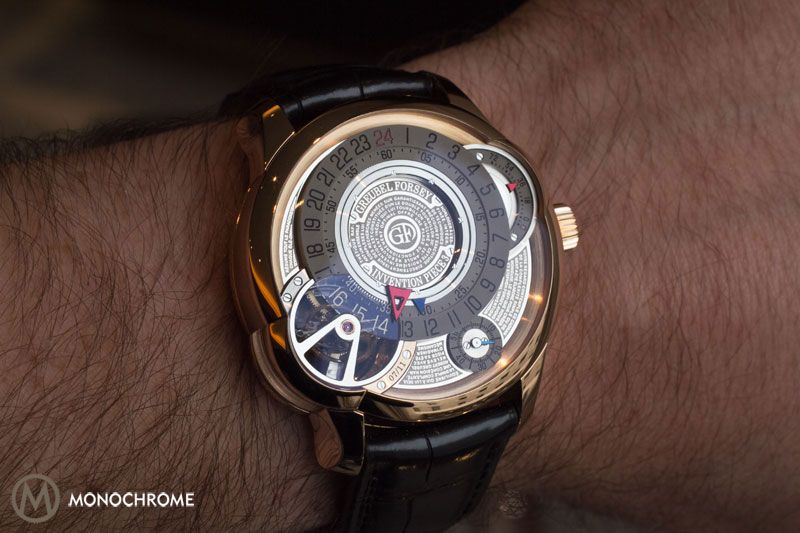 Time is indicated by the familiar red triangle for the hours, in this case it functions as a 24-hour hand meaning it makes one full rotation every 24 hours, and a blue triangle for the minutes. The small seconds are on the lower right side of the dial and at the right-hand side is a power reserve indicator that shows how much of the 72 hours of power reserve are left before winding is necessary.
Marcus Watches acquired number 7 of 11 of all three Invention Pieces and offers them together in one box. This box was made for the set in red gold, however they also have the platinum version of the numbers 7. For those who watched closely, the first photo shows the white gold version of IP-1, again number 7 of 11 numbered pieces.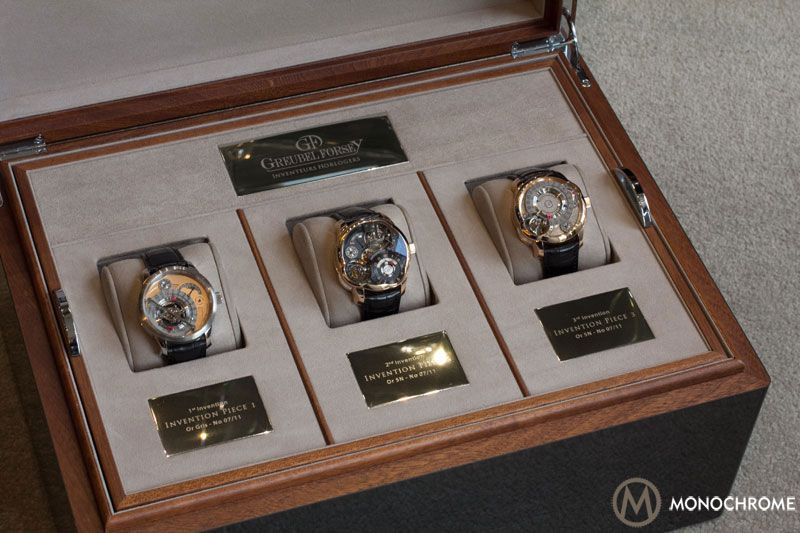 If you're interested, please contact Marcus Watches either by email ([email protected]) or by telephone (+44 (0) 20 7290 6500). Of course you can also visit the boutique on Bond Street in London, which is a recommendable experience anyway!
This article is written by Frank Geelen, executive editor for Monochrome Watches.
https://monochrome-watches.com/weekly-watch-photo-greubel-forsey-invention-pieces/