URWERK UR-CC1 – 2 Unique Pieces for Marcus Watches in London
Marcus Watches in London had something to celebrate and that lead to them to create the Marcus Anniversary Exhibition. This is the kind of exhibition you definitely want to visit! Visit London, sent your wife/girlfriend over to Harrod's, tell her she's got the entire afternoon for herself, then head over to Marcus Watches…. to indulge yourself in a true watch heaven. 
You'll find the most exquisite timepieces and not only that, Marcus Watches has 'a few' special editions and piece unique, specially made for Marcus Watches and your chance to get yourself something unique! Like the two unique URWERK UR-CC1's we show you today, one of my favorite timepieces ever made.
One of them is in 18 carat white gold (see photo above) and the other one comes in an 18 carat white gold case with black AlTiN coating. By the way, one of the reason that this is one of my favorite timepieces ever produced, is that Felix Baumgartner and Martin Frei from URWERK did something that Patek Philippe couldn't. They got the thing working!
Now one could say that the guys from URWERK had the advantage of modern techniques, computer aided design, calculations, newer materials with that are stiffer, have less friction, etc. and that is all true. However they also had the knowledge and probably also the intuition to look in the right direction and weren't shy to take a chance.
Through the sapphire crystals in the sides of the white gold case, you can see the most important parts that made it possible to work with roller indicators for the hours and minutes.
In terms of energy distribution, roller indicators are difficult. Really difficult. You have to consider that the amount of power required to rotate a roller, is much more then the amount of power required to rotate an hour or minute hand. And you have to consider that variations in energy, like a sudden release of energy to rotate a roller, negatively influences the watches chronometric rates. That's why watchmakers have to think of a technical solution to store and release the energy to engage the rollers without causing negative influence on the movement.
Yesterday I showed you the Maitres du Temps Chapter Two, that has roller indicators for day of the week and month. Inside that movement, energy is being build up for a while to rotate the roller indicator. Building up energy to rotate a roller once per month or once per 24 hours, is something completely different then rotating a roller full time and rotating another one every hour.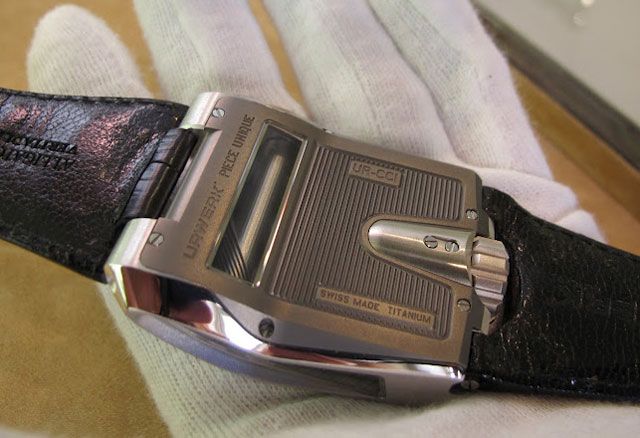 The main plate and several other movement parts are made in titanium, the case is made in 18 carat white gold. Partially brushed, partially polished. And although it's a hefty piece, it is comfortable as well.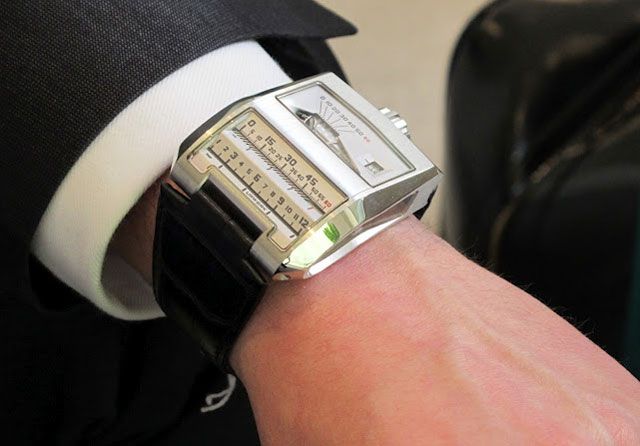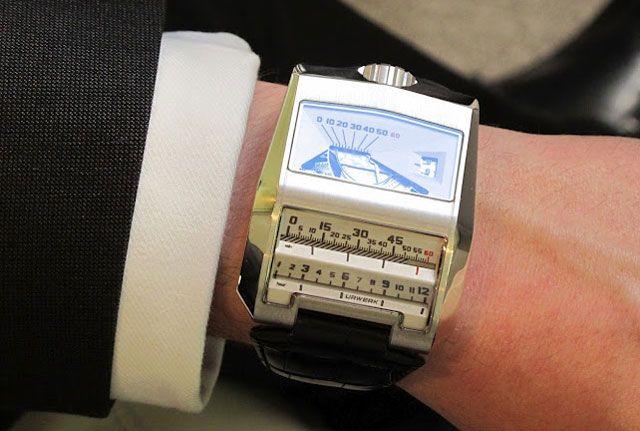 The URWERK UR-CC1 is a talking piece, as they say. Once you're finished taking about the different Patek references, the UR-CC1 offers many, many hours of visual pleasure and discussions on how it works. In this article you can read my extensive explanation of how the UR-CC1 works. If you still can't figure it out or if you don't want to read it, then you can always invite me to come over and explain this magnificent timepiece 🙂
And before I forget, the other unique piece for Marcus Watches is also made in 18 carat white gold. However this one is black AlTiN coated, with striking red indices. This is the "UR-CC1 Cobra AlTiN Marcus Piece Unique".
For more information about these two unique URWERK's you can either visit the Marcus Watches website or, when in London, visit the shop at 170 New Bond Street in London. If you're interested in the price, please ask the good folks at Marcus Watches.
I would like to thank Watch Anish for letting me use his excellent photos! This article is written by Frank Geelen, executive editor for Monochrome Watches.
https://monochrome-watches.com/urwerk-ur-cc1-2-unique-pieces-for-marcus-watches-in-london/