Weekly Watch Photo – Maitres du Temps Chapter Two TCR
I'm very pleased to show you the newest Maitres du Temps Chapter Two, that was released earlier this year at Baselworld 2012. My own photos of the new Chapter Two TCR (Triple Calendar Round) didn't come close to what photographer Ming Thein achieved, so his stunning photos make a perfect Weekly Watch Photo. 
In my article about the newest Maitres du Temps Chapter Three I already announced that I would show you another great looking MdT and this is the one. It's the round version of the 'regular' Chapter Two that we already shared with you after Baselworld 2009.
One of the key features of Maitres du Temps is of course that several calendar functions are displayed on rollers. Chapter Two displays the day of the week on a roller below the 6 o'clock position and above the 12 o'clock position is the month. A big date, hours, minutes and off-centre seconds are all displayed on the round dial.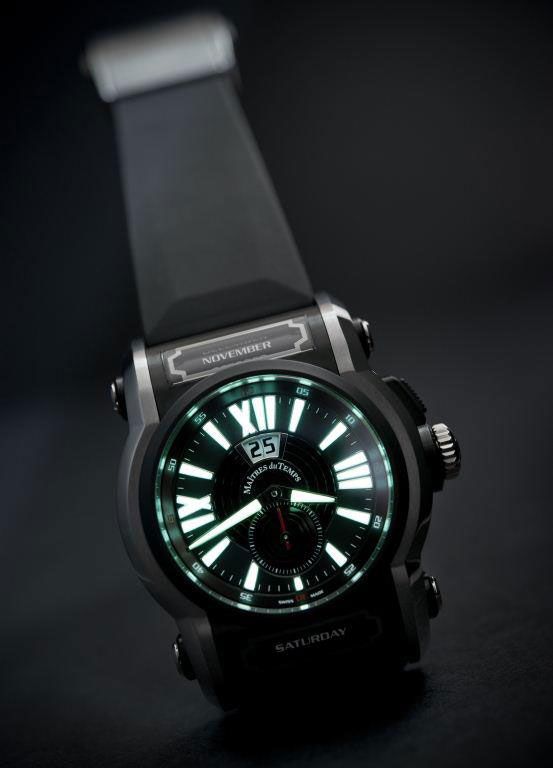 The instantaneous change of the triple date (month, day of the week and day of the month) formed probably the biggest challenge when designing Chapter Two. Master Watchmakers Daniel Roth and Peter Speake-Marin managed to create a way to build up enough energy for this instantaneous change, throughout the day.
Just above the crown you can see a pusher, which is for quick changing the date. Below the lugs that also house the rollers, are pushers to quick change the month and day of the week, but these are detained from the wearer's sight.
The new round Chapter Two, with DCL finished parts, looks very sporty and casual, however withe optional golden crown and screws it looks more board room fancy. In my opinion, CEO and founder of Maîtres du Temps, Steven Holtzman, steered Chapter Two in the right direction. Chapter Two TCR is a high-end, Haute Horlogerie watch with a lovely sporty look and the new round case makes it very wearable. Unfortunately I could try it only for a short time, while taking the photo, but I can assure you that this was a true pleasure.
I guess we all agree that Ming Thein's photos look far more better then mine; here you can visit his website.
The Maitre du Temps Chapter Two is available for $69,000 USD. More information about Maitres du Temps can be found on their website here and on the official Maitres du Temps Facebook page.
This article is written by Frank Geelen, executive editor for Monochrome Watches.
https://monochrome-watches.com/weekly-watch-photo-maitres-du-temps-chapter-two-tcr/