Maîtres du Temps – Chapter Two
During Baselworld i had a meeting with Maîtres du Temps. After a warm welcome, Margaret Pane (vice president of Maîtres du Temps) showed us the movie that was made for Chapter Two. I can really recommend watching this movie (around 10 minutes) as it really captures the essence of this collaboration of the greatest minds of modern watchmaking. The movie has some details that the connaisseur will immediately understand. Like the hands of the church clock, these remind me of the hands of the Speake-Marin Picadilly.
After having seen the movie mr. Steven Holzman, the founder and CEO of Maîtres du Temps, showed us the new masterpiece, Chapter Two. The three master watchmakers who are responsable for Chapter Two are mr. Daniel Roth, mr. Peter Speake-Marin and mr. Roger Dubuis. Chapter Two has an 18K red gold case of 42mm wide, 58mm from lug to lug and is 18mm thick. It features 6 different sapphire crystals with anti reflection coating, three positioned at the front to display the main dial, the day and the month. The other three are positioned at the caseback and reveal a stunning movement and beautiful rotor.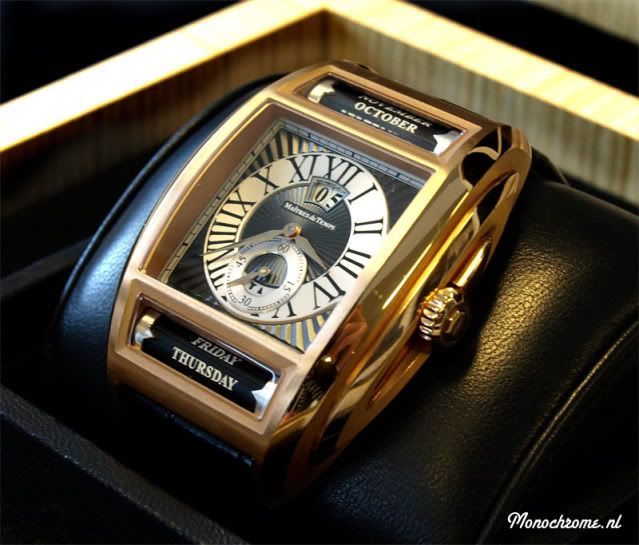 At the silver dial with beautiful sun-ray guilloche pattern and roman numbers on a white chapter ring, time is displayed by 18K red gold hands. At the 6 o'clock position a small seconds subdial is located and at 12 you can see the big date. Above and below the dial, day and month are made visible by two rollers. To obtain the rollers to change instantly, the whole mechanism for driving the rollers was re-designed. Chapter Two now features an instantaneous changing big date, day and month!
While Chapter One was limited to only 50 pieces and price at around $400,000 the new Chapter Two will be more accessible. The first year Mr. Holzman expects to produce 200 pieces and with a price of around $67,000 it will also reach different type of customer.
The big moment was there, when mr. Holzman introduced us to mr. Daniel Roth and mr. Roger Dubuis, in my opinion two legends in the watchmaking world. The third maitre du temps, mr. Peter Speake-Marin, was not present at that time but i spoke with him later in The Watch Factory about his own new movement and of course the collaboration with these two legendairy master watchmakers. For me it was an honor to meet mr. Dubuis and mr. Roth and talk with them about Chapter Two. Both men talked with passion about their creation and working together.
When i asked if they learned something of the colaboration with the much younger Peter Speake-Marin, they both said that Peter's drive and focus was impressive, as well as his technical knowledge.
For more information about Chapter Two or high resolution photos check the Maîtres du Temps website.
https://monochrome-watches.com/maitres-du-temps-chapter-two/