Hands on with the Maitres du Temps Chapter Three
For most of you Maîtres du Temps is already known. Steven Holzman's idea to put together a few of the very best watchmakers and let them create something astonishing, has already arrived at Chapter Three. This time the watchmakers are nobody less than Kari Voutilainen and Andreas Strehler!
Maîtres du Temps has a returning leitmotiv, which are the roller-indicators. Kari Voutilainen and Andreas Sterhler managed to use these rollers, although they are not visible for anybody…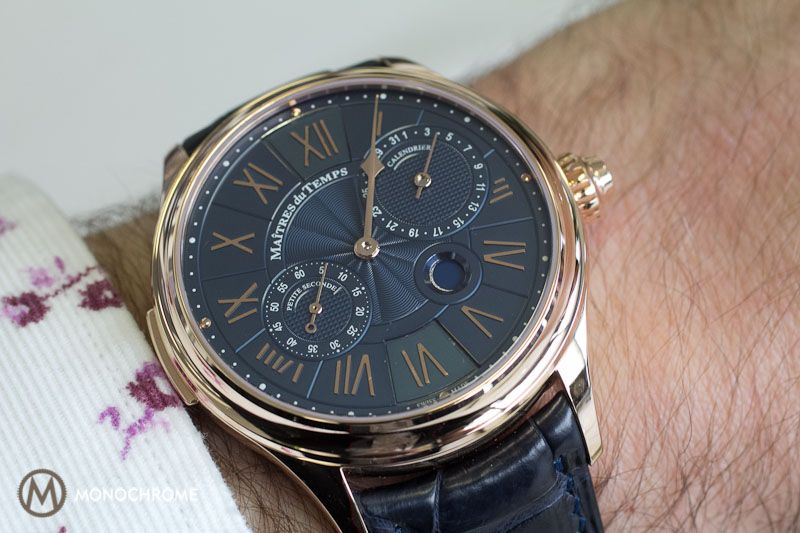 The newest Maîtres du Temps has this typical and very recognizable Kari Voutilainen design that I like so much. Only because of that, I must say that the new Chapter Three is immediately my favorite of the Maîtres du Temps collection. Although… well, in a few days I'll show you something else I also like a lot.
I think Steven Holzman did (again) a great job in finding two watchmakers who are absolute masters in what they do. The roller-indicators, which were immediately visible on Chapter One and Chapter Two, are still there, however they are hidden underneath the dial. By pushing the pusher in the crown, two panels slide away and reveal them.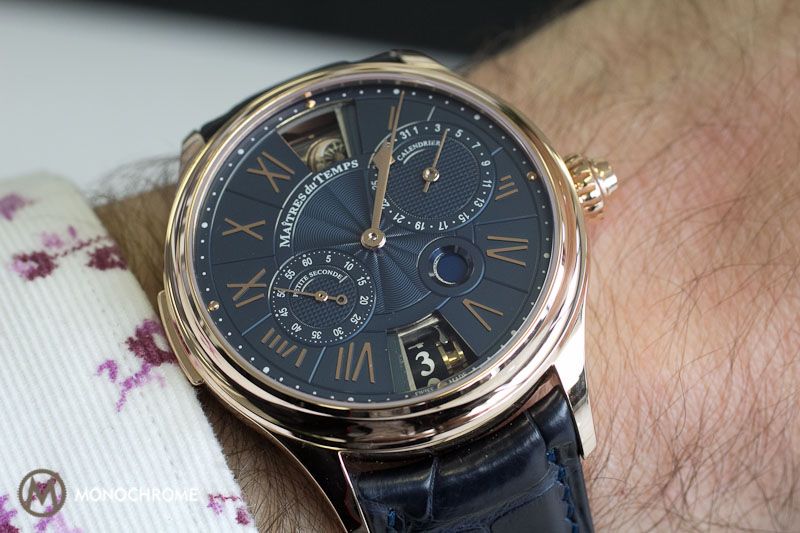 When the sliding panels move away, a second time zone and a day/night indicator are revealed. At the 12 o'clock position is the day/night indicator for the second time zone, which is displayed at 6 o'clock. At the opposite side of the crown is another pusher. This one is to adjust the second time zone with one hour increments.
Chapter Three is a classic travelers watch for business men. A classic watch on the wrist during meetings and with the push of a button, you can see the time at home so you'll never wake your beloved ones when you call them.
The second time zone is indicated on two rollers, one displaying the hours one to six, the other displaying seven to twelve. When the hour changes from six to seven, the first roller moves to the side to make space for the second roller that displays seven. As the photo below shows, the day is indicated by a sun and it's safe to assume that a moon indicates the night.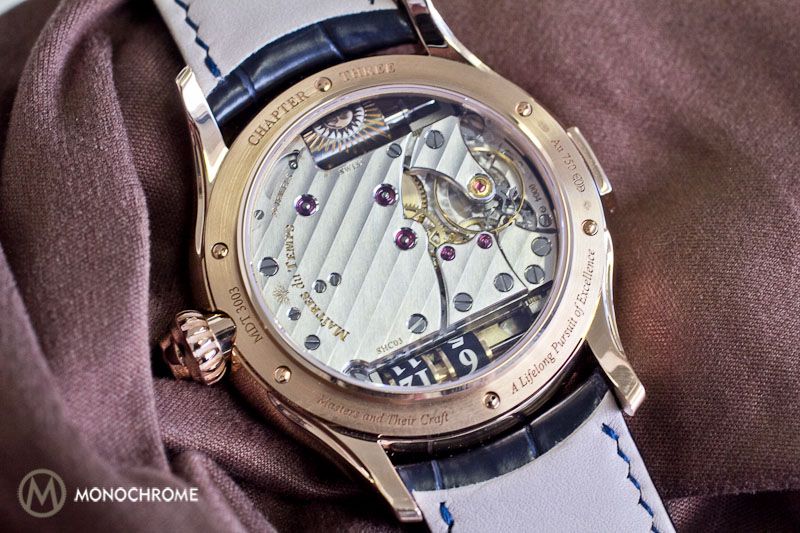 The see-through case back with sapphire crystal also shows the exquisite finish of the movement, that very much like the dial, shows typical Kari Voutilainen design elements. This movement is caliber SHC03, which is a manual winding movement, measuring 35.6 mm in diameter and 8.2 mm in height. And this is including the mechanism that activates the sliding panels of the dial!
In total it comprises of 319 parts, of which 39 jewels and when fully wound it offers 36 hours of power reserve. Because the roller-indicators do need some extra power, there are two mainspring barrels in series to ensure that extra power. The balance vibrates with 21,600 vph (or 3 Hz) and has a Straumann balance spring with Breguet overcoil (from H. Moser & Cie) and a low-mass escapement lever.
Like with the MB&F Legacy Machine 1, Kari Voutilainen specified the movement's design and finish. The finishing: Côtes de Genève on the bridges, pèrlage on the main plate, beveling and mirror polished screw heads.
Besides the hidden second time zone and day/night indicators, the dial shows a central hour and minute hand, an off-center small seconds hand and a date display. The dark blue dial shows a lovely Sun-ray guilloche, Clous de Paris guilloche pattern and roman numerals, again typical Kari Voutilainen aesthetics. The rose gold case comprises of no less than 49 components and measures 42 mm in diameter.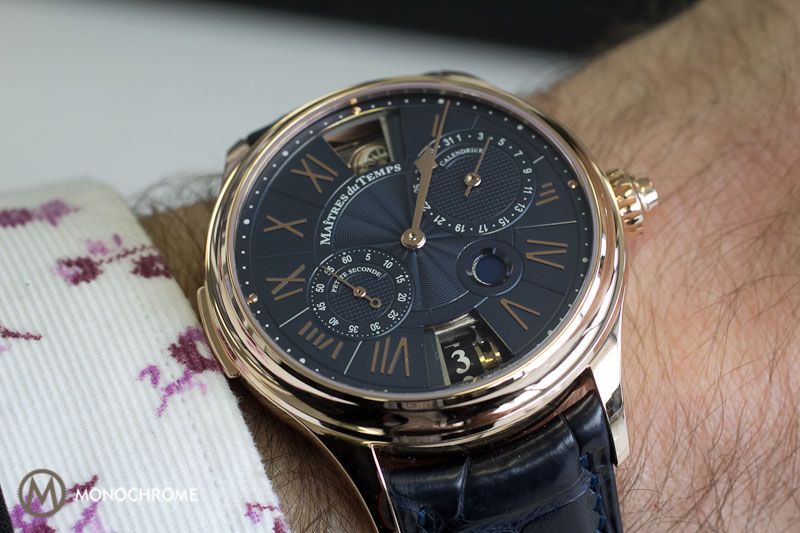 Personally I think that Maîtres du Temps Chapter Three is the most wearable and best looking of all three Chapters. Although I need to say that I'll show another Maître du Temps soon, that also looks amazing!
Chapter Three retails for CHF 87,000. Given the magnificent complication, design and finish that seems like a very competitive price.
I must stress that this is a prototype and thus not the fully finished version!
https://monochrome-watches.com/hands-on-with-the-maitres-du-temps-chapter-three/