I just got back from Basel where Robert-Jan (Fratellowatches) and i visited Baselworld. The watches and juwelry show was totally overwhelming! Last friday, saturday and today (sunday) i've seen a LOT of watches, met a lot of nice and interesting people and talked to some of the most famous watchmakers alive. Mindblowing…
During the coming week i will do my best to select the best photos and make some stories of all the meetings with watchmakers and brands. So for now i will post some quick and dirty wristshots of some of the most beautiful watches i've seen. Omega's presentation for the 40th anniversary of the Omega Speedmaster Professional was really something. The new Speedmaster Apollo 11 was launched by the astronauts who wore the Speedmaster Professional on the moon! Buzz Aldrin, Charles Duke, Harrison Schmitt and Eugene Cernan where all present at the presentation and panel discussion about flying to the moon (again).
But for starters i'd love to share this photo of two grand masters of watchmaking… Roger Dubuis and Daniel Roth. I felt humbled in the presence of these two men. Later i talked to Peter Speake-Marin and asked how he experienced working together with mr. Dubuis and mr. Roth for Maitre du Temps and he said it was surreal. I guess that perfectly describes my feeling when i met these watchmakers i've admired for such a long time. Later i will write more about Maitre du Temps chapter II and Speake-Marin's new MARIN-1 and the new in-house movement SM2.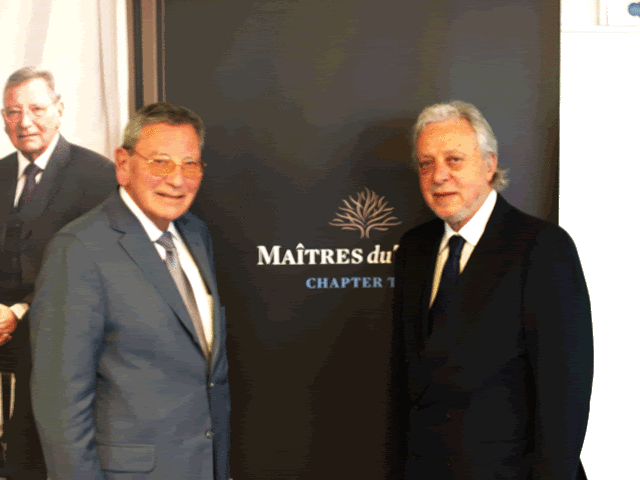 Among others i met with Aphrodite from Linde Werdelin and saw the very limited Linde Werdelin Spidolite that made a huge impression on me. I can easily say i fell in love with this watch. Later more about the new 3-Timer, Oktopus, The One, of course, the SpidoLite from Linde Werdelin. Here a quick wristshot of the SpidoLite 🙂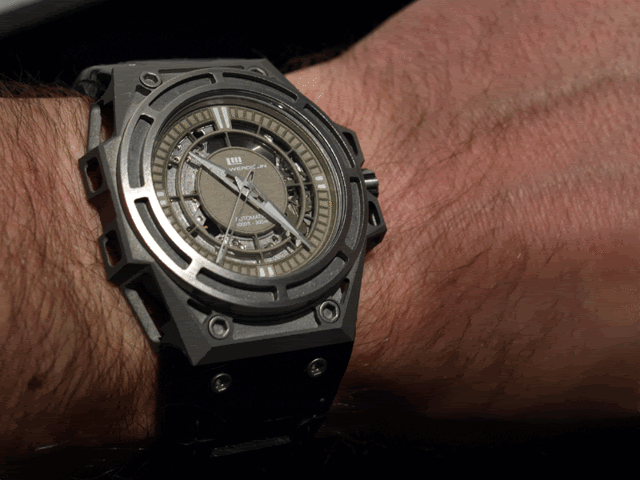 Later also more about Peter Speake-Marin's MARIN-1 and his new in-house movement SM2. You might find it hard to believe, but the The MARIN-1 is made from titanium! Here's already a wristshot of this beautiful bold and classic watch…. that weights almost nothing 🙂
I really enjoyed the presentation of Glashütte-Original's new managing director, Thomas Meier. He gave the most funny presentation i've seen and showed the impressive new watches of Glashütte-Original. The new Senator Chronometer was the absolute highlight, both technical and functional. The Senator Chronometer sets a new limit… but more about that later. Here's a wristshot of this classic beauty.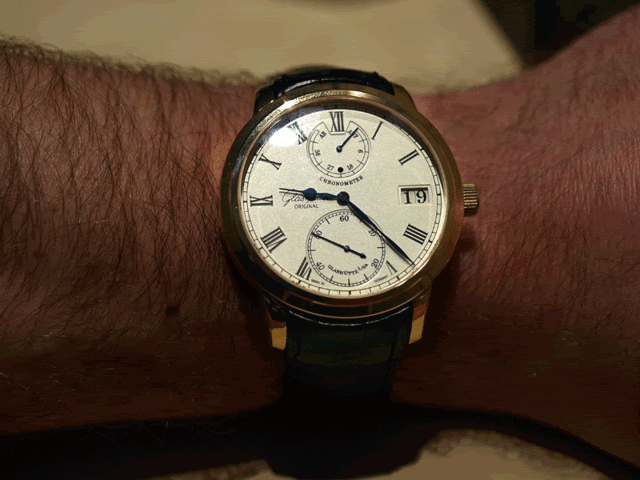 And although there's much, much more to come i want to share this wristshot of the Sarpaneva K2 in steel with you. I didn't have time to take photos of more of his watches, unfortunately, but i will post more about my conversation with Stepan Sarpaneva later.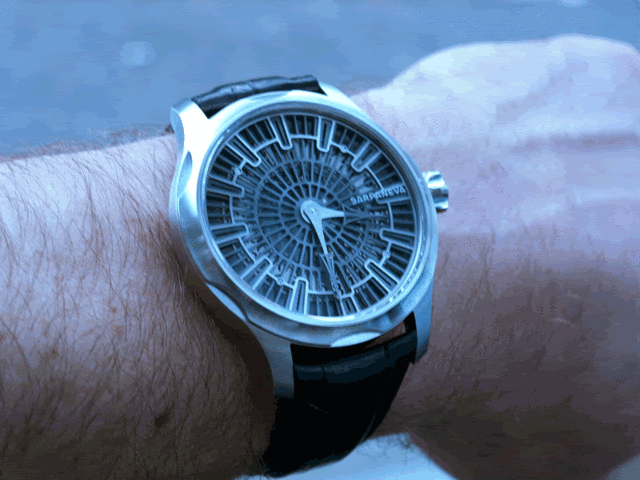 Soon you can read the extended stories about the trip Robert-Jan and I made to Baselworld!! On our own blogs we will post about the trip, the meetings, the highlights and of course some personal notes.
https://monochrome-watches.com/back-from-basel/