Richard Mille Divers – Unique Set for Marcus Watches
Not every dive watch is the usual tool watch that you'll easily take for a plunge in one of the world's oceans. Although technically it's possible, I simply cannot imagine that someone would take one of the following three unique Richard Mille Diver's watches to depths where humans can only breathe with a self-contained underwater breathing apparatus (or scuba set).
The set of three unique pieces that Richard Mille made exclusively for Marcus Watches in London, comprises of a RM 028, a RM 032 and a RM 025 in DLC coated titanium. A few months ago we already explained all cool and impressive features of the Richard Mille RM 025 Tourbillon Chronograph Diver's Watch and today we'll dig in deeper in the other two unique pieces.
Marcus Watches commissioned unique pieces and limited editions from several of the world's most beautiful brands, like this MB&F HM4 and these two URWERK UR-CC1's. Marcus Watches in London is a true watch lover's heaven and we'll show you much more limited editions and unique pieces, like the unique set of three we show today, over the coming weeks.
All unique pieces and limited editions share the signature Marcus Watches design features of either black with red elements or white with red elements. These three unique Richard Mille Diver's Watches are made from DLC coated titanium and have red hands, hour markers and locking mechanism of the crown. The minute markers starting at 12 o'clock and the following 5, 10 and 15 minutes on the diver's bezel are always in red. And a small but very nice detail is the red "M" at 12 o'clock, printed on the transparent sapphire crystal dial.
Another feature that all three Richard Mille Diver's Watches share, are the two push-buttons in the diver's bezel, positioned at 12 and 6 o'clock. These push-buttons have to be pushed in before you can rotate the bezel. This is a security feature that should prevent unintentional rotating of the bezel, when you're diving. Above is the RM 028 unique piece for Marcus; a real dive watch that meets the dive watch ISO standards.
It's water resistant to 300 meters and tells time (hours, minutes, seconds) and the date. The dial is a sapphire crystal with a thickness of 0.40 mm, with anti-reflective treatment on 2 sides. The extraordinary finished movement can be seen through the dial (or through the sapphire crystal case back).
The main plate and bridges of the mechanical movement in the RM 028 are made in titanium that is hand-ground, wet sandblasted and PDV treated. Its wheels are sandblasted and rhodium-plated and the teeth are beveled. A few parts are made in steel and these are first sapphire blasted and then angled and polished by hand. The screw slots and screws are beveled and polished by hand. Much hand-finish as we might expect from such a high-end watch, giving much viewing pleasure for the owner and guaranteeing longevity.
The RM 028 features an automatic movement with rather unusual winding rotor. If you look closely you can see small winglets at the outer edge of the rotor, which are made from white gold. These can be repositioned and bolted into one of six positions, with the purpose of increasing or decreasing the centrifugal forces of the rotor. The purpose if this, is to adjust the 'momentum' of the winding mass to the level of activity of the wearer.
Another of these three unique pieces, the RM 032 Automatic Chronograph Diver's Watch, also features this rotor with variable momentum. If you're sitting behind a desk all day (or sunbathing on your 150 feet long luxury yacht) you're likely to keep your arm relatively still. That means that every movement of the arm should be optimally transferred to kinetic energy and load the main spring. If you're more active/sporty then the movement of your arm, that makes the winding mass rotate, should be less optimal. Not that the main spring can be overloaded, but one would want a steady loading and unloading of the main spring to improve the watch's going rate.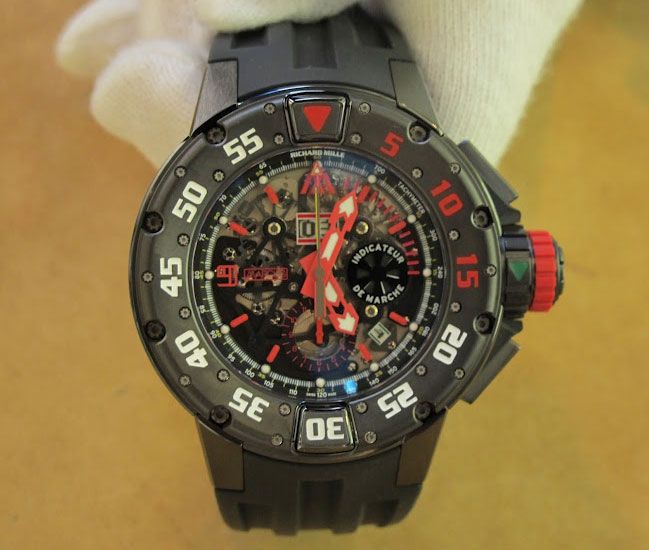 The RM 032 Automatic Chronograph Diver's Watch has an automatic chronograph movement, like the name already indicates, however it is a chronograph with flyback function. The running chronograph can be reset without first having to stop the mechanism. This was originally developed for pilots in order to not waste time (and therefore accuracy) from stopping, resetting and starting the chronograph whilst crossing a navigational point.
The RM 032 also features an annual calendar! Just below the "M" Marcus sign at 12 o'clock is a large date window. Because a window in a transparent sapphire crystal doesn't make much sense, the date is marked with red lines above and below the date. Between de 4 and 5 o'clock marker (short red line) is an aperture for the month, that indicates the month with its number (January is 1, February is 2, etc.). The annual calendar has an automatic adjustment for months of 30 or 31 days, so it only has to be adjusted once a year in February.
Richard Mille says the RM 032 has a so-called "running indicator" that is located at 3 o'clock (photo above). This is of course the seconds hand that is equipped with a disk instead of  a hand. Because they applied SuperLuminova it is possible to see if the watch is running, both during the day and at night.
The chronograph pushers also feature the Marcus signature red elements. The pusher at 2 o'clock is for start/stop activation of the chronograph, the pusher at 4 o'clock is for resetting or for the flyback function.
Because we already told you everything there is to know about the RM 025 Tourbillon Chronograph Diver's Watch, we'll end this article by showing you some wrist shots of the RM 025 unique piece for Marcus Watches. Last but not least, I'd like to thank Anish for sharing his photos of the Richard Mille Diver's Unique Set for Marcus Watches. Here you can find Anish's Tumblr website, where he shares beautiful photos of watches and mens-style.
The dimensions (diameter x height):
RM 028 – 47.00 mm x 14.60 mm
RM 032 – 50.00 mm x 17.80 mm
RM 025 – 50.70 mm x 19.10 mm
For the price of this unique set of these three unique Richard Mille Diver's Watches, please inquire at Marcus Watches in London. Details can be found on the Marcus Watches website here.
This article is written by Frank Geelen, executive editor for Monochrome Watches.
https://monochrome-watches.com/richard-mille-divers-unique-set-for-marcus-watches/