Buying Guide
The 4th of July Edition – Five of the Best American Independent Watchmakers to Follow
The new wave of watchmakers who operate on American soil, with pride.
Even though MONOCHROME is primarily a Europe-based publication, we know that a huge part of our readership is located in the United States of America, with New York City, Los Angeles and Chicago being some of our largest audience hubs. Today, on what's known as Independence Day, we want to pay a little tribute to our American readers and to the growing American watchmaking industry. Names such as Hamilton, Bulova or Waltham, even though historically important for the U.S. of A, aren't part of this American game anymore. Yet, a new wave of watchmakers is now emerging in the States, alongside historical names of the indie American scene. Here's the 4th of July edition of the best American independent watchmakers. 
J.N. Shapiro and the Infinity Tantalum
Josh Shapiro, a young watchmaker who started his career as a pole vault coach, is considered by us and many as the new rising star of high-end, traditional mechanical watchmaking in the USA. Based in Inglewood, California, Josh produces luxury, custom pieces, including the highly attractive Infinity Series. We've visited his atelier recently, and discovered his watches and the latest model he released, the Tantalum watch, is something to be observed closely, not only because it is made in the USA.
Ad – Scroll to continue with article
A watch made in a rare metal, it features an in-house "habillage" including a self-made guilloché dial. For now, his idea was to push the envelope of the watch to the max, with an impressive level of detail. In-house movements will come later, but for now, Josh Shapiro relies on a handsome German hand-wound calibre made by Uhren-Werke-Dresden. What matters most for now is the refinement of everything external and the overall beauty of the Infinity watches… And yes, everything Josh can make internally, on US soil, is done with great attention to detail. For more details, visit www.jnshapirowatches.com.
Quick facts: 39mm tantalum case – palladium base dial with engine-turned (hand-guilloche) patterns – German-made Uwd Caliber 33.1, hand-wound, 3Hz, 53h power reserve, hours, minutes, small seconds – Alligator strap with tantalum pin buckle – limited to 26 pieces in total – USD 33,000
Keaton P. Myrick and the 1 of 30 Wristwatch
Another rising star of the independent American watchmaking scene is Keaton P. Myrick, who's operating in Oregon, USA. After graduating from the Lititz Technicum school in PA in 2007 and after working for Rolex, he went back to his native central Oregon to express his art and to craft, mostly in-house, high-end, traditional watches. Annual production is in the single figure, with the 1 of 30 wristwatch being the only model in the collection for now.
While the technical base and overall design are always the same, each of the Keaton Myrick 1 of 30 watches can be fully customized to the desire of the clients. The 42mm steel case, done by Myrick, houses dials made of German silver with a hand-frosted finish and applied numerals and hand-made hands. Inside the case is a movement that uses a Unitas as a base… and that is then extensively modified to become this Calibre 29.30. Almost no element is kept from the 6497 or 6498, save for the gear train calculation, which now has German silver bridges, gold plaquettes and balance bridge and blued screws. The entire decoration is done by hand, with impressive execution, such as the sharp anglages or the bowl-shaped countersinks.
All watches made by Keaton P. Myrick are unique, with prices that depend on the level of customization – prices will start from approximately USD 30,000. More details available at www.keatonmyrick.com.
Quick facts: 42mm steel case – German silver-based dial, hand-made hands and markers – Caliber 29.30, extensively reworked Unitas base, with hand-made parts – hand-wound, 2.5Hz, 50h power reserve, hours, minutes, small seconds – alligator strap – 30 pieces only, each customised – available directly from Keaton P. Myrick – as of USD 30,000
RGM (Roland G. Murphy) and the PS-801-Skeleton
Roland G. Murphy is often considered the father of American independent watchmaking, and certainly is internationally the most famous US-based watch brand – at least, when it comes to high-end watchmaking. Founded in 1992 in Pennsylvania, RGM Watch Co. is one of the only and the first vertically integrated manufactures in the United States that designs and produces unique movements, dials, hands, etc. in-house. Roland returned to the US after training at WOSTEP, and he presented his first in-house movement made in America in 2008, the Calibre 801. In addition, RGM offers pilot's watches with Swiss movements, or rail-inspired watches with vintage American pocket watch calibres.
Naturally, the most interesting watches in RGM's collection are those equipped with in-house movements, such as the Classic Enamel PS-801-CE we reviewed here. Another model, which brings the in-house movement under the spotlight, is the PS-801-Skeleton. 43mm steel watch is all about exposing with pride the American-made engine, the hand-wound and now openworked movement developed by Roland G. Murphy. A highly classic calibre, it beats at 2.5Hz and stores 44h of power reserve. But the beauty lies in its origin and the decoration. Prices start from USD 21,400. Note that RGM also produces watches with hand-guilloché dials, again made in the USA. More details can be found at www.rgmwatches.com.
Quick facts: 43mm steel case – RGM Calibre 801 Skeleton, hand-finished – 2.5Hz, 44H power reserve, hours, minutes, small seconds – alligator strap – USD 21,400 in steel, USD 34,200 in gold
Vortic Watch Co. and their Custom-Made Watches
If you're up for something different but that carries true American heritage, then Vortic is something you should look at. Headed by three Penn State University graduates, the idea was to revive high-quality pocket watches once made in the USA, and then to create newly-designed cases to house these calibres… And to make the story even cooler, many of these watches are using 3D printed metal cases. Movements are restored and brought back to life, original dials are often re-used for a legitimate look and most of the watches are usually unique, or at least highly limited.
Many watches are offered directly from Vortic's website, all of them different. Most of the movements are sourced from antique Elgin, Hamilton or Waltham pocket watches. Cases, which are now also offered in more traditional steel or gunmetal titanium, are large (46mm to 51mm, for most of the watches) and house original dials with a brilliant vintage appeal and signs of use. See-through casebacks allow viewing what ticks inside, antique movement with charm and beautiful decoration. If you want a taste of what Vortic can do, consult our article here or go to the brand's website here. Prices range from USD 2,500 to USD 4,000, depending on the options and the type of movement inside.
Weiss and the American Issue Field Watch
Weiss Watch Company has only existed for a few years and initially relied on Swiss movements for American-made cases, but its in-house Calibre 1003 is now living and part of the American-made bunch. Founded in 2013 by Cameron Weiss (trained at the Nicholas G. Hayek Watchmaking School in Miami and at WOSTEP), the young atelier presented its in-house movement in 2016, being machined, hand-jewelled, plated, and finished in Los Angeles, California. And while the entirety of the calibre isn't produced in America (jewels and mainsprings), over 95% is manufactured by Weiss.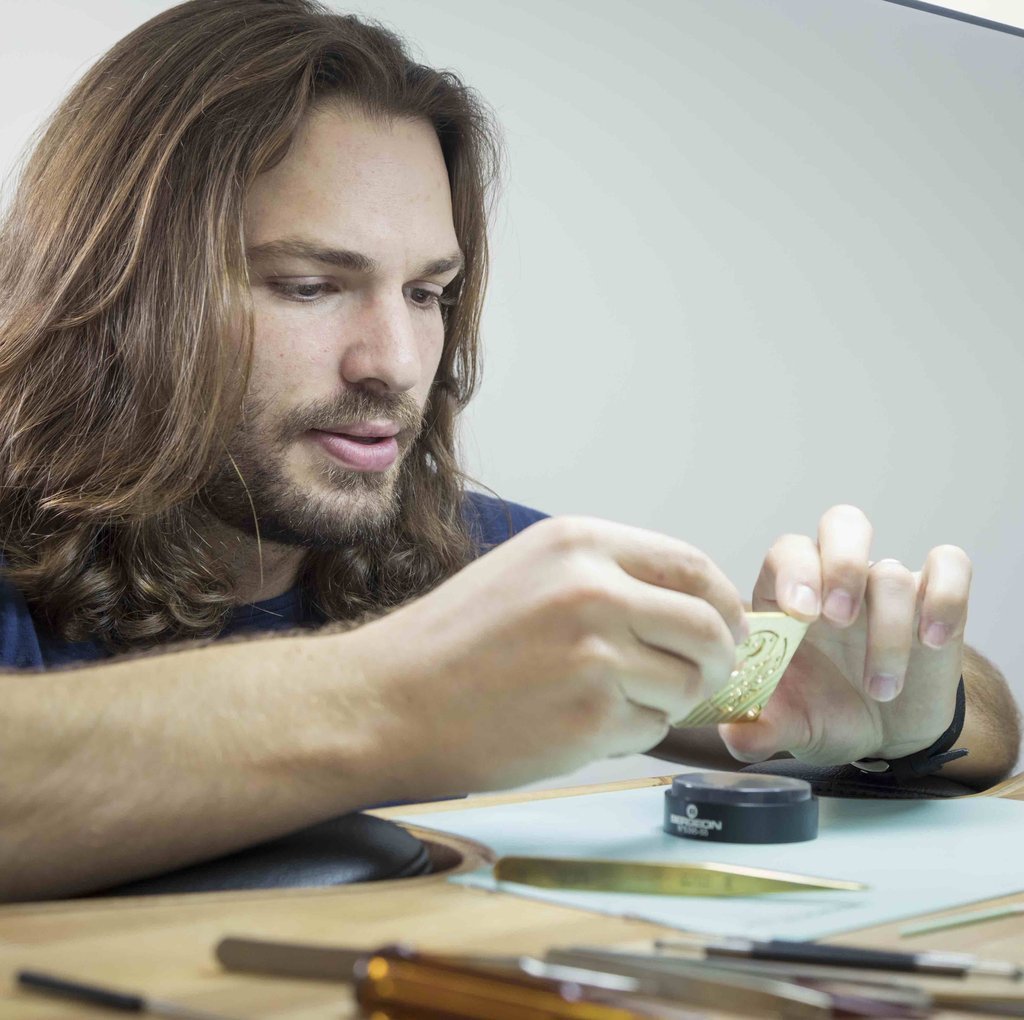 The most significant watch of the collection, and the one to house the American-made Calibre 1003 is the Weiss 42mm Limited American Issue Field Watch. This classic, military/pilot-inspired watch comes in a large steel case with a modernized dial available in multiple colours. Inside, the movement is modelled after a Swiss ETA-Unitas 6497, but of course, now made on US soil and with multiple changes over the venerable base. Cameron builds over 95% of the parts himself, including the escapement. The hand-wound Weiss movement has 17 jewels, beats at 21,600vph (3Hz) with a 46-hour power reserve. The watch is limited to 200 pieces, and retails for USD 2,500. Note that other versions with standard Swiss movements are also available. More details at weisswatchcompany.com.
Quick facts: 42mm steel case – brass-based dial available in black, white, latte, blue and green – US-made calibre 1003, hand-wound, 3Hz, 46h power reserve, hours, minutes, small seconds – leather strap – 200 pieces – USD 2,500
https://monochrome-watches.com/buying-guide-4th-of-july-edition-five-of-the-best-american-independent-watchmakers-to-follow/