Review
Weiss 42mm Limited American Issue Field Watch – Including an American-Made Movement
Classically designed tool watch with in-house American movement brings watchmaking to the US Pacific Coast.
Most watches that really spark my interest have either Swiss or German roots, but on rare occasions, a piece will surface from an unlikely place. I recently reviewed the Classic Enamel PS-801-CE from American watchmaker, RGM (based in Pennsylvania) and I'm always impressed with the company's in-house calibres and old-school craftsmanship. America was once a hotbed for watchmaking with brands like Hamilton, Waltham, Elgin, Ingersoll and Westclox, but acquisitions, bankruptcies and European competition have all but shut down American production. While RGM represents a resurgence of American watchmaking with several in-house calibres, a much younger company in Los Angeles has been producing an in-house movement since 2016. Weiss Watch Company has only existed for a few years and initially relied on Swiss movements for American-made cases, but its in-house Calibre 1003 has made it a bonafide American watch brand. Let's take a closer look at the Weiss 42mm Limited American Issue Field Watch, designed and manufactured in the United States.
Background
Weiss Watch Company was founded in 2013 by Cameron Weiss, who's had a passion for watches since early childhood. He attempted to fix his first watch at the age of five and upon his request, received watchmaking tools and books for high school graduation. He then attended an apprenticeship program at the Nicholas G. Hayek Watchmaking School in Miami, Florida and enrolled full-time in the two-year WOSTEP (Watchmakers of Switzerland Training and Educational Program) programme. Here Cameron learned all about watch repair and the machining of parts. He continued training in both the US and Switzerland with heavyweights like Audemars Piguet and Vacheron Constantin, and after 10 years of passion and study, established his own company.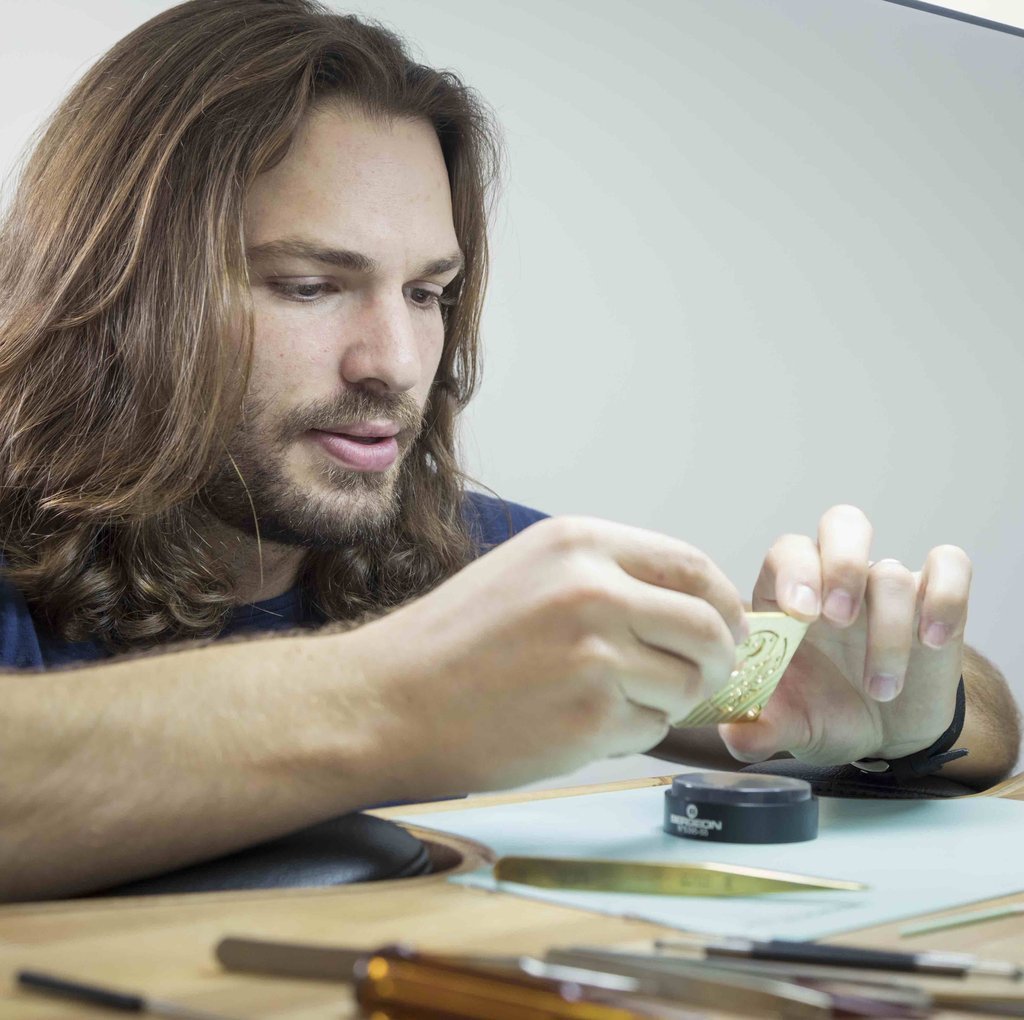 Weiss Watch Company started with just ten Standard Issue Field Watches in black, hand-finished and assembled in Cameron's dining room (his workshop started in a walk-in closet). Three hundred hours went into manufacturing the ten pieces and he (and future wife, Whitney) brought them to a market in San Francisco in June 2013. Following a positive response by both customers and the media, including a coveted cover article in the Los Angeles Times, Cameron expanded his family-owned operation to a state-of-the-art workshop where watchmaking employees and machining equipment replaced his modest home set-up.
In 2016, Cameron fully realized his dream by manufacturing his own movement, the Calibre 1003. Each movement is machined, hand jewelled, plated, and finished in California, and while the entirety of the calibre isn't produced in America (jewels and mainsprings), over 95% is manufactured by Weiss. The company's field watches are no longer just designed and assembled in Los Angeles (like most "American" brands – think Shinola out of Detroit), but are true American-made watches that meet the same domestic standard as "Swiss Made" pieces. Weiss Watch Company has joined a very small fraternity of American watchmakers and it's great to see this unfolding in my own backyard of Los Angeles.
Case and design
The 316L stainless steel case is 42mm in diameter and 12.7mm in height. That's a sizeable watch, but it wears a bit smaller than the size suggests and I found it comfortable on my smaller wrist. The bezel surrounding the domed sapphire crystal (with interior anti-reflective coatings) is polished, while the rest of the case is brushed. The side of the steel portion of the exhibition caseback is also polished, so when looking at the sides of the case, there's a polished top and bottom. It's nice attention to detail and provides a uniform aesthetic. That steel caseback section is otherwise brushed and secured with four in-house hex screws, and a flat sapphire crystal displays the Calibre 1003.
The crown is what I consider to be the perfect size for this case – not oversized, but just a bit larger than average. The movement is manual and consequently a joy to wind, and the larger size makes it easy to pull and set the time. The image part of the Weiss logo (which serves as the "i" in its name) is stamped at the crown's end and although it doesn't screw down, the case is water-resistant to 100 metres. The case also has a nice, substantial weight to it. Models with 18k yellow gold cases are also available as a custom order.
Dial and hands
The dial is machined from naval brass and then hand-painted in dark (navy-ish) blue. Large Arabic numerals surround the perimeter and are printed in a tan, latte colour with WEISS printed at the top and Los Angeles, CA at the bottom (all in latte). The seconds hand is in a sub-dial at 9 o'clock with Arabic numerals printed every ten seconds. The hands are steel and both the hour and minute hands are filled with a latte Super-LumiNova.
When I first strapped on the watch, my initial impression was that the numerals marking the hours were also luminescent, but it's limited to the hands. As someone who prefers a minimal use of lume in general, I'm happy with this decision There isn't a date complication as it's a time-only piece, resulting in a simple and highly legible dial – this is a tool watch and I appreciate the clean, military aesthetic. Dial colour options include black, white, latte, blue and green.
Movement
The beating heart of the 42mm Limited American Issue Field Watch is the aforementioned in-house Calibre 1003. Before I get into details, there are a couple of things to note – while RGM Watch Company manufactures several unique movements in Pennsylvania, the American-made Weiss Calibre 1003 is modelled after a Swiss ETA-Unitas 6497 (a reliable pocket watch workhorse used by Panerai and many others). The movement is still manufactured, assembled and finished in Los Angeles, but it's not a ground-up design. Does that matter? Not in my case as I appreciate the artisanship and finishing by Cameron himself, and his movements aren't simply carbon copies of the 6497 (cosmetic and mechanical modifications). In addition, Cameron builds over 95% of the parts himself, including the escapement (which is difficult to produce and commonly outsourced). And let's keep in mind that manufacturing, assembling and finishing a perfectly functioning, reliable movement is a major achievement in and of itself, especially by an individual.
Regardless of the inspiration, his American Calibre 1003 is a well-crafted and well-finished engine. With that out of the way, the Weiss movement has 17 jewels, beats at 21,600vph (3Hz) with a 46-hour power reserve. As a comparison, the standard ETA/Unitas 6497 has 17 jewels and beats at a lower 18,800vph (2.5Hz), although a later version developed specifically for Panerai, the 6497-2, bumps it up to 21,600vph. The current Calibre 1003 has a re-engineered mainspring and hacking seconds, which is an upgrade from earlier Weiss models. The movement is rhodium-plated and decorated with Geneva stripes, sunburst rays on the crown and ratchet wheels, and blued screws. In my testing, I found it to be approximately eight seconds fast per day over a one-week period. It's not a chronometer, but impressively accurate.
Strap
The 20mm American-made strap on my piece is brown Horween leather with tan stitching and a stainless steel buckle. It was comfortable out of the box and loosened up a bit with a few days of wear. Other strap options include tan Horween leather or an upgraded black Horween Genuine Shell Cordovan (6-month tanning process) for the 18k gold models. Black and olive green Cordura canvas straps are also options. WEISS is engraved at the end of the buckle and both HORWEEN and WEISS are stamped on the back of the strap. The strap isn't overly padded (a pet peeve of mine) and I personally wouldn't swap it with a third-party option.
Conclusion
Cameron Weiss has put together a mature, intriguing piece with the 42mm Limited American Issue Field Watch and it's an amazing achievement for a six-year-old watch company. And it just feels like a watch handmade by an individual and not mass produced. There's an old-school charm with both the dial and large ETA 6497-inspired Calibre 1003, and the fit and finish are spot-on. As a watch enthusiast living in Los Angeles, it's also special to see a watchmaker producing in-house movements right in my backyard.
America is no longer known for watch production, but passionate artisans like Cameron and Roland Murphy (RGM Watch Company) are bringing back the pride and craftsmanship we once saw with Hamilton, Waltham and the like. The only caveat (if this even counts) is that both Weiss and RGM offer limited production models at relatively high price points. I'm not claiming that they're overpriced, but handmade, low volume timepieces are inevitably expensive compared to mass-produced counterparts from larger brands. In a short period of time, Cameron has proven that he has the passion and expertise to manufacture complete watches in the United States, and for someone who started out in a walk-in closet and dining room less than six years ago, that's an extraordinary achievement. I'm certainly looking forward to his next piece.
The 42mm Limited American Issue Field Watch has a limited production of 200 pieces and retails for USD 2,500. Stainless steel models with Cordura canvas straps retail for USD 2,250. There are two made-to-order 18k gold models (black or white dial) that retail for USD 8,950 and the gold is sourced from California. All Weiss watches can be purchased online or at participating retailers in the United States, Canada and Japan. Weiss offers a two-year warranty and free domestic shipping. More information can be found at the Weiss Watch Company website.
https://monochrome-watches.com/review-weiss-42mm-limited-american-issue-field-watch-american-made-movement-price/