Success made by Panerai – caliber ETA/Unitas 6497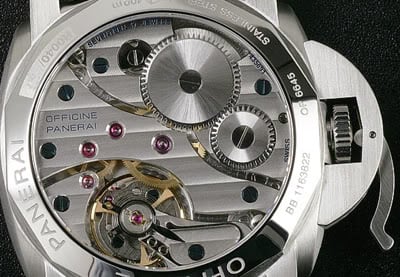 The pocket watch movement Unitas 6497 is a reliable workhorse. It's being used in numerous watches… not only pocket watches! It actually got the most fame because it was used by Panerai.
Since Panerai gained name and fame among watch collectors, so did the movement Panerai used in most of their watches of that time, Unitas caliber 6497. The last few years there are numerous brands using this reliable movement. I had the idea manually wound movement where mostly used by high-end brands in very exclusive watches. Most mid range brands offering watches of a few hundred euro up to a around 1,500 – 2,000 euro used automatic movement for their mechanical watches. Today it's hard to ignore the presence of manually wound watches in this price range.
The above caliber OP XI has been heavily modified by Panerai. With new bridges and a swan neck regulator for fine adjustment this variant of the Unitas 6497 belongs to the very best available. Other brands also made some modifications on the base movement, but today there are also many watches offered with the basic version of the Unitas 6497. Or shall we say ETA 6497, because ETA now produces these movements.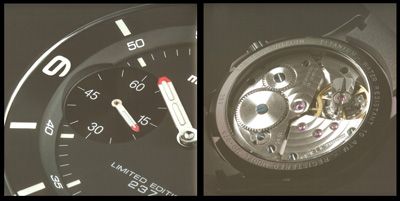 MOMO Design is one of the brands using this movement. I think the made a quite nice watch with this Pilot Titanium Mechanic. Black, fashionably large… yep, it's got the ingredients that seem to 'do it'.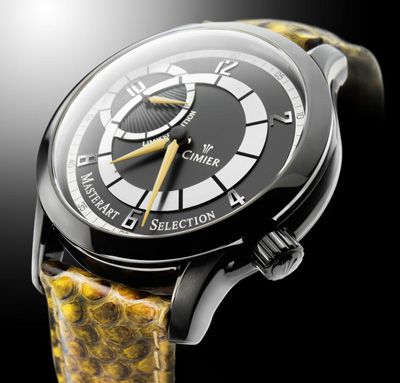 Another one is made by Cimier, the Cimier Petite Seconde Venom (above). Of all Cimier watches I have ever seen, this is by far the best looking. The Cimier Petite Seconde Venom is made in collaboration with legendary Swiss goalkeeper Jörg Stiel, at least he signed the crystal in the case back.
This beauty is limited to only 200 pieces and costs around 1,500 euro. The bridges of the movement where PVD coated to give it a black finish, which really looks nice i think.
Like the above there are many, many more watches using the ETA/Unitas 6497. Not only fashionable and stylish watches like both above, but also pilot style watches and sports watches use the reliable movement. However why do all of a sudden so many brands use this movement that's been around for decades?
I really believe that if it wasn't for Panerai we would not have seen so many watches with this large manually wound movement. And looking at this Panerai, i actually really regret that i sold my old Panerai PAM 1. Now i see this new Panerai PAM111 i really want one. So it's time to start saving again… it's such a beauty.
Later more about watches with the ETA/Unitas 6497…
https://monochrome-watches.com/unitas-6497-panerai-cimier/