Increased interest in independent watchmakers?
Statistics of Monochrome show an increased search for independent watchmakers. Although it's easy to find information online, it is difficult to see their watches yourself…. unless you're close to one of the few boutiques selling watches from independent watchmakers.
Before making the decision to buy a watch, most watch collectors like to see and feel a watch. In most parts of the world it's fairly easy to get a closer look at watches from brands with a large dealer network like Rolex, IWC, Cartier, TAG Heuer and Panerai. If you're looking for watches from independent watchmakers it's not so easy to find a dealer.
If you live in Europe, a trip to watch-mekka Switzerland is of course the best option. Most independent watchmakers live and work in Switzerland and in most cities you'll probably find several boutiques who represent these watchmakers. However if you're not in the position to visit Switzerland, there are only a few dealers in the rest of Europe. Since the opening of the Grönefeld Boutique, watch collectors in North West Europe only have to drive a few hours to see watches from several independent watchmakers, including of course the Grönefeld GTM-06 with tourbillon and minute repeater.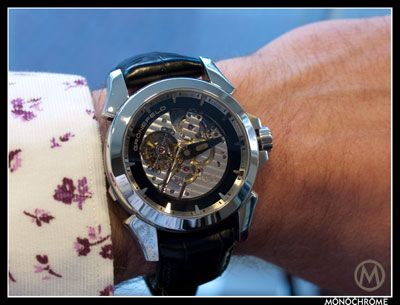 Recently i visited friends in the east of the Netherlands, which was a great opportunity to also pay a visit to the Grönefeld Boutique. Due to the Boutique's location, in the east of the Netherlands, watch collectors from the Netherlands, Belgium, north Germany and even Denmark it's only a few hours by car.
For me as an admirer of independent watchmakers (and proud owner of a Sarpaneva Korona K1) it was great to see watches made by Kees Engelbarts, McGonigle, Speake-Marin, Sarpaneva, Grönefeld and Sarpaneva's affordable collection S.U.F. which means Sarpaneva Uhren Fabrik. The S.U.F. collection start just below 3.000 euro including tax. Yes that's right, watches from an independent watchmaker for a very friendly price!
This S.U.F. Flying Finn has a black DLC coated case and a black dial. You can choose from several dial colors and options like a DLC coated bezel and even the movement can be DLC coated.
Another brand the Grönefeld Boutique represents is Speake-Marin. The Speake-Marin Piccadilly with white dial and roman numbers is high on my wish-list. Here you can see it on a white alligator strap… nice for the summer!
Another beauty from Speake-Marin is the Serpent Calendar. This one is in rose gold and also has a white enamel dial with roman numbers.
If you're interested in watches from independent watchmakers and live in the Netherlands, Belgium, north Germany or Denmark, a trip of a few hours by car is well worth it. I advice you to contact the Grönefeld Boutique and let them know when you would like to visit them.
https://monochrome-watches.com/interest-independent-watchmakers-increase/