Speake-Marin Piccadilly 1in20 limited edition
Independent watchmaker Peter Speake-Marin made a limited edition pre-series of only 20 pieces in totall. These are the first watches featuring the new in-house movement SM2.
During Baselworld Speake-Marin released his own movement, caliber SM2, and the first non limited model that will be powered by this movement, the MARIN-1. To pre-finance the movement development costs, Peter Speake-Marin designed the 1in20 concept, a pre-series collection of 20 pieces. This unique idea gave clients from all around the world the chance to own one of the first 20 watches featuring the SM2. The design of each watch was determined with the clients and could be either a time only or a perpetual calendar, quantième perpétuel in French.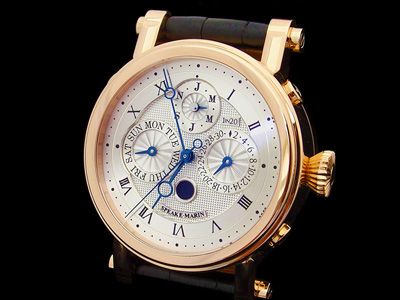 The Speake-Marin Piccadilly 1in20 QP is made in red and white gold. The above red gold version has a guiloche 'Clous de Paris' German silver dial and has beautiful 'Gianfranca' styled blued hands. The white gold version i showed in the post about the brutal robbery, has blued hands with blue super luminova in the typical Speake-Marin style. Another white gold Piccadilly 1in20 QP has a 4 piece enamel dial.
All watches in the 1in20 collection are housed in the typical Speake-Marin Piccadilly case made in red or white gold or in polished titanium of 40.6mm. And of course they all feature the new in-house caliber SM2.
The perpetual calendar complication keeps track of the number of days in each month and adjusts for leap years. The Sub-dials indicate day, date, month and moon phase.
For these 1in20 collection clients choose their own dial, whether it is a guilloche 'Clous de Paris' German silver dial, an enamel dial or even a dial with maki-e art. A Russian client wanted the Russian Imperial eagle engraved in the dial and another client commissioned a time only version with a maki-e dial. Just take a look at the incredible depth of the maki-e dial.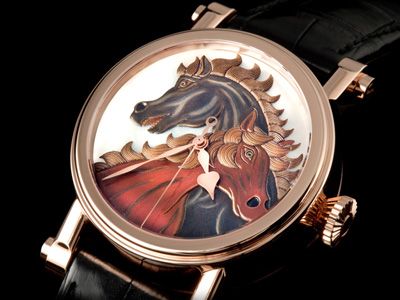 If you like to know more about this 1in20 project and the development of the in-house movement SM2 i can fully recommend to read the following posts on Horomundi:
– an interview with Peter Speake-Marin about his new in-house caliber SM2.
– a post by Ian Skellern explaining the art of making maki-e dials featured in several unique watches by Speake-Marin.
– Greg's story about his Speake-Marin Piccadilly 1in20 QP.
https://monochrome-watches.com/speake-marin-piccadilly-1in20-limited-edition/