new Korona K1 from SARPANEVA
After the Korona WG and RG at Baselworld, the Korona K3 Harvest Moon and winning the Re Dot Design Award this year, SARPANEVA has more news. The beautiful new Korona K1.
The new Korona K1 has the same case design as the Korona RG and WG, which is slightly smaller than the previous Korona collection with only 42mm. I think this is an excellent decision from Stepan Sarpaneva in a market where big-bigger-biggest is the reflex almost all brands show. With a thickness of 10.2mm it's 0.6mm thicker than the previous Korona.
The biggest difference with the previous Korona is of course the shape of the case. The older model's bezel was 'scalloped'. The new Korona features not only a 'scalloped' bezel, but an entire 'scalloped' case. I think it's very nice to see the same design element coming back in the crown. In fact, these design elements can be found in all of Sarpaneva's watches and date back to his first watch, the Time Tramp.
When i visited Sarpaneva's workshop earlier this year i had the pleasure to try the Korona WG. The new Korona case design looks very good on the wrist and is really comfortable! To me that's an important factor and something not all watch brands seem to realize.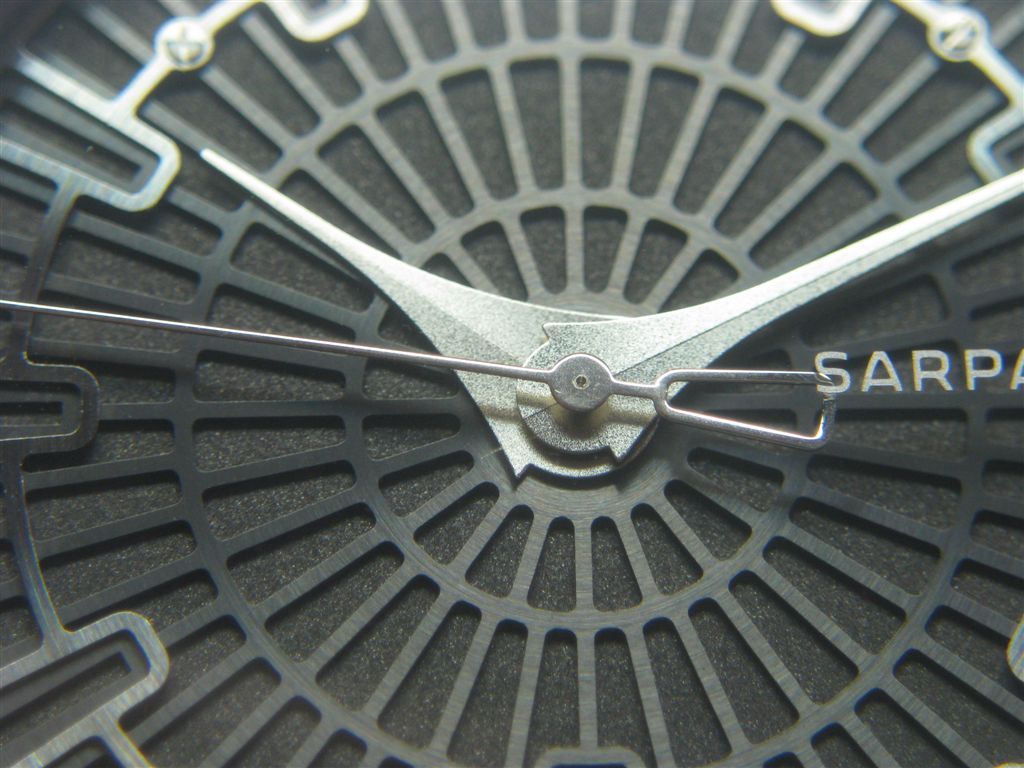 The sapphire crystal has a multi anti-reflection coating on the inside. This is to prevent scratching of the coating, that eventually does happen to all anti-reflection coatings. One of the cool features is the SARPANEVA print on the inside, also to prevent possible damage.
Also note the new Korona K1 has the same hands as the Korona RG and WG, which are different from the previous model. And… now it has a second hand! Especially convenient when setting the time. It's also convenient when your watch was in the watch-box for a day or two and you're not sure if it requires winding.
The SARPANEVA stainless steel crown is double secured, which makes the case water-resistant to 50 meters.
All current models are powered by a modified Soprod A10 calibre. The Rhodium-plated movement with perlaged finishing has a power reserve of 42 hours. The movement's mainplate is modified to incorporate larger SARPANEVA stainless steel see-through date disc. The stainless steel rotor has two white gold masses.
The new Korona K1 is available in steel, white gold and red gold. Besides the black diamond coated dial, the new Korona is available with an imperial blue dial and a rust brown dial.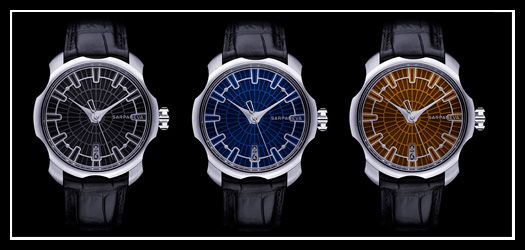 https://monochrome-watches.com/new-korona-k1-from-sarpaneva/