Sarpaneva Korona K3 Harvest Moon
For his new Korona K3 Harvest Moon, Stepan Sarpaneva uses the smaller Korona RG/WG case in steel.  In black diamond coated steel to be precise. And it looks great again!
For Baselworld this year Stepan Sarpaneva released this new case design with the typical Sarpaneva design elements. When the whole watch world is going for big-bigger-biggest, Sarpaneva releases a smaller case. Personally i'm no fan of this big-bigger-biggest hype, so i was very pleased to see Sarpaneva's new case design. With it's 42 mm the Korona RG/WG is extremely comfortable and pleasant to wear.
The new Korona K3 Harvest Moon has that same case in steel… black diamond coated steel. The black DLC treated case with the red gold moon phase looks great.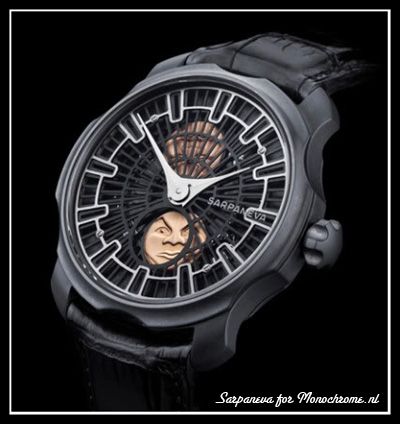 The red hued harvest moon mentioned in neil Young's song is fast approaching and Fall is just around the corner. So this is the perfect moment for new watch with a red moon and dark surroundings who remind of the darkness of Fall. The 18-carat red gold moon phase still has the so familiar dark and mysterious look.
The Korona K3 Harvest Moon is limited to 20 pieces so not much time to hesitate. Look at Sarpaneva's website for the specifications.
https://monochrome-watches.com/sarpaneva-korona-k3-harvest-moon/