For those who have have read my blogs frequently, you have probably read about the Finnish watchmaker, Stepan Sarpaneva, whom I met during the second European GTG and again at the launch of the new Dutch brand Grönefeld. Last year July was the first time I wrote about Sarpaneva, and that after seeing one of his watches 'in the metal' for the first time. It was love at first sight with Sarpaneva's Korona series; in this case it was a K3 Moonphase in black DLC with a rose gold moon.
Last februari Sarpaneva released his new Korona K3 Black Moon during a Black Moon ceremony and due to the lovely ladies i suggested to pick one up yourself in Helsinki. All i can say is that my ticket to Helsinki has been booked! When i'm back, second half of May, i will have loads of photos and stories to share.
A few months after the Black Moon ceremony, Finnish photographer Vesa Kippola, shot some excellent photos of this dark beauty. The 44mm wide and 9.6mm tick case is entirely made in Finnland and so is the beautiful skelletonised multi-layer dial. Even the complete moonphase complication is designed and produced in Finnland.
There's been said a lot about the face of Sarpaneva's moon. Some call it angry, some sad, some will say it looks arrogant or aristocratic. Or maybe it's just sceptical. One thing is for sure, it's the most intruiging moonphase ever made. It will keep you looking at it and wondering what's the best description of it's face. And if the moonphase at the dialside isn't enough you can always take a look at the rotor to get a good look of the movement and another angry, sad, arrogant, sceptical or aristocratic moonphase.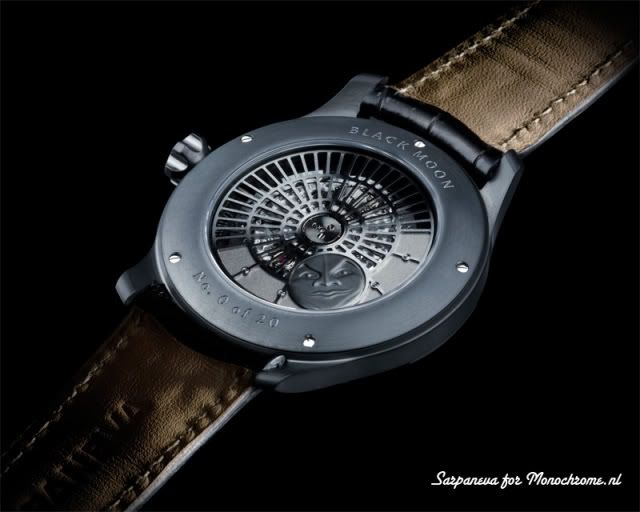 The Sarpaneva Korona's are powered by the Soprod A10. The mainplate is modified by Sarpaneva to enhance the larger "skeleton" date disc feature for the Korona K1 and K2. The movement of these two models, visible through the caseback, has a rotor with white gold masses. Those skeleton dials are absolutely amazing! Because Sarpaneva reworked the movement's mainplate he was able to keep the case very thin, less than 10mm. Especially for a 44mm large watch, featuring a moonphase, this is very special and makes the watch much more comfortable to wear!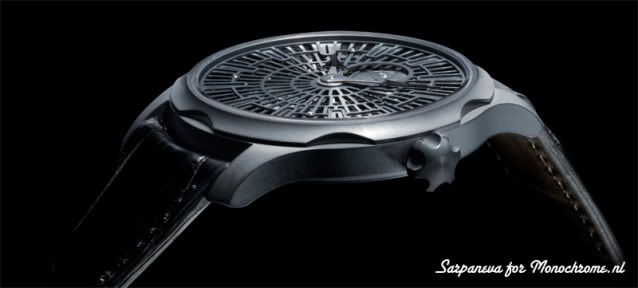 Stay tuned for more news about my trip to visit Stepan Sarpaneva in his atelier in Helsinki.
https://monochrome-watches.com/sarpaneva-black-moon/