Sarpaneva Black Moon wins Red Dot Design Award
Sarpaneva's Black Moon is not just a a very beautiful watch. The Black Moon is a complete concept that is put together in a book, a painting, black moonphase cuff-links and of course the beautiful Korona Black Moon. This whole concept has won the 2009 Red Dot Design Award.
Sarpaneva Korona K3 Black Moon is the first mechanical wristwatch to indicate the invisible and ever mysterious new moon. Sarpaneva got the inspiration from the endless melancholy of the dark Finnish winter.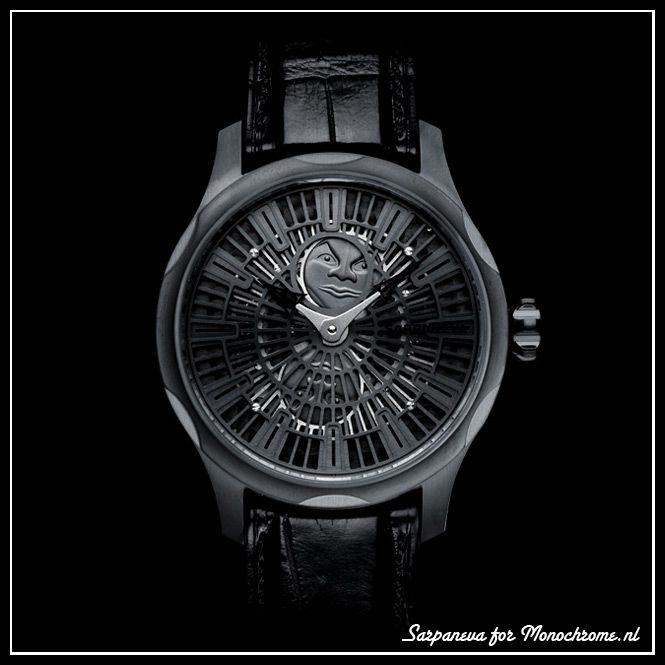 The complete Black Moon set was created to communicate this unique function and is limited to 20 pieces. The Korona K3 Black Moon comes with a book, a painting and a pair of black moonphase cuff-links. The hand-bound book "Black is the Moon" recounts a thousand year old legend of Lilith: the seductive temptress, who preys on unwitting men during the new moon… so you better "watch your BLACK" to know when you're in danger.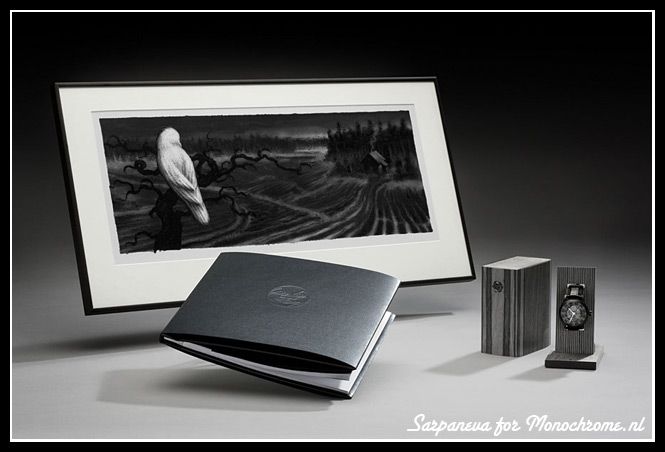 The Korona K3 Black Moon not only offers a unique function it is also an absolute beauty and pure pleasure to wear. Like the Korona K1, Korona K2 and 'normal' Korona K3 it has a diameter of 44mm and is only 9.6mm thick. From experience i can say that it is one of the most comfortable watches i've ever had on my wrist. And by far the most comfortable watch of everything of 40mm and bigger.
When i visited Stepan Sarpaneva earlier this year, this photos was made of the movement complete with moonphase module, which is visible behind the skeleton dial. Parts of the Soprod movement, which is modified by Sarpaneva, are DLC treated to get matching black elements. This is visible through the skeleton dial and from the backside through the skeleton rotor which also has a black moonphase or moonface 🙂
Congrats to Stepan Sarpaneva with winning the Red Dot Design Award with this unique watch and concept.
https://monochrome-watches.com/sarpaneva-black-moon-wins-red-dot-design-award/