Weekly Watch Photo – A. Lange & Söhne Tourbograph
The sole purpose of Monochrome's Weekly Watch Photo is to celebrate the beauty of a beautiful watch and/or movement that is photographed in an extraordinary beautiful way. And that's exactly what this week's photo does…
Friend and colleague Peter Chong is one of the most respected watch photographers in the world and his passion for beautiful timepieces from A. Lange & Söhne already resulted in several Weekly Watch Photo posts and, more important, a stunning book about the Pour le Mérite collection from A. Lange & Söhne.
Earlier this year we interviewed mister Chong about his passion for A. Lange & Söhne and found out it was a very personal reslationship between him, the brand and the people behind the brand up to the highest ranks. The result is a magnificent book, with loads of information about the brand, its history, the Pour le Mérite collection and its owners/collectors. It shows exactly what passion for Haute Horlogerie is about, so I feel there's a lot of similarity between mister Chong's drive to write this book and my own drive to run Monochrome.
A. Lange & Söhne's Pour le Mérite collection is the most impressive, most exclusive and most complicated collection of timepieces from this German watch brand. And when it's their most complicated, then you can be sure it's among the finest available in the entire world.
All classic watchmaking skills are being honoured practised when making these timepieces and no effort is spared. Of course all movement parts are fully hand-finished and also the movement parts that cannot be seen, like the mainplate top side that is below the dial. Luckily the dial, with its gorgeous hand guiloche finish is also a treat for the eye.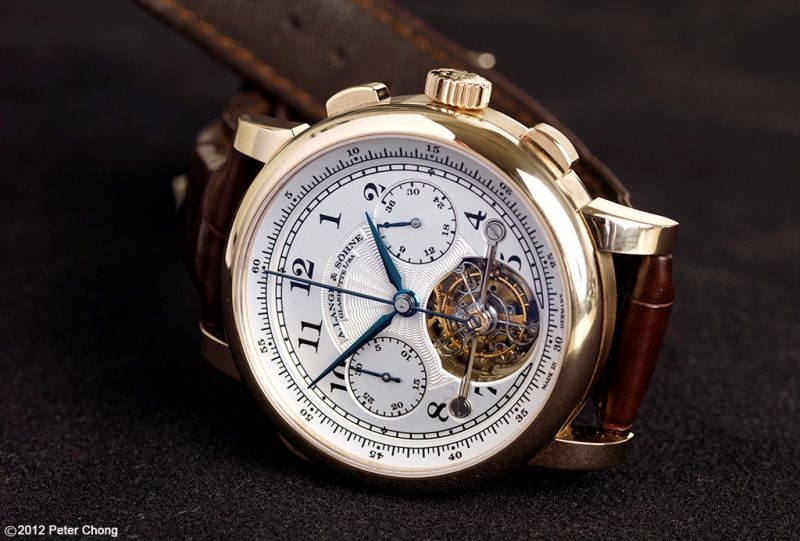 To view more of Peter Chong's watch photography, please visit his blog here. On the A. Lange & Söhne website you can find more information about the entire collection, including the Pour le Mérite Collection.
This article is written by Frank Geelen, executive editor for Monochrome Watches.
https://monochrome-watches.com/weekly-watch-photo-a-lange-sohne-tourbograph/