Peter Chong's book about the Lange and Söhne Pour le Mérite Collection
For fans of A. Lange & Söhne watches and the Pour le Mérite Collection in particular, there is a new bible. Peter Chong made a book about the Pour le Mérite Collection, filled with the most gorgeous photos and explaining much about the brand's history and technical highlights. 
Peter Chong's photos have already been selected for the Monochrome Weekly Watch Photo and other posts and that's for a good reason. Peter is a specialist in high resolution photography and is a absolute expert on watches from independent watchmakers and of course A. Lange & Söhne. He frequently posts the most gorgeous watch photos on his blog.
He is the founding moderator for the Lange forum at Timezone.com, an Internet community forum which is not only the first watch discussion forum in the world but also the largest today.
Peter founded the Lange Owners Group or LOG, a global "club" exclusively for Lange owners, as its name implies which the brand endorses. There are currently more than 1,000 like-minded members who are united by their love for A. Lange & Söhne and fine watchmaking. The group holds a meeting at least once a year, generally during the Salon International de la Haute Horlogerie (SIHH) in Geneva while a pilgrimage to Lange Mecca in Glashütte is organised once every two years.
The book provides an insider look at A. Lange & Söhne: its early formative years, the special line of watches which are classified as "Pour le Mérite" and detailed technical descriptions of the watches, including the first documentation of the disassembly of a high end watch equipped with a tourbillon with fusée-and-chain.
Technical and craftsmanship is explored in detail. Within, a full description of how the tourbillon and fusée-and chain works. A whole section is devoted on Lange chronographs and why they are unique. Another section discusses the design language used in the watches.
An entire chapter in the book is dedicated to telling the stories of the enthusiasts who love the watches and willingly share this love with others. The fascinating stories of these connoisseurs are told in their own words. As an accomplished photographer, the author took great pains to make all the photographs which are in the book. Many of these are reproduced as full bleed A2 size, and others in A3 sized photographs, showing the beautiful details and magnificent finishing of the watches.
There will be four different editions of the book, of which 200 copies will be for owners of the original Tourbillon Pour le Mérite. The numbers will be limited to a total of 1,110 copies.
The "Pour le Mérite" A. Lange & Söhne Collection has a limited print run of 1,110 copies and is presented in 4 different editions:
Tranche A Deluxe Edition: This is made up of 200 copies which are not for sale. These will be presented to the current registered owners of the original TOURBILLON "Pour le Mérite" Ref. 701 and Ref. 751 with compliments of Lange Uhren. Each book will bear serial numbers matching those of the owner's watches.
Tranche B Deluxe Edition: Only 8 copies, all of which are not for sale and each uniquely classified by one of the first eight letters of the alphabet (A to H), are reserved for the Publisher's private collection. Up to 7 copies will be donated to selected charitable auctions.
Tranche C Deluxe Edition: A total of 201 Deluxe Edition copies, each of which is individually numbered, are available for public sale in this category.
Tranche D Regular Edition: A total of 701 Regular Edition copies are available for public sale in this category.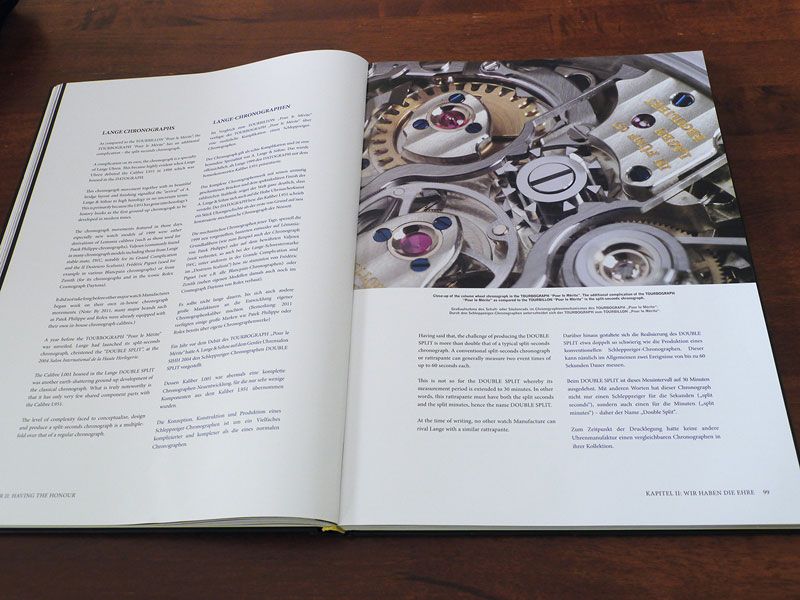 The price for the regular edition will be S$680, which equivalents $555 US or roughly €400 Euro. When compared to the
Modani books
, which costs up to €960 Euro, the price is definitely not too steep. Besides that, this is the first book about the A Lange & Söhne Collection and contains much information that was never published before. And of course… many magnificent photos. The book can be ordered directly
via this form
.
Let me finish this post with a photo made by Edwin, Peter's co-moderator of the Timezone Lange und Söhne forum. It shows Edwin's Tourbillon Pour le Mérite.
The book can be ordered directly via this form. More information and photos of the printing of the book can be viewed at Peter's blog.
https://monochrome-watches.com/lange-soehne-pour-le-merite-collection/