MB&F Moonmachine – Max Busser and Stepan Sarpaneva join forces – LIVE photos
This is something that doesn't happen to often… Two of my favorite watch brands joined forces. Max Busser invited Stepan Sarpaneva to create his version of the MB&F Horological Machine 3 Frog, resulting in the Moonmachine!
Stepan Sarpaneva is well known for his signature moon phase/face. It featured on his Korona K3 Black Moon, can be admired on the Black Moon iPhone App and on several of his newer models like the recent Korona K3 Nothern Stars. And Max Busser is of course well-known for his extraordinary horological machines like the HM2, HM3 and HM4.
For readers of Monochrome, Stepan Sarpaneva isn't a new name. But a quick introduction and some background info doesn't harm:
Before launching his own brand Sarpaneva Watches in 2003, Stepan Sarpaneva worked with some of the most prestigious Swiss brands including Piaget, Parmigiani (where he worked alongside Kari Voutilainen), Vianney Halter and Christophe Claret.
The MB&F HM3 Frog usually indicates hours, minutes and the date is displayed around the axe-shaped rotor. The Moonmachine displays the moon phase in stead of the date and the rotor now resembles the sky with Sarpaneva's Norther Stars.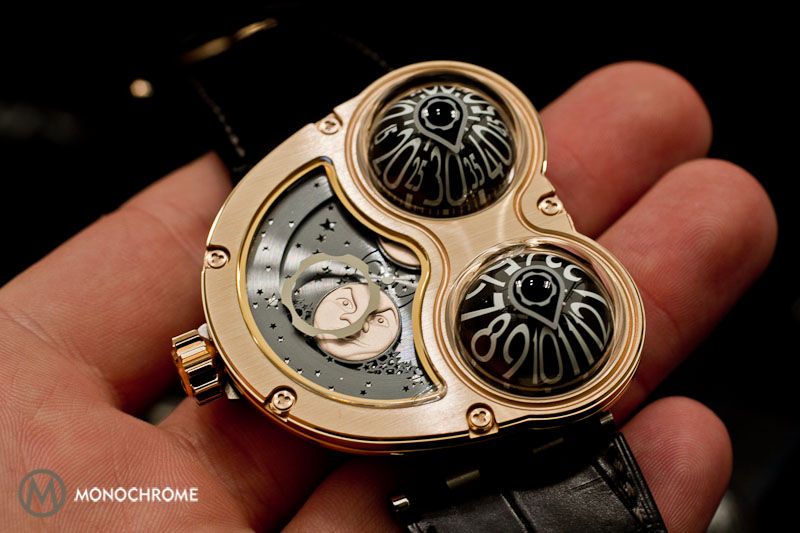 Sarpaneva's three signature themes are all celestial: his very distinctive moon face; the northern stars and constellations; and the typical shape of his Korona case (the korona/corona is the plasma atmosphere of the Sun). All three have been incorporated in Moonmachine. Sarpaneva's two moon faces indicate the phase of the moon through a Korona shaped aperture, while the mystery winding rotor is actually a 22k gold disc with laser-pierced stars forming stars and constellations visible in the northern sky.
The stars are laser-pierced allowing light to reflect from the movement underneath and are not simply placed at random: they form the seven brightest stars in Ursa Major, more commonly known as the Big Dipper/Big Plough/Big Bear, plus the seven brightest stars of Ursa Minor, more commonly known as the Little Dipper/Little Bear, which includes Polaris, also known as the North star.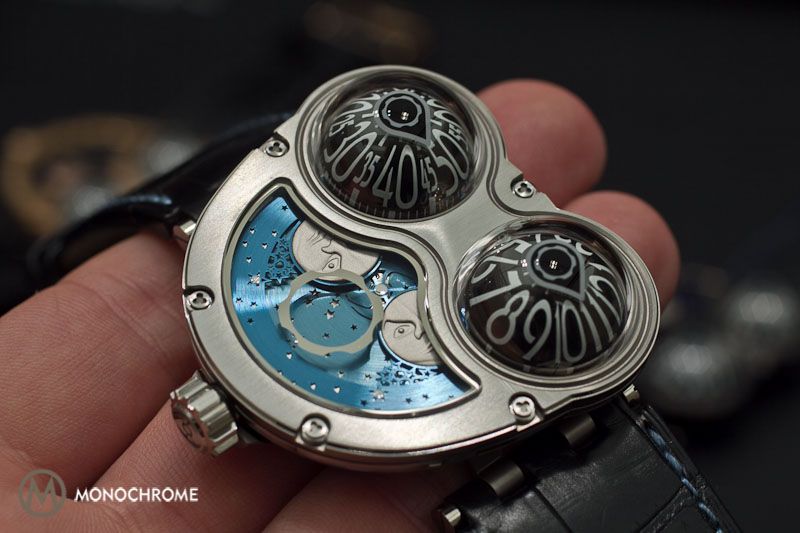 By covering the movement with the moon phase and sky, the Moonmachines becomes more poetic, according to Sarpaneva. The HM3 is transformed into a fairy tale. The bulbous minutes and hours indication domes of the Frog are reminiscent of how science fiction buffs have long imagined habitable domes on the Moon.
Rotating the large indicator domes posed a number of technical challenges. The domes are machined from solid aluminium to a paper-thin wall thickness of just 0.28 mm to reduce energy requirements to an absolute minimum. The semi-spherical sapphire crystal domes have to be very carefully machined and polished as the slightest imperfection might create unwanted magnification effects.
And the Frog's unusual method of indicating time, meant that an entirely new gear train had to be developed for the HM3 engine. This was because the aluminium hour dome of the Frog rotates in 12 hours compared to the 24-hour revolution of the 'normal' HM3 hour hand.
Stepan Sarpaneva: "With Moonmachine, the HM3 doesn't just look like it travels through space, it is now a part of space. It becomes a participant not just an observer."
Moonmachine is available in three limited editions of 18 pieces each: red gold case with red gold moon faces in an anthracite sky, titanium case with white gold moon faces in a light blue sky and black titanium case with white gold moon faces in a dark blue sky.
And now the technical specifications: 
Moon – While other planets have more moons (Jupiter has 62) and larger moons (Saturn's moon Titan is twice the size of ours) the Earth's moon is unique in our solar system because at ¼ the size of Earth, it is very large in relation to its planet, which is why it is so influential.
Average distance from Earth: 390,000km
Traveling time from Earth: three days
Gravity: 1/6th Earth gravity
Length of lunar day: 27.3 Earth days
The moon does not rotate in relation to the Earth
Influences on Earth: Causes two tidal cycles per day; often provides light at night; lunar cycle was one of the very first units of time; its gravity attracts many meteors and stops them hitting Earth; stabilises the tilt of the Earth in relation to the sun.
Oeps… those were the wrong technical specifications. Below the video are the specifications of the Moonmachine!
Moonmachine – Technical Specifications
Moonmachine is based on a specially configured HM3 Frog and the moon complication was imagined, designed and created by Stepan Sarpaneva. It is available in three limited editions of 18 pieces each.
Movement: three-dimensional horological engine designed by Jean-Marc Wiederrecht/Agenhor
Powered by a Girard-Perregaux base, modified by Stepan Sarpaneva
Balance oscillating at 28,800 bph.
PVD coated and star-pierced 22k gold automatic winding rotor
Hour and minutes information transmitted via ceramic ball bearings to rotating domes.
Number of jewels: 36
Number of components: 319
Functions:
Hour on one dome (aluminium dome rotating in 12 hours)
Minutes on second dome (aluminium dome rotating in 60 minutes)
Moon phase displayed by dual moons rotating under a Korona ring
Dimensions (exclusive of crown and lugs): 47mm x 50mm x 19mm
Number of case components: 55
Sapphire crystals: domes and both display backs with anti-reflective treatment on both faces
Swiss retail price is CHF 84,000 before tax.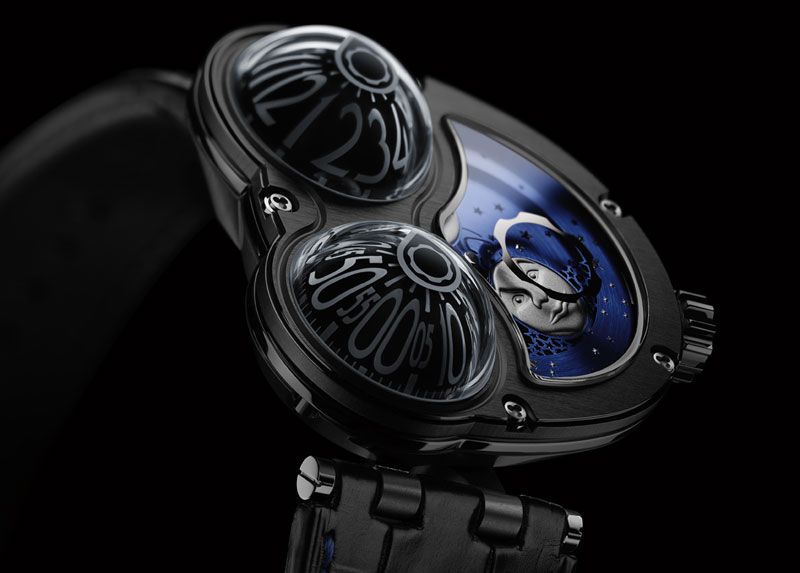 For more information about the Moonmachine and other MB&F Horlogical Machines, please visit the MB&F website or official MB&F Facebook page.
More information about Sarpaneva's watches can be found on the Sarpaneva Watches website and some updates are ferquently posted on his official Facebook page.
This article is written by Frank Geelen, executive editor of Monochrome Watches.
https://monochrome-watches.com/mbf-moonmachine-max-busser-and-stepan-sarpaneva-join-forces-live-photos/