Chronopassion is a true wrist watch Mekka
Who doesn't know Chronopassion, the famous watch store with it's spectacular collection of the most extraordinary, extravagant and rare watches? Recently I visited Paris and Laurent Picciotto, owner of Chronopassion, was so kind to talk about his store and how he started this back in 1988.
271 Rue Saint-Honoré in Paris is a sort of watch Mekka for serious collectors and aficionados. The collection consists of famous brands like Audemars Piguet, Breguet, A.Lange und Söhne and Girard-Perregaux. But besides these big name brands, there are some many watches you will not see in many other watch stores. Think of Greubel and Forsey, Hautlence, Ladoire, MB&F, MCT Watches, Richard Mille and URWERK. The most spectacular watches you can imagine. That's why Chronopassion stands out from the crowd of watch stores and has become famous around the world. Laurent Picciotto is the founder, owner and president of Chronopassion and was welcomed me in his office for an interview.
Monochrome: When did you become interested in watches?
Laurent Picciotto: It was at the age of 12. My father was a watch collector and sometimes I joined him when he made a new purchase. At that time there where some watch stores, but it was completely different from what we see today. I can still remember very well he bought an Audemars Piguet Royal Oak in 1974. Later I started buying watches for myself as well. More affordable watches of course, we have to start somewhere.
Monochrome: How did you get professionally involved in watches?
Laurent Picciotto: At first I started working in banking and real estate, something completely different. When I was 27 I noticed most jewellery stores only offered a few watch brands and only had a very limited stock. That's when I got to idea to try another approach. I wanted to open a watch store, no jewellery store also selling a few watches and talked about this with my father. I wanted to have other watches in stock, to closely listen to what customers want to see.
In 1988 I started and visited many brands in Switzerland and talked with them about my idea. I started with a Gerald Genta mono-brand store. Rather exclusive and expensive of course. This meant not so much customers and the sales where not really superb. After the first year I sold 40 -45 Genta timepieces.
Monochrome: And when did you start with Chronopassion as we know it today?
Laurent Picciotto: Well, in those years I met many people from the watch industry as well as collectors. After two years I decided to increase the number of brands drastically. During Baselworld 1991 I bought many watches. I actually bought everything that I liked or found interesting. This was of course very risky, but besides unusual brands there where also the interesting pieces of Audemars Piguet, Jaeger LeCoultre and Breguet.
Monochrome: How did Chronopassion grow to become known all over the world?
Laurent Picciotto: At that time communication was 'slightly' different from today and I received many faxes of people who where looking for something special. What happened than is what made Chronopassion like we know it today. Many serious collectors found their way to Rue Saint-Honoré in Paris and because of the many interesting and rare watches I had in stock, collectors always discovered something new.
Monochrome: Was the business better than when Chronopassion was a mono-brand store?
Laurent Picciotto: The watches I had in stock where always 'different' and rare and interesting. You wouldn't find the entire Breitling collection in my shop. Although it had to be something special, it could be commercially interesting. The first seven years where very difficult, but I learned a lot. Around 1995 the market became more interesting, more vivid. Jewellers who had sold mainly jewellery, started to sell more watches. Many of them had almost no knowledge of watches and also the passion for watches was missing. More and more customers wanted special and rare watches. And more customers found their way to Chronopassion.
Watch brands made more special editions, which was interesting for this kind of customers as well. Twenty-three years later I'm still enjoying to help customers with special desires and I'm still doing that from the same shop where I started in 1988.
Monochrome: Can you give some examples of the special watches?
Laurent Picciotto: One day the brother of Felix Baumgartner came to the store with some drawings and we talked about starting URWERK. Also Richard Mille talked with me about starting his own brand. Together we started to write down ideas about starting the brand and I've been a shareholder of Richard Mille for five years. These where exiting times, starting new things together.
I sold Panerai before Vendome and later Richemont bought the brand. I talked with Breguet to re-launch the Type XX and immediately ordered 50 pieces. And even today I'm still doing special things together with brands, like the URWERK White Shark we launched earlier this year.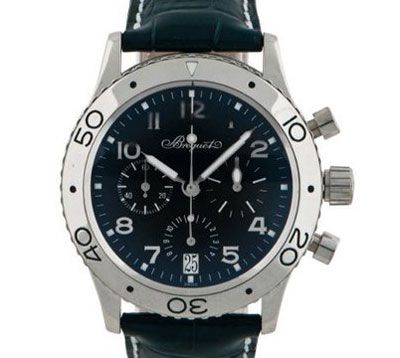 Monochrome: How does the crisis influence your sales?
Laurent Picciotto: There are still many customers, but the crisis does have its impact. Customers become more precise in their choices. Before some customers wanted every new special edition Panerai or every limited edition this or that. Today it seems customers are more knowledgeable it seems. They make less impulse buys and they choose more deliberate.
Monochrome: One last question. Who came up with the name Chronopassion?
Laurent Picciotto: At the time I started most shops where carried the name of the owner. But to me this didn't mean enough and I though also for customers it would be better if the name immediately made clear what was inside the shop. I talked about this with my father and he was the one who came up with the name, Chronopassion.
Monochrome: Thank you very much for you time and enthusiasm!
Visit the Chronopassion website to see all brands they have in the collection and how to reach them.
https://monochrome-watches.com/chronopassion-true-wrist-watch-mekka/