Sometimes readers of Monochrome sent me an email with their thoughts or questions about something i wrote. Sometimes i receive really funny mails, like this one about a HUGE watch. Check it out!
Just imagine finding Godzilla's wrist watch….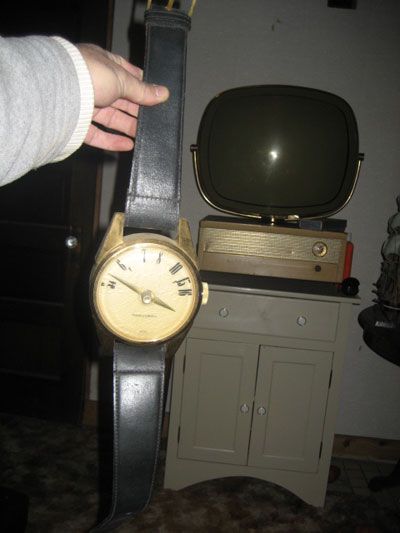 This huge watch was found during a house cleaning. Well i can imagine the finder must have wondered about the previous owners of the house 🙂
The total length, from buckle to the end of the other band, is around 90 cm or 3 feet. Slightly too big for my wrist i guess… look at the wrist watch next to it.
After taking a closer look it appeared to be a radio in a wrist watch shape. The case with crystal, lugs, a crown, hands and dial are shaped exactly like a watch. Even the strap is made of real leather and has stitching on the sides. Both strap ends are attached with a removable pin and it even comes with a buckle.
The radio is AM only and operates on a 9 volt battery. The crown is used as on/off switch and as volume control. The hour and minute hand are actually only one hand that indicates the frequency of the radio. Via a center knob in the middle the radio can be tuned to different radio stations.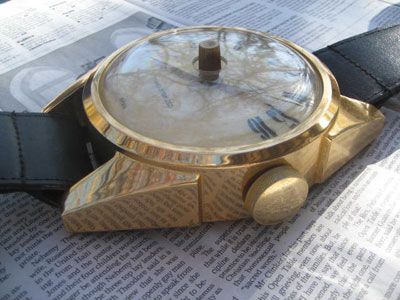 Thanx to Joseph for sending these photos!
https://monochrome-watches.com/godzillas-wrist-watch/