The Übercool Döttling Gyrowinder Watch Winder
Do you need a watch winder? No, actually you don't, but it makes life easier when you own several mechanical watches with an automatically wound movement. And the Döttling Gyrowinder is by far the coolest looking single-watch winder I have ever seen. 
The design reminds me of (my favorite) Jaeger-LeCoultre Atmos, the Réédition 1930. Besides some visual characteristics, they have more in common. Both devices are magnificent technical marvels and then there's something else. Have you consider its name? Indeed, Jaeger-LeCoultre created the Gyrotourbillon, a tourbillon that is constructed in a similar way. Let me tell you more about of the magnificent features of Döttling's Gyrowinder.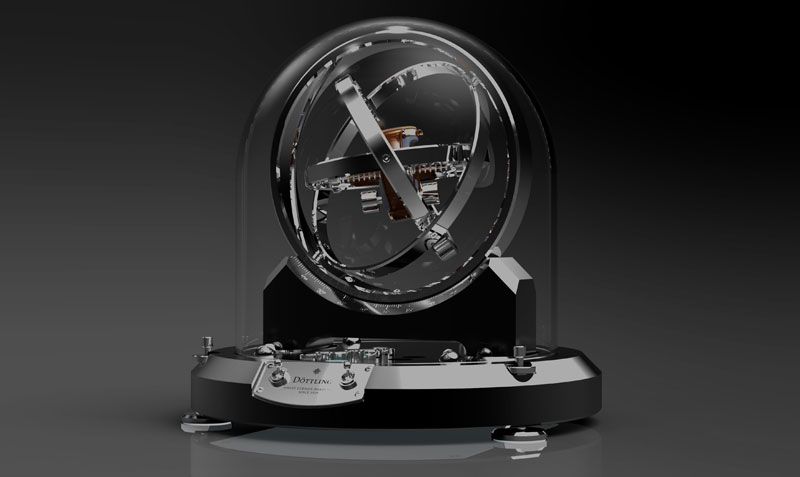 The Gyrowinder is created by safe manufacturer Döttling, yes usually Döttling makes very luxurious safes. The Gyrowinder is the first watch winder in the world that can rotate a watch in any direction, including a 360° turn. Conventional winders turn a watch only on one axis, either from left to right or from right to left.
Do you need a watch winder? No you don't. Why? Well that's gonna take a few more lines to explain. The movement in any mechanical watch comprises of metal parts, even parts that make rotations like gears on axis and pinions. The moving parts are usually in jewel bearings and still need some oil, to make things move smoother.

Like in a car, the oil works better when it's warm, and like in a car, running the engine at low temperatures isn't good for the engine. The car engine heats up when it's running, however the engine of a watch does not heat up. At least, not when it's running and NOT on the wrist! When a watch is on the wrist, the skin warms the watch to almost body temperature and that's a perfect temperature for a mechanical watch with its oils. Another small reminder: watch on a watch winder runs constantly; when you wear a watch now and then, it runs just now and then… meaning less wear.

The best thing to do, is to wear all your watches regularly on your wrist. Of course letting them run when not on the wrist, isn't going to destroy your watch, absolutely not! Personally I use a watch winder for watches with an annual or perpetual calendar, simply because I don't want to adjust the watch every time I wear it.
All watches have a different weight, so the Gyrowinder is shipped with a set of counterweights, comparable to an antique scale, which make it possible to balance any watch individually. The Gyrowinder also has a large array of adjustment options, so you can adjust its rotations to the specific needs of your watch.
The Gyrowinder has a hand-blown crystal glass cover and the price starts at € 11.800 Euro. Considering what you get, I find this a very reasonable price. Here's a link to the Gyrowinder website, where you can contact Döttling for more information about their dealers around the world.
This article is written by Frank Geelen, executive editor for Monochrome Watches.
https://monochrome-watches.com/the-ubercool-dottling-gyrowinder-watch-winder/