Ladoire Geneve – Helvetic timepieces
Ladoire Geneve was launched in 2007 and has since, become one of the major players in the niche of young, innovative, rebellious and extravagant watch brands. Recently I had the chance to visit them in Geneva, homebase of this Helvetic watch brand.
Besides extravagant looks Ladoire offers more extravagant treats, like a micro rotor movement that Lionel Ladoire developed together with former Patek Philipe engineer Philippe Michel Ruedin (ASPX Company) and the for Ladoire so typical HMS Planetary complication. This is all packaged in a rather big, punk rock design watch that still wears very comfortable and feels soft as silk. When i first saw the Ladoire RGT Punk White I was totally impressed with the ingenious three dimensional dial. This is the type of watch that will be interesting to look at over and over again.
The first time I handled a Ladoire watch, the Roller Guardian Time (RGT) Punk White i was mesmerized by it's three dimensional dial. I kept on looking at it from different angles and under different lights. This is a treat and as a superb extra you get to see parts of the manufacture movement as well. The patented HMS Planetary complication is Ladoire's signature dial layout, showing an entirely offset Hour, Minute and Seconds sundials in regulator style. The hands are displayed in three 'cages', mounted on ceramic micro ball bearings, specially made for Ladoire. Hence the name, Roller Guardian Time. Some hands are not attached to a normal stem, but attached on these 'cages' rolling on the ceramic ball bearings.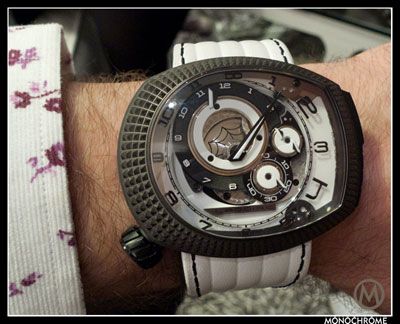 Developing an entire new movement costs more than a kidney or an arm and a leg. Ladoire and two other independent watch brands (Hautlence and MCT Watches) somehow shared the development of a base movement. A smart way to reduce costs and still get an exclusive caliber tailored to your own specifications. The base movement (ASPX 1200) was developed together with former Patek Philippe engineer Philippe Michel Ruedin of ASPX. Ladoire made it's own adjustments and that's why their caliber is the only one featuring the micro rotor.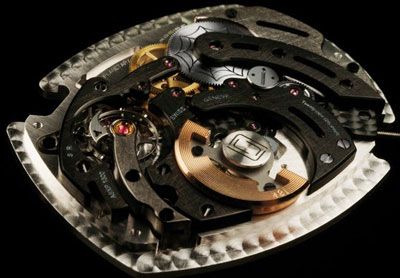 Ladoire Caliber Calvet 0/1 is a tailor made manufacture movement with a unique circular bridges architecture. The signature spider web is engraved on the ratted wheel and GMT wheel (available on the RGT GMT). The caliber is a low frequency movement (18,000 vph or 2,5 Hz) with 27 jewels and a power reserve of 44 hours.
Although the Roller Guardian Time haas a rather large case ( 56 x 45 mm) it wears surprisingly comfortable. Also reading time might seem difficult at first, it is actually logical and easy. The largest hand is a 12-hour GMT hand, a functional second timezone, which can be adjusted by a pusher at the 2 o'clock position. From left to right and also from big to small, you'll see the hour, minute and seconds indicators.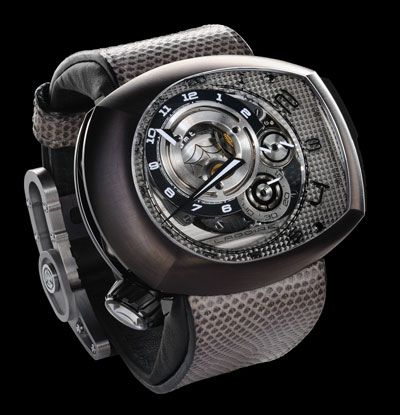 In the 'normal' collection the Roller Guardian Time comes in red gold, white gold and titanium. There are also several limited editions and if you like something really special, don't hesitate to contact Ladoire and discuss your ideas for a piece unique, like the RGT White Chocolade (photo above). Prices start around 108,500 Swiss Francs.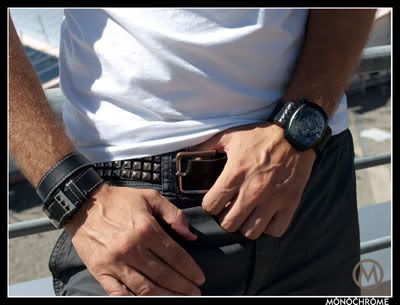 I think this photo says it all… haute horlogerie, innovation and punk rock watchmaking…. Ladoire Geneve.
Visit the Ladoire website and read the latest news via Facebook.
https://monochrome-watches.com/ladoire-geneve-helvetic-timepieces/