Monochrome's Tour de Suisse part 2
Monochrome's Tour de Suisse continues with more visits and meeting with the finest independent watchmakers. Kari Voutilainen, De Bethune, MB&F, Hautlence, URWERK, Ladoire and MCT Watches. And interesting mix of classical watchmaking and steampunk design.
In the following weeks I'll write much more about these visits, so stay tuned.
Visiting Kari Voutilainen was on my wishlist for a long time. To me his watches are the most perfect classic handmade watches I have seen and his Observatoire is in my opinion the perfect dress watch. Simple yet intriguing. We where shown around in the beautiful house where the workshop and ateliers are as well. There will be news but we just have to wait a bit longer… but it's well worth waiting for!
After the visit to Kari Voutilainen we drove up into the mountains to visit De Bethune. Maybe this brand is the perfect switch over from the classic design of Voutilainen's watches to everything we will see the rest of the week. De Bethune started with rather classical designed watches, yet with something special. And that something special has grown to become an integral part of De Bethune's design and watchmaking art. This for instance is one the De Bethune DB12 RT that's for sale at a local watch store. Classic with a twist?
The next morning we were meeting with Max Busser of MB&F. MB&F as a young brand has made a progression that is almost impossible in watchmaking. Four entire collections and some special editions with more design change than just a different color of the dial. This very impressive achievement is because of Max Busser's vision and drive. Of course he couldn't do all of this alone so he had a little help from his friends (somehow this sentence makes me think of the Beatles). On the photo below I'm wearing the HM4 Thunderbolt… doesn't it look great!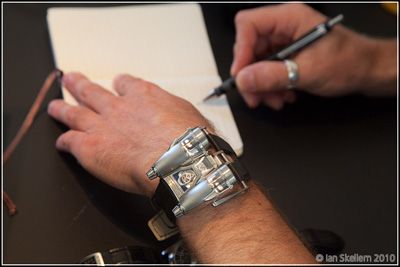 The tour continued to Neuchâtel to meet with Guillaume Tetu of Hautlence. Hautlence recently launched their HL2.0 which is a magnificent timepiece with equally magnificent looks and technique. Hautlence makes beautiful and extraordinary watches for a longer time already. I can still remember seeing the HL series with tv screen case for the first time, because it was so different from everything else I had seen until than. Here already a wristshot of the HL2.0… later more about this extraordinary timepiece!
I must say my head was spinning after seeing so many beautiful watches and this was not the end of the tour… The next morning we met with Yacine of URWERK to see the recently released CC1 in black.
Than we met with Lionel Ladoire and Richard Piras of Ladoire. Ladoire is a relatively new brand based in Geneva. The Ladoire Roller Guardian Time (RGT) is a bold statement of how traditional watchmaking and funky modern design can be mixed. Just look how the Ladoire RGT Black & Black look on Lionel's wrist, showing the beautiful RGT buckle V.1 on the other wrist.
And last but definitely not least, we met with MCT Watches. Denis Giguet, founder of MCT Watches talked about the Sequential One, the new All Black and new timepieces that will be released. Again a relatively new watch brand and again a brand with an innovative drive that is just spectacular.
My sincerest thanks to Ian Skellern for organizing the meetings and letting me use some of his photos!
https://monochrome-watches.com/tour-de-suisse-part2/