Your Hublot away for service? Hublot provides a loan watch!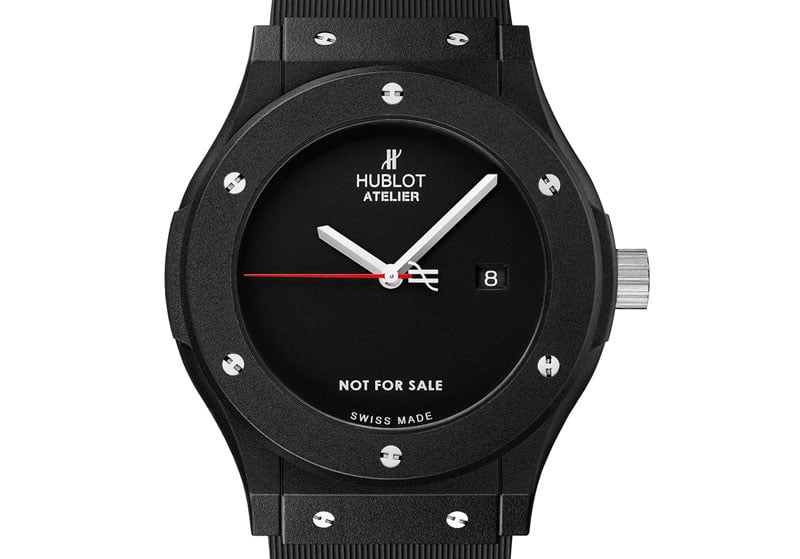 I guess most watch collectors already know that sending a watch for service usually ends with an impressive invoice, usually after months and months of waiting. Hublot comes with a unique new service, providing a loan watch for the duration of the service. 
This is a first in the watch industry! Although most watch collectors will easily grab another wrist watch from their collection, this "Atelier watch" as Hublot calls it, can be a very useful service and it's a great 'gesture' from this manufacture. This service is only available from one of the 49 Hublot boutiques and as yet, it is not available in multi-brand outlets.
The "Atelier watch" is a special model that is not for general sale, as "subtly" indicated on the dial. Its case, bezel and the pin buckle to close the black rubber strap with, are made in black composite. The screws and crown are made in steel. The black dial shows indications for hours, minutes (central), date (positioned at 3 o'clock) and a small second hand at 6 o'clock.
The energy for the movement that drives this "Atelier watch" comes… from a battery. It's a bit like bringing your Bentley for service and getting a Smart Fortwo during service. The service for most cars usually takes not more then just one day, luckily. However in the case of high-end watches, service period takes more then one day and usually also more then one month. So we're not sure for how long you have to wear a Hublot with a quartz movement.
Hublot says this is like a "Courtesy Watch", loaned without charge to the customer for the time required, a gesture to maintain the customer's connection with Hublot. By the way, this 'delicate token of attention' remains at the discretion of the management of each Hublot boutique. A nice gesture, although I think that most collectors will prefer to strap another watch from their collection on the wrist, in stead of a quartz watch.
—-Edit—–
Shortly after this article was published, one of our readers pointed out that the watch brand LIP used to have these kind of loan-watches as well in the 1960's. Funny enough, LIP now has these "Montre Apres Ventes SAV" for sale! For € 169 Euro you can buy one and they're limited to just 145 piece, to commemorate the 145th anniversary of LIP Watches. Click here to visit the LIP online store.
The original Montre Apres Ventes – SAV was produced between 1964 and 1966 and was not for sale. This was, exactly like Hublot now offers, a watch that LIP owners would get for the time their own watches was brought in for service. So Hublot's new service isn't new, but in today's market it is unique… I think.
This article is written by Frank Geelen, executive editor for Monochrome Watches.
https://monochrome-watches.com/your-hublot-away-for-service-hublot-provides-a-loan-watch/