Hublot – An extraordinary breed of watches
Hublot has yet to make its first ordinary watch. When introduced to the world in 1980 by creator and founder Carlo Crocco it might as well had come from a different planet.
A golden watch with a unusual yet distinctive port hole design on a vanilla scented rubber strap. As hot as this combo is nowadays, so not it was in the early 1980's. But this creation was not lost for the world because it was embraced by a group of early adaptors. This group included the King of Spain, Juan Carlos, who became an avid fan of Hublot. This is also one of the reasons why Spain is still one of Hublot's premier markets and it is rumored that their sales figures there even beat Rolex.
Over the next two and a half decades Hublot evolved slowly but certainly, creating watches that stayed loyal to the original design but added their own flavor to the Hublot-mix. Amongst them where watches like the Elegant, a model in which the lines of the original design where softened, and many models enhanced with the sparkling beauty of diamonds in Hublot's Joaillerie line-up. But also models like the  Classic Regulateur, where the term classic refers to Hublot's original design since the watch itself has a rather industrial look to it, and the unsual " Classic Cover" where a steel or golden cover had to be opened before you where allowed to see the dial.
Being a relatively small brand in a niche of the market has Hublot never prevented from also creating some serious sports watches. Amongst them was a full range of chronographs, ranking from a Mecaquartz-model (based on Frederic Piguet caliber 1270) to automatic chrono's powered by an ETA 2892 with Dubuis Depraz module and Frederic Piguets famous calibre 1185.
Another field in which Hublot was a serious contender was with divers watches. Starting with the 450 meter water resistant Super Professional Sport (those not afraid of a statement would order it with fuchsia!! dial) and ending with the very serious Subaquaneus Sport, a divers watch modest in size (40mm) but big on performance with a 2000 meter water resistant and an innovative turn lock system to set and secure the diving bezel.
All these accomplishments, more or less outside the limelight of the watch making world, where magnified to a grand scale when Hublot got a new CEO in 2004; Jean-Claude Biver. The big question back then was if Biver could do for Hublot what it had previously done for Blancpain? The answer was yes, and much faster than anybody could even imagine. Within six years Biver did not only octadrupled Hublot's revenue, from an estimated 25 milion USD to over 200 million USD, but also let the evolution from Hublot's original philosophy into the next level, which he called "The Art of Fusion".
This new impulse to Hublot's original design language resulted in a range of interesting, original and often innovative timepieces. It started in 2005 with the introduction of a watch, appropriately named Big Bang. With a diameter slightly over 44mm it was in a way a further evolution of the previous sport chronographs made by Hublot. This time the innovation was not just in the fusion of gold and rubber, by then embraced by watch manufacturers and consumer alike, but in the fusion of a wide variety of innovative materials, some that where even never combined in one watch. The Big Bang was an instant hit, grossing in prizes, amongst which the prize for best watch design in the 2005 edition of the Geneva Gran Prix d'Horlogerie, the watch worlds equivalent for the Oscars.
The first Big Bang made the way for a range of chronographs that feature a wide variety of "fusions" using materials like tungsten, ceramic, carbon, kevlar, steel, titanium, and the materials where it all started with; rubber and (matted) gold. But Hublot would not be Hublot if they didn't pushed the envelope even further, and so they also incorporated grass in one of their watches. Not just any grass, but a few pieces from Manchester United's Old Trafford football stadium. Hublot preserved this grass and uses them as hour markers in their King Power Red Devil Chronograph tailored and dedicated to the Manchester United soccer team.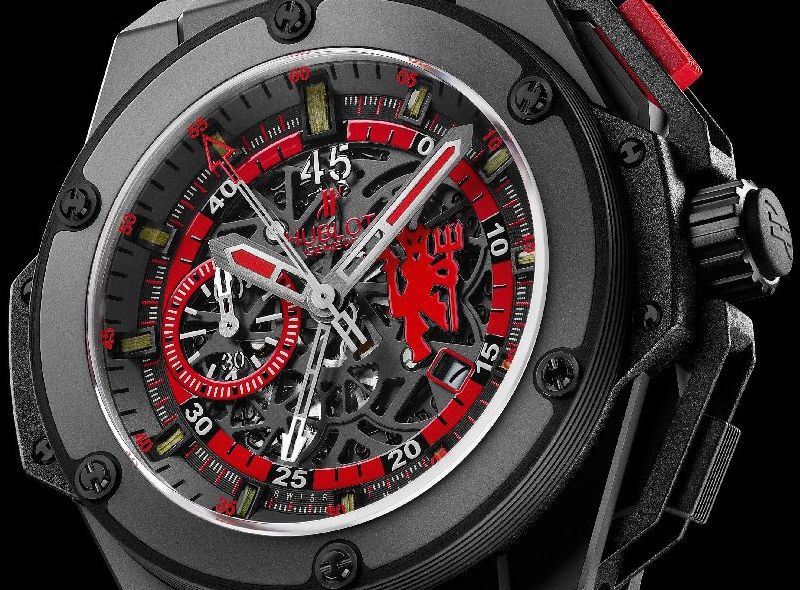 Chronographs are not the only watches that Hublot offers today in their fusion-concept. Also divers watches are available. The Big Bang King Diver offers the same innovative mix of materials of the chronograph-range but then in a time only model with divers bezel. More extreme is it with the newly introduced Oceanographic 4000, which doubles the water resistant of the  Subaquaneus Sport to a whopping 4000 meters. Whopping also goes for the dimensions of the watch; the movement is protected by a case which is 48mm in diameter. Titanium and Carbon Fiber are the only options for the case, in order to keep the weight light enough for comfortable wear.
On the completely other end of the Hublot universe is the also recently introduced Big Bang 2 Million Euros. It is clear that the name indicates its value and that this is the successor of the previously introduced Big Bang 1 Million Euros. The fusion recipe for this watch is rather simple; you take a white gold case, with a white gold bracelet, fit it with a tourbillion movement and adorn it with 637 baguette cut diamonds and one rose cut diamont with a total carat weight of 143,48 carats. As simple as the recipe may sound, so difficult and time-consuming is the execution. Not only do all the diamonds need to be cut and polished, which took 45 gem cutters one month to do so, there is also the precise and dedicated work of actual setting the diamonds in the bracelet, case and dial of the watch which took another 2.000 hours. The result is sparkling, breathtaking and fusion in a whole other dimension.
Taking all these development into account make it hard to believe that Hublot is barely 30 years old. Yet the brand has proved that it has tremendious staying power by being true to its original idea; Fusion with the future, since 1980.
https://monochrome-watches.com/hublot-an-extraordinary-breed-of-watches/