Hublot King Power Alinghi 4000 – Team Alinghi and the Swiss Watch Industry
Hublot just released the King Power Alinghi 4000 to show their partnership with Team Alinghi. Alinghi definitely does something good, as Hublot is not the first of their official timekeeping partners.
A few years ago Audemars Piguet partnered with Alinghi and that also resulted is some cutting-edge technical timepieces. In fact, this resulted in the world's first watch with a carbon fibre case, which was the Royal Oak Offshore Team Alinghi. Do we see some similarities with the Hublot King Power Alinghi 4000?
Both watches share more than a carbon fibre case; they are both big, black and we assume rather robust. With a depth rating of 4,000 meters the Hublot King Power Alinghi 4000 is also one of watches with the highest depth rating in the world. The Oceana 5000, made by independent watchmaker Aniceto Pita from Spain, still holds the record with a depth rating of 5,000 meters!
Audemars Piguet's carbon fibre creation for Alinghi, the Royal Oak Offshore Team Alinghi, did not have such an impressive depth rating but did feature a chronograph. Depth ratings of more than 100 meters don't make much sense for most people, not even when sailing on rough seas. A relatively limited depth rating is sufficient to keep the inside dry and that's pretty much what you're looking for.
Audemars Piguet also released several other Royal Oak version for Alinghi and that resulted in both mens and ladies timepieces. Oour friends from the Sidney Tarts had a great photo of the Royal Oak Alinghi Polaris that I'd love to share with you, as it's still one of my favorite versions of the Royal Oak Offshore.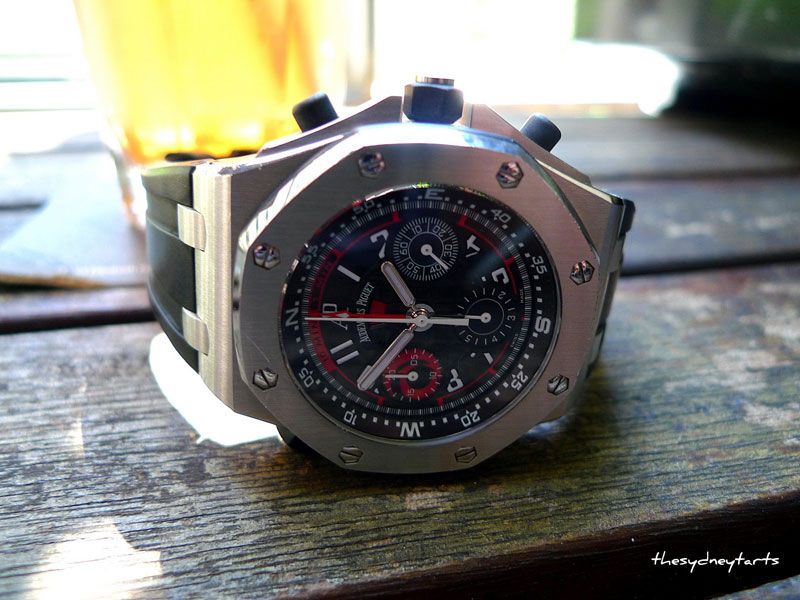 In previous years Hublot already released other versions of the King Power 4000 models with a carbon fibre case. This new one features the Alinghi logo on the dial and is limited to 100 pieces. Two years ago Hublot already made another watch to honor the cooperation between Hublot and Alinghi. That was the Hublot King Power Alinghi, which didn't featured a carbon fibre case, but a black ceramic case. And also not a dive watch that time, but a chronograph.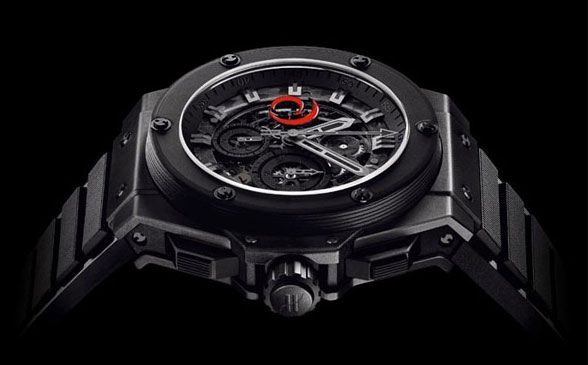 The thing it has in comon with the new King Power Alinghi 4000 is the Alinghi logo and it's size; it was also 48 mm in diameter like the new one. Our friends from Watchonista had the chance to be in Geneva for the launch of the King Power Alinghi 4000 and shared some photos of the event and the watch.
The King Power Alinghi 4000 is limited to 100 numbered pieces. Here are some specifications.
Size – diameter 48 mm (no mention of thickness)
Case and bezel  – matt carbon fibre (bezel with 6 H-shaped black PVD titanium screws)
Crystal – sapphire with anti-reflective coating Black composite resin
Crown at 2 o'clock – Black PVD titanium with black rubber insert, red arrows and black PVD titanium, "Diver 4000" engraved in red (crown guard)
Water resistance – certified to 400 ATM, equivalent to 4000 meters
Movement – mechanical movement with automatic winding, caliber HUB1401, with 23 jewels and 180 components
Power reserve – approximately 42 hours
And not only watch brands line up to collaborate with Alinghi. Wenger, famous for their Swiss army knives, are partnering with Alinghi as well. They created an Alinghi pocket knive that looks very cool.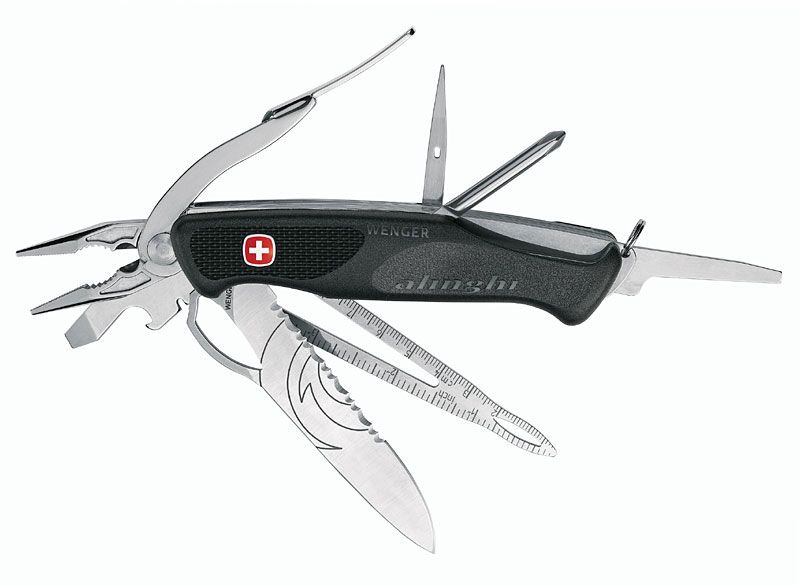 Like I said in the beginning of this article, Alinghi must be doing something very good. Top watch brands are lined up to collaborate with them.  Not sure what they are doing so well, but it must be something. I'm still waiting for watch brands to line up to collaborate with Monochrome for a nice 'Monochrome Limited Edition' 😉
This article is written by Frank Geelen, executive editor of Monochrome Watches.
https://monochrome-watches.com/hublot-king-power-alinghi-4000-team-alinghi-and-the-swiss-watch-industry/