Audemars Piguet Royal Oak Offshore Grande Complication Titanium
When Audemars Piguet showed me the new Royal Oak automatic (ref. 15202) during the SIHH in January of this year, it was love at first sight. It doesn't happen often that in the first paragraph I write "I WANT ONE", however I did and I meant it. The result has been on my wrist since February of this year when I bought the 15202's predecessor, a Royal Oak ref. 5402. 
The Royal Oak Jumbo, as it's kindly nicknamed by collectors, is the purest form of the Royal Oak. I think that pure and strong design makes it more difficult to successfully integrate other complications in this design or to change it. Still Audemars Piguet successfully re-created the a bigger and bolder version, named Royal Oak Offshore. Today Audemars Piguet presents a successful merger between the bad ass Royal Oak Offshore and the most impressive of all complications, the Grande Complication.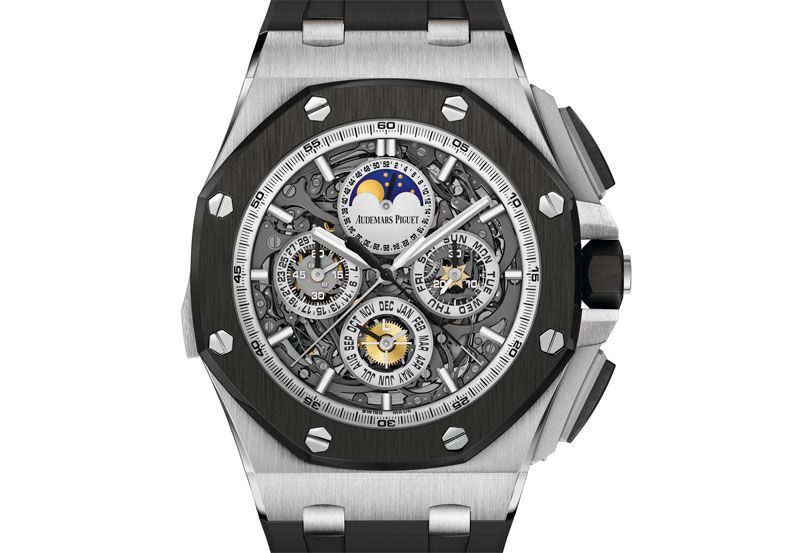 The AP ROO (as it's called by collectors) was first launched in 1993 and it was intended as the ultimate sports watch, as Audemars Piguet calls it. Although I'm skeptical when calling this watch an ultimate sports watch, simply because there are other watches that do the same thing, telling time and look absolutely cool and impressive. Why not call it for what it truly is, an ultimate LUXURY sports watch. That significant difference gives way for adding complications that by their function have no place in an ultimate sports watch. Yet they do in an ultimate luxury sports watch and that is exactly what AP did here. The took the ultimate luxury sports watch and added the ultimate luxury complication, being the grande complication.
The Grande Complication features a split-seconds chronograph, a perpetual calendar, a moon phase and a minute repeater. Indeed, not the kind of complications you need in a sports watch, especially when you consider this watch is water-resistant to 20 meters. Yes twenty meters, two zero, 20, I didn't forget a zero. This is caused by the slider that activates the minute repeater, positioned on the left side of the case. Nothing to worry about as I don't think a complicated movement like the Grande Complication should be used as a sports watch anyway, as it's just to vulnarable for shocks and bangs. Just look at the stunning beauty and complexity of the 648 parts of self-winding caliber 2885.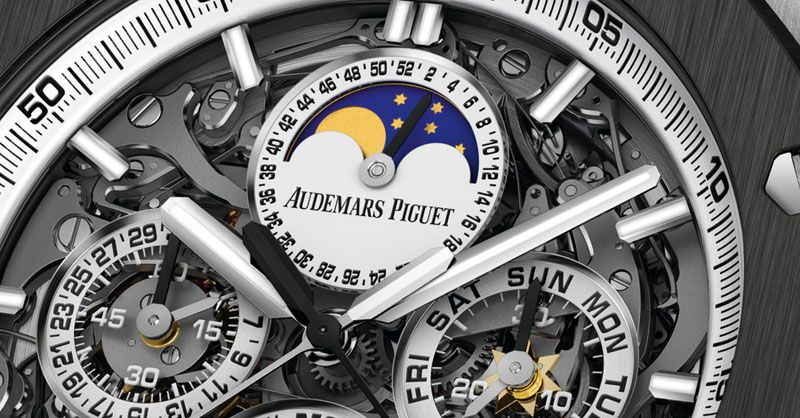 The sapphire dial reveals much of the intrinsic beauty of this über-complicated, über-luxurious sports watch. The dial features white counters for the day of the week, the month, date and even the week, white gold applied hour-markers and typical Royal Oak hands with luminescent coating. The chronograph registers are 'inside' these white counters and so is the leap year indication. The upper pusher activates split-second chronograph by means of a column wheel construction. This chronograph is a split-seconds chronograph because it has two seconds hands, so it can measure two time intervals (or the lap times of two race cars).
The 44 mm large titanium case with ceramic bezel, crown and push pieces, and sapphire crystal on both sides, look sporty, at least from a distance. Due to the low weight-materials like titanium and ceramic and the rubber strap it wears comfortable as well. So yes it does have the looks and the comfortable wrist-pleasure of a sports watch, yet the inner works of a true complicated timepiece. If you're interested I suggest to act swiftly, because it's limited to just three piece.
Information about availability can be obtain through the Audemars Piguet website or their official retail channels.
This article is written by Frank Geelen, executive editor for Monochrome Watches.
https://monochrome-watches.com/audemars-piguet-royal-oak-offshore-grande-complication-titanium/