Watch from my year of birth – part 1
After the loads of information from the SIHH and Baselworld i am taking a break from blogging about news, more news and even more news. I still have lots of photos and a lot of information about the novelties released at Baselworld. No worries, i will blog about it later.
One things that's been keeping me busy for a long time already, is finding a watch from my year of birth. In my case this is 1971. Although no one of my watch buddies has been looking for a watch from their year of birth, I do wonder if this is common quest for watch addicts. For me finding a watch from my year of birth is really something special and i've spent many hours online searching for one. But no luck so far….
Finding a vintage watch in original condition and in reasonable to good quality isn't easy, especially not if it's that old. Of course my taste is not making it any easier either. I've been thinking of some vintage Rolex sportswatches or maybe an old Heuer or maybe an old Omega Speedmaster. Although these aren't the cheapest choices, i'm not ready or able to spent a forutne on it. So since the rise of prices for especially vintage Rolex sportswatches these are almost ruled out fo the game. This is a shame as my absolute favorite would be a Sea-Dweller or Submariner, but due to the sky high prices of both watch i'm not even considering these. A very good second best for me would be a Rolex GMT Master 1675 with pepsi bezel insert.  Since the early seventies the 1675 was also available with an all black bezel insert.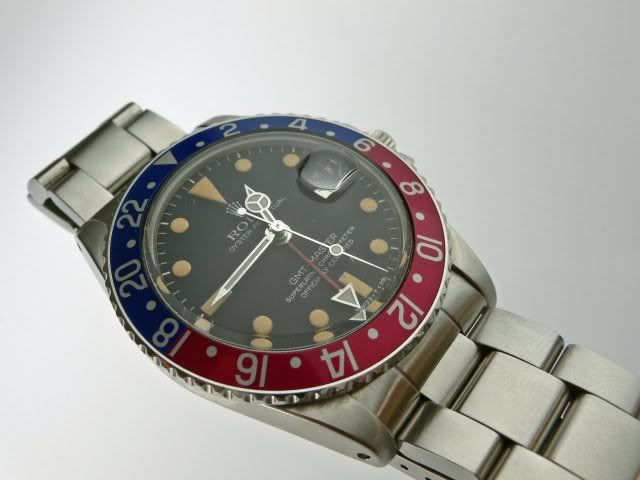 Another good option would be the more reasonable priced vintage Submariner no date, reference 5512 or 5513. Although prices of these models have been exploding as well lately there is a chance to still find one that's affordable. The good thing about these Rolex sportswatches is that they can be used as a daily watch and does not have to be a watcbox princess. This is really important to because my very first 'expensive' watch, a Heuer Auatvia 11630P with decompression bezel, is actually a watchbox princess. Somehow it just does not get any wristtime and that's a shame. Since it was my first, i don't want to let it go… On the other hand, if it would be traded for a nice watch from my year of birth, i would seriously consider it.
Here are two photos of my Heuer Autavia 11630. This is actually quite a rare one, because it has a decompression bezel. I bought it years ago from an older gentleman who used it in the seventies as his divewatch. Since he thought the watch was far from comfortable this one was actually only worn when diving and he told me he made exactly 100 dives in the North Sea. After it's service as divewatch it was stored in a vault only to come out more than 25 years later!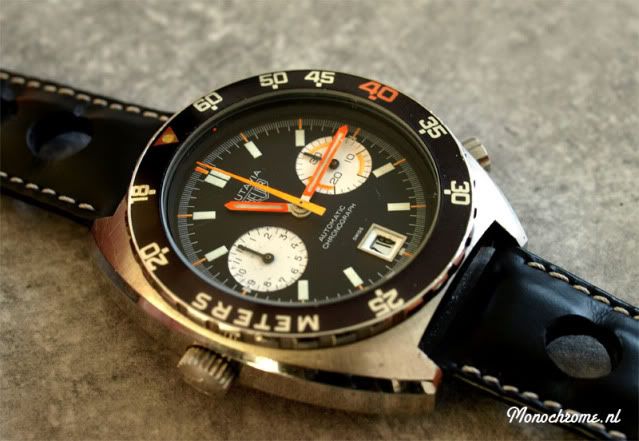 I will write more about my quest, so if you're also interested in finding a nice watch from your year of birth or just like to read more about very nice vintage watches, than check my weblog regularly.
If you have suggestion that might help me in my quest, than don't hesistate to respond to this post or sent me an email.

You can read more about the evolution of the Rolex GMT Master at DoubleRedSeaDweller.com and at BJSOnline.com and even Wikipedia has some information about this watch. On these websites you can also find more about othe vintage Roelx sportswatches.
https://monochrome-watches.com/watch-from-my-year-of-birth-part-1/