TAG Heuer's new caliber 1887 is already subject to discussion, only a few days after it's release. Even TAG Heuer's CEO J.C. Babin mingles in the discussion on the world's biggest watch forum Watchuseek and weblog Calibre 11.
December 2nd 2009 TAG Heuer released a new automatic chronograph, caliber 1887. According to the press release, calibre 1887 is the fifth movement designed 100% in-house by TAG Heuer. Heuer and later TAG Heuer have the name of being pioneers in the field of chronographs. This time however, they tried to make reality a bit better in their communication….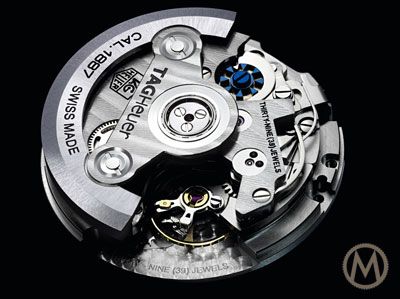 What's the case? TAG Heuer states the new caliber 1887 is designed 100% in house. On Watchuseek pictures of a Seiko caliber 6S37 where posted, that look exactly like the new TAG Heuer caliber 1887. In response Françoise Bezzola, TAG Heuer's marketing director, says they TAG Heuer bought the exclusive rights from Seiko, to produce this movement in Europe and thus being able to call it Swiss made. J.C.Babin, TAG Heuer's CEO, also mingles in the discussion on Watchuseek and on weblog Calibre 11, a watch weblog entirely dedicated to Heuer and TAG Heuer. He speaks about the modifications made on the Seiko Seiko TC78 platform.
So what… Most watch brands use movements from other brands or make their own version through modifying a bought movement. Even brands like Patek Philippe and Vacheron Constantin have used Lemania (Swatch Group) movements for many years. Small bit significant difference is that they won't state it's a 100% in-house designed movement.
Read more… The forums and weblogs are very clear about TAG Heuer's misleading information. Elisabeth Doerr wrote an excellent piece about 'Caliber 1887'-gate on Worldtempus.com and Kyle Stults wrote a great piece on Perpetuelle Blog called 'TAG Heuer shot itself in the foot on caliber 1887 launch'.
Concluding… According to several sources on the internet, Seiko caliber 6S37, is a very well designed and accordingly performing automatic chronograph movement. Personally i'm curious to learn more about the improvements / modifications TAG Heuer made. Are they really improvements… or just a way to cover up buying a design instead of fully designing their own movement. I guess for now it's waiting until the actual movement is put to the test… This is what really interests me!
And please TAG Heuer, no more little white lies!
https://monochrome-watches.com/tag-heuer-caliber-1887/