QlockTwo W – World's first wristwatch that tells time in words
Maybe you already know the iPhone App named Time in Words? The designers Biegert & Funk created a clock that tells time in words, available as iPhone App, as wall clock  and as desk clock. And now as wrist watch, called QlockTwo W.
Biegert & Funk launched the world's first wrist watch that tells time in words, at Baselworld 2012. What surprised me was that almost every journalist I talked to, spoke about this new wrist watch called QlockTwo-W. While there were some mighty impressive timepieces, like the X-TREM-1 that uses magnetism to indicate time, the ClockTwo-W seemed to have won the journalist's hearts.
And that is actually very remarkable. Usually there are one or two 'hits of the fair' and usually these are highly complex mechanical wrist watches. The fact that an affordable quartz watch was mentioned in most conversations as one of the favorites is highly remarkable!
QlockTwo W does not show the time with hands or digits, but with readable text, turning it into a statement: "It is half past one". The square watch face has a uniform grid of 110 letters. When the button on the right side of the case is pressed, words light up in unexpected places describing the time in words. Besides the time, QlockTwo also displays the calendar day or seconds.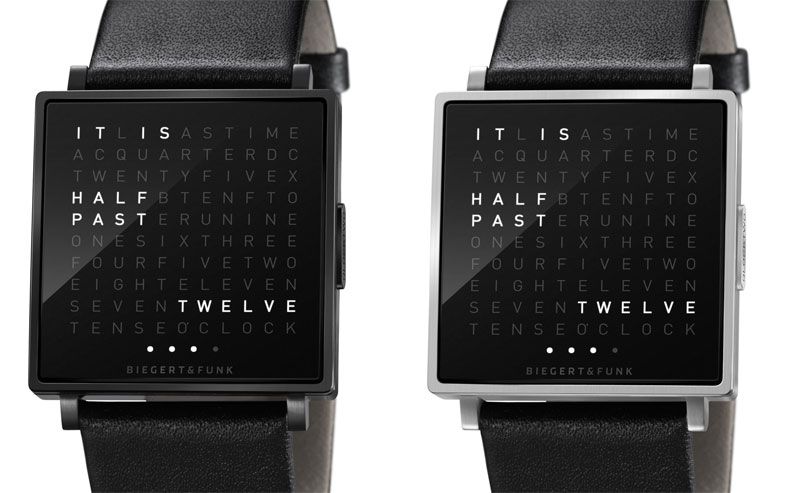 The basic shape of the first clock made by Biegert & Funk, QlockTwo, is square. Also the desk clock, QlockTwo Touch, and now the wrist watch QlockTwo W are square shaped.It measures 35 x 35 mm and it comes on either a leather or rubber strap.
Doesn't it look cool? QlockTwo W will be available from autumn 2012 in two variants, natural stainless steel or black for CHF 730 (steel) and CHF 790 (steel/PVD).
More information and ordering through the QlockTwo website.
This article is written by Frank Geelen, executive editor of Monochrome Watches.
https://monochrome-watches.com/qlocktwo-w-worlds-first-wristwatch-that-tells-time-in-words/